Sirloin Steak – Barbecue – Thai Beef Salad
Cooking for friends and family during summer has to have the " simple" factor along with great flavours and ensuring you can  feed unexpected guests. My saviour this summer was buying a large Beef Sirloin in the piece. I had 3 mainstay uses :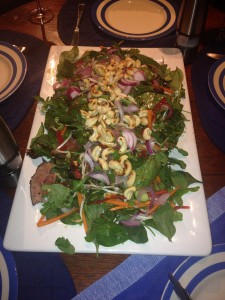 Cut into thick steaks to pan fry or barbecue.
Rub with a pastrami mixture of Smoked paprika, cumin, coriander, brown sugar, salt, pepper and olive oil. Barbecue until medium rare and slice.
Use the left over to make a Thai Beef Salad with baby spinach, fresh coriander and mint, bean sprouts, julienne carrots and courgettes, thinly sliced red onion, toasted cashew nuts. Make dressing with grated fresh ginger, crushed garlic, lemon juice, sesame oil, fish sauce and rice bran oil with a pinch of sugar.
Remember the rules for cooking meat: Make sure it is a room temperature before cooking / season with salt and pepper and toss in oil/ cook on a high heat until medium rare/ remove from the heat and leave to rest for at least  5 minutes before slicing.
PS – I actually didn't make this Salad – My Son Matthew did!!!