From Inverness, skirting around the Cairngorms National Park to Pitlochry is a seriously lovely drive . It would also have been nice to travel down Spey Side passed the famous distillery region, but we had an appointment at the smallest Distillery in Scotland called Edradour, 5 minutes from the picturesque village of Pitlochry. Guided by Ian in his kilt (as all Scottish guides appropriately wear) he reinforced the process of Whisky making that we learnt in Dornoch and told us the story of Edradour with helpful tastings of course. Heading back to Pitlochry for lunch and a chance to wander through this busy village, I had my pie graving satisfied – Mutton pie and a Forfar Bridie (like a pastie) and Charles bought slices of a delicious meat slice called Haslet. We sat on a park bench in the sun and I now don't need a pie for another year…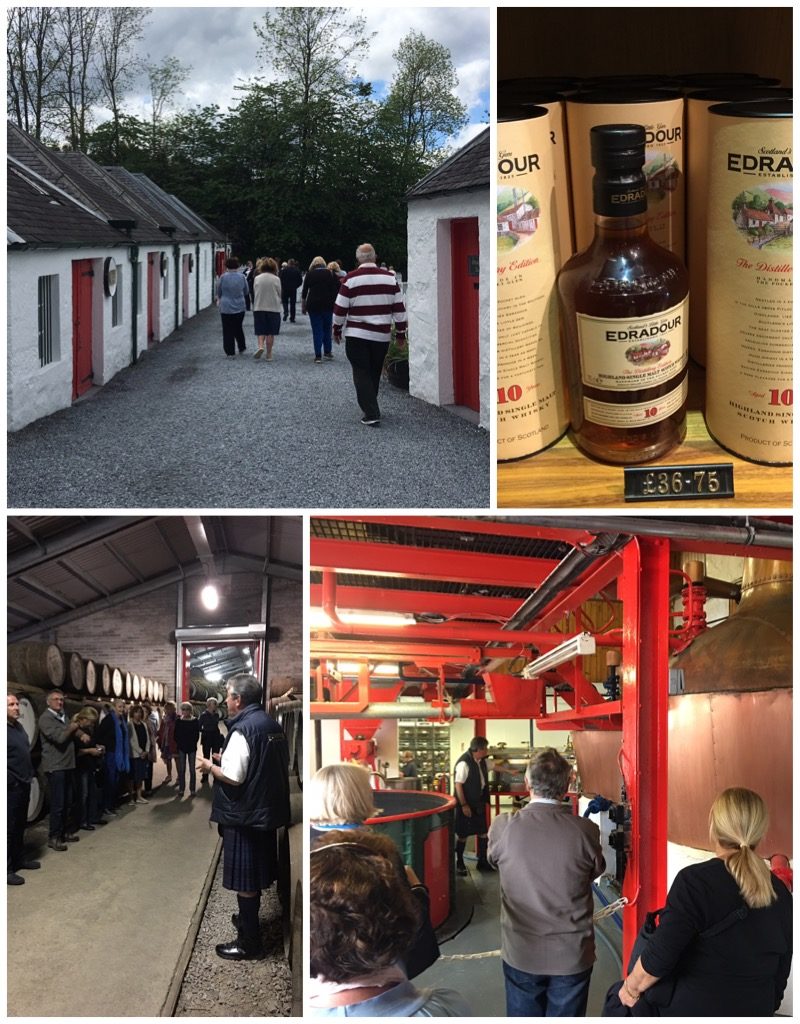 Before arriving in Edinburgh we detoured through very heavy traffic and at times   sitting in a traffic jam to visit the Falkirk wheel. I had heard a lot about this, but didn't understand how it worked. Basically it is a rotating boat lift  that connects the Forth and Clyde Canal with the Union Canal. It can carry up to 8 boats at a time and I must admit its simplicity and design were very impressive. We watched as huge arms effortlessly swung down with a canal boat floating in it's locked loch and released it at the bottom once it reached the water level again and obviously the whole process goes in reverse  to reach  top loch. It  was Friday rush hour traffic all the way into Edinburgh and our view of the huge Kelpies structure was out the bus window – people of Scotland have a love hate relationship with the installation and it certainly dominates the landscape, but all together it is rather spectacular.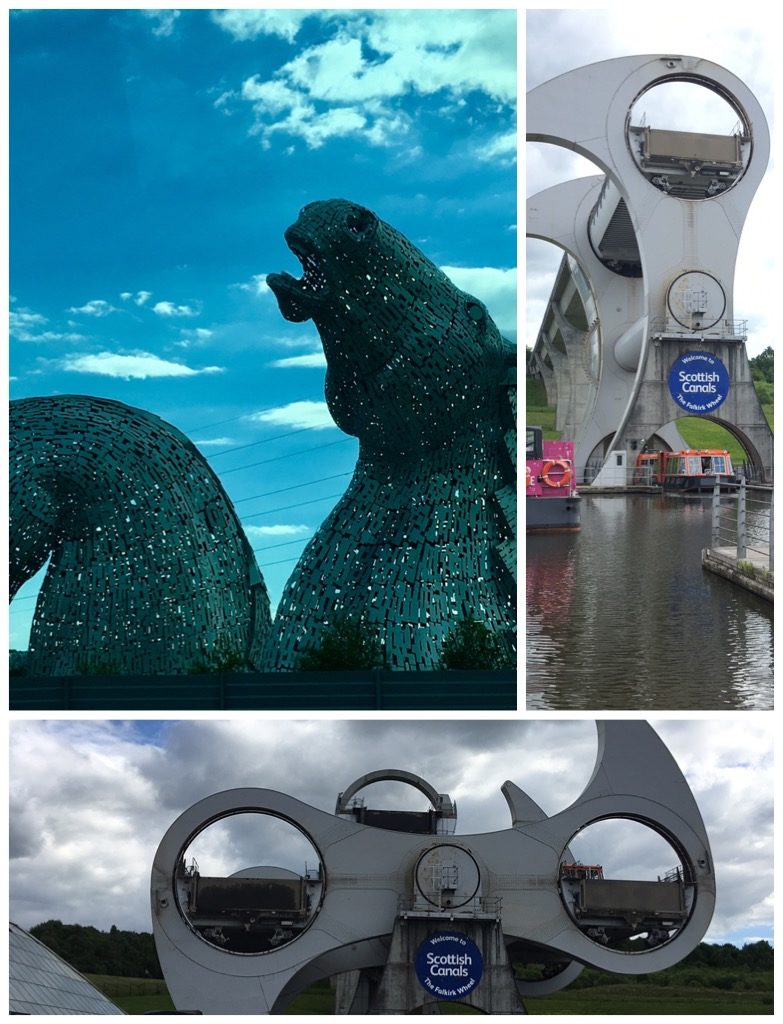 4 nights in Edinburgh started with a casual dinner at Badger and Co – Crowded with Friday night revellers.  It was fun to be in a big city and a fitting end to our Scottish adventure . This is Charles's  home town and we started our morning orientation walk at the excellent farmers market  – although small, the quality of food in the stalls was fabulous.With the Castle towering above the city, you see it where ever you go – our walk proceeded around the bottom of the castles mammoth walls through the grass market, where hanging's used to take place, up to the famous Greyfriars Bobby Pub – Bobby the  Skye Terrier became known in 19th-century Edinburgh for supposedly spending 14 years guarding the grave of its owner until he died himself on 14 January 1872. Past the university where Charles showed us the plaque commemorating the Nobel Physics prize awarded to his grandfather 100 years ago this year. Holyrood Castle sits at the bottom of the Royal mile and of course we had to walk its length from one castle to the other. This is the hub for tourists, all enjoying the many bagpipes playing up the 1 mile length  along with buskers and street performers. There is nothing like insiders information and I  am fortunate and thrilled to have Charles show off his home town. Free time gave everyone a chance to visit Holyrood  and the complex Edinburgh Castle in their own time. But we had a surprise concert in the evening and there was a few open mouths when we told everyone we had an evening with the Scottish Fiddlers Orchestra concert in the grand Usher Hall. Surprise turned to enjoyment as our 2 1/2  hours flew by, being entertained by the exuberant conductor and his swinging kilt, a beautiful soprano and accomplished tenor, two very talented sisters who showed off their Highland dancing skills and a local school  pipe band. From bagpipes, drums and the many fiddlers it was a fun night listening to Scottish music and very appropriate to include on the tour.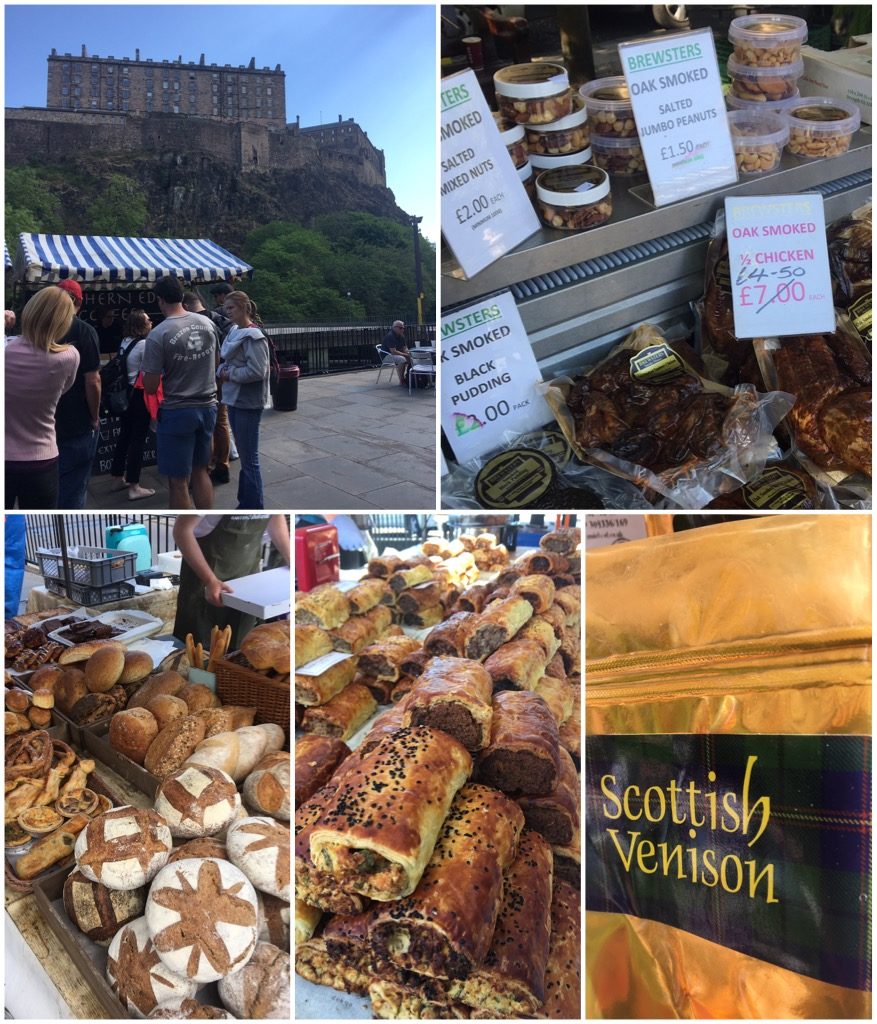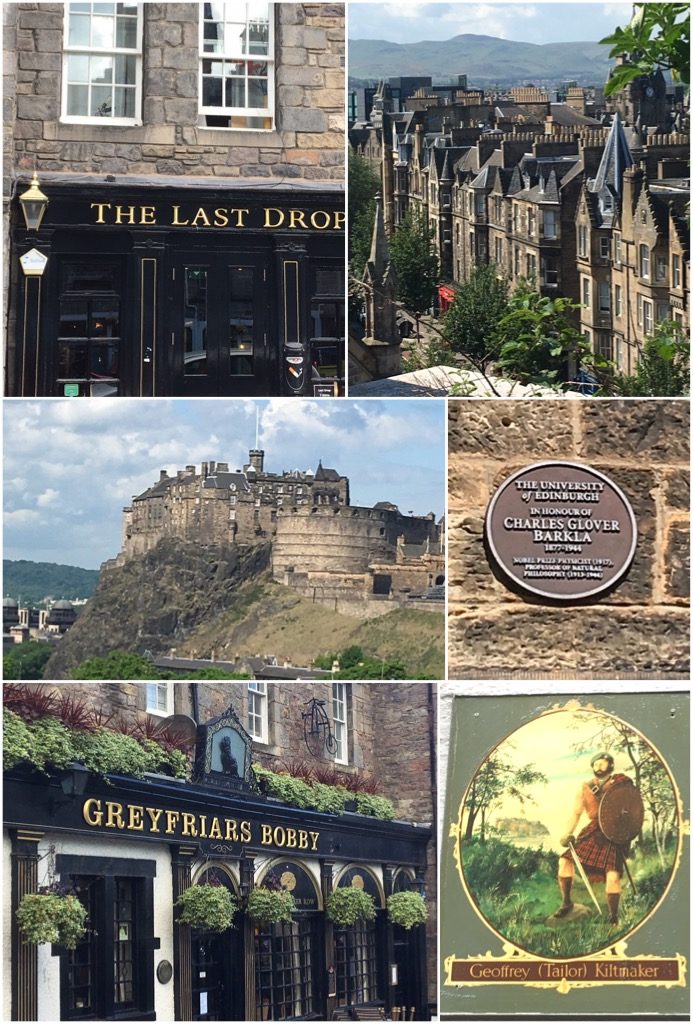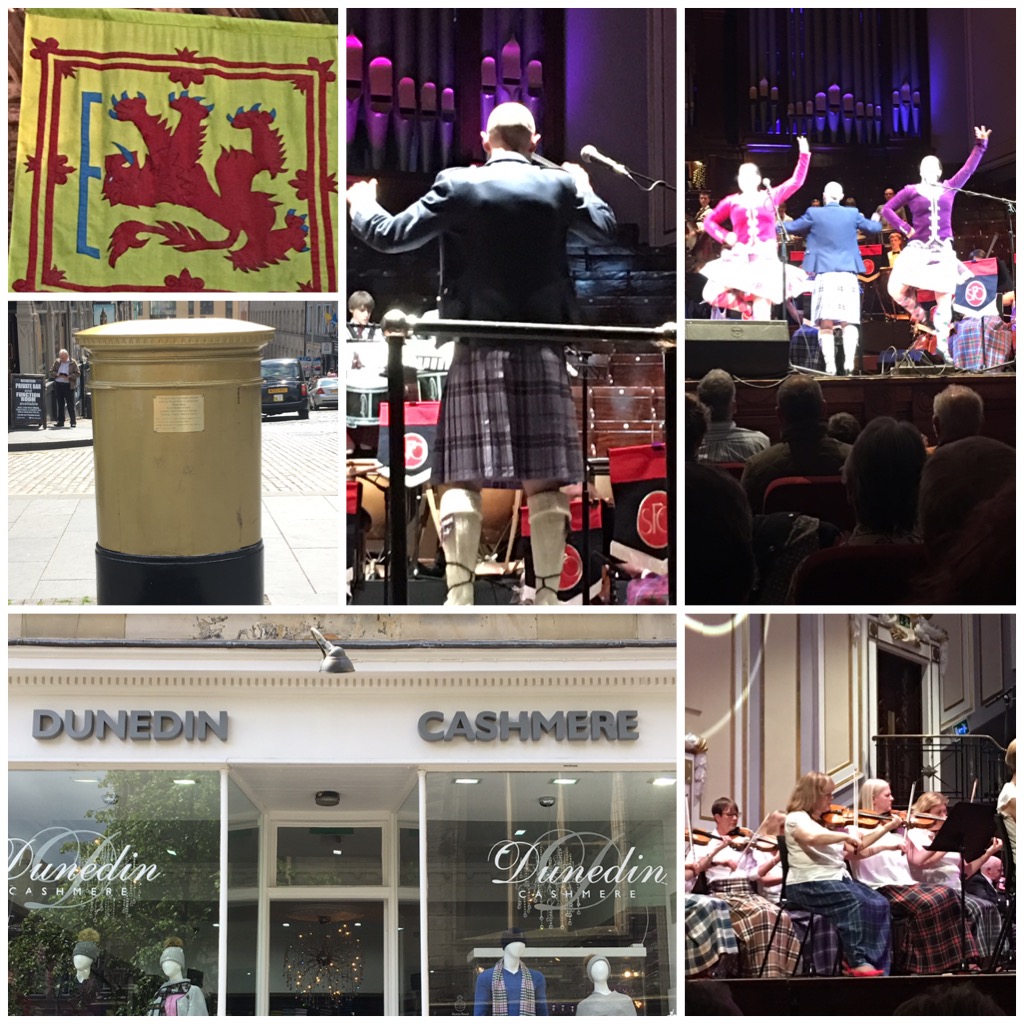 A trip to St Andrews is our last bus excursion. Today we had a beautiful red headed scottish lass called Gillian as our driver and guide. Crossing the firth we have the original iconic rail bridge on our right and the new impressive road bridge on the left (still to be completed). Travelling along the coast past the famous fishing villages of Pittenweem, Anstruther and Crail, we stopped for a dressed crab for morning tea. It would  have been rude not to try something from the little fish shack  which does a roaring trade all day and people travel especially to picnic here and enjoy a seafood lunch. Gillian  lived on the coast in one of the small villages  for many years and she wove in and out of the tiny narrow streets showing off the beauty of the houses on this lovely sunny Sunday morning.
St Andrews is positively famous for it many golf courses.The old course is always open to the people of St Andrew's to walk on a Sunday but, today there was a professional women golf tournament on . We walked from the top of the town starting at the ruins of the Cathedral past the University buildings which sit on the cliff above the sea where Wills and Kate met and gained degrees. I had lunch booked at the Jigger Inn. This tiny pub sits on the edge of St Andrews old course and after tasting the burgers last year, felt we all needed burger and beer lunch. To complete our day we had a hour at Falkland Castle.  Again, it is still lived in. The grounds and castle are beautifully maintained and show a past historical life style we can only imagine. The countryside was like an edible landscape – barley for whisky production, huge poly tunnels of strawberries and raspberries and fields of what looked like broad beans.Picturesque, quant villages sit surrounded by the lush spring trees and foliage. We had a very successful day out from Edinburgh and covered a lot in a short time.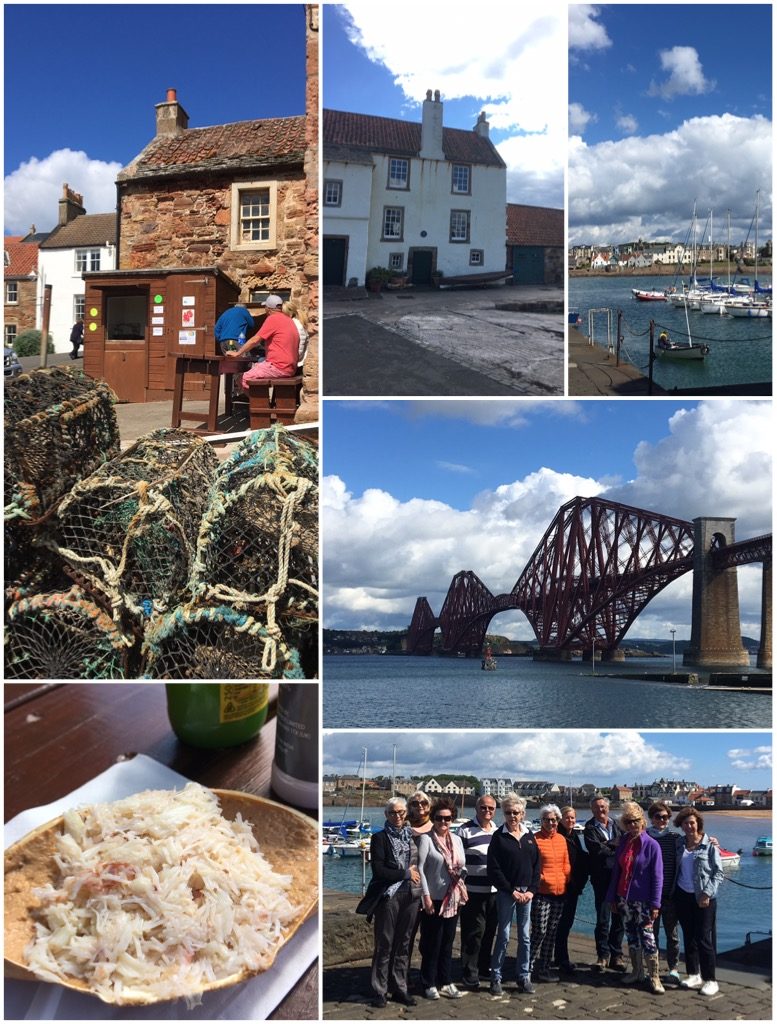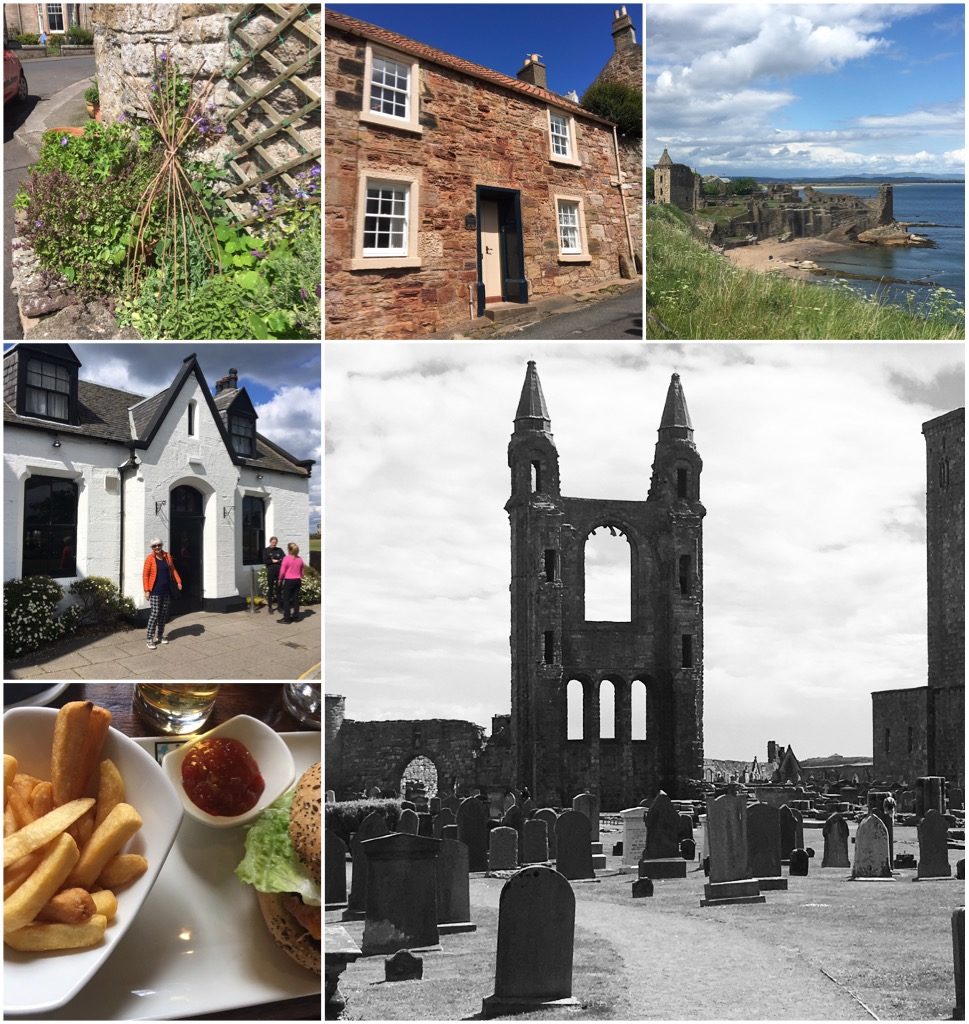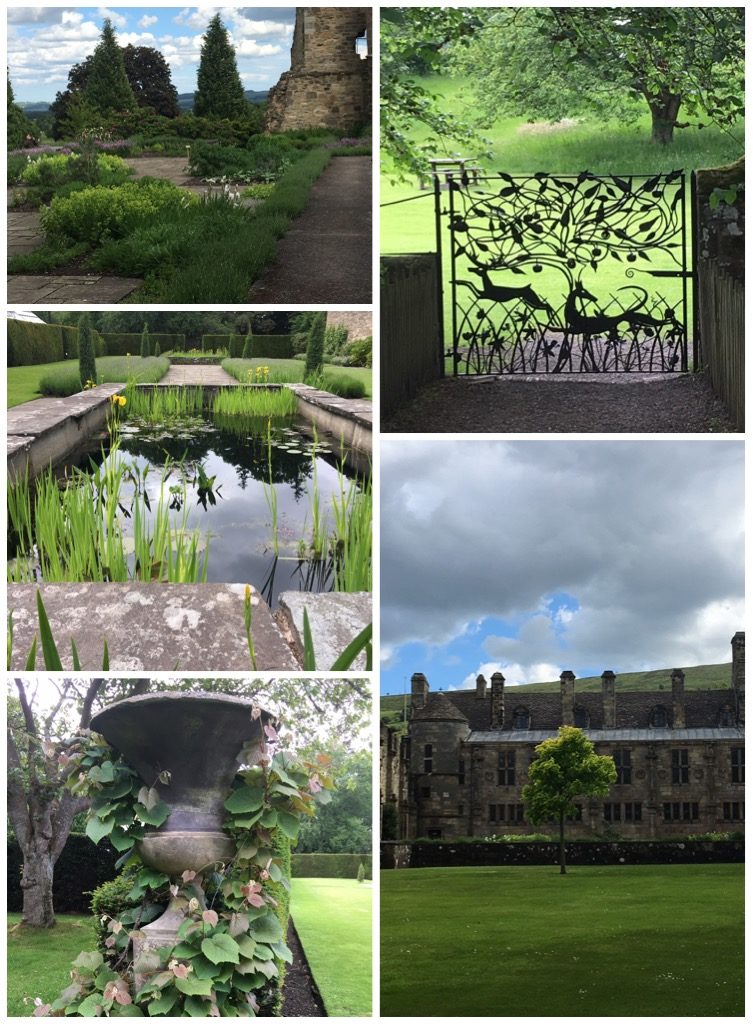 With one day left everyone was ticking off all the visits  they wanted to include. A group of us spent the afternoon down at the dockside by Leith visiting the Britannia which was decommissioned 1997, it now plays host to functions and daily visitors.
Our 13 days in Scotland culminated in a fine dining experience at James Thompson's Tower restaurant. At  the top of the Edinburgh National Museum it has a stunning view of the city. I chose a set menu with a choice of   Goats Cheese Pannacotta, Rabbit Ballotine and Pea and Mint Veloute for Sarters.Braised  Jacobs Ladder Beef, Pan Fried Sea Bass and Broccoli and Smoked Applewood Risotto for mains to Dark Belgian Chocolate Terrine, Isle of Mull Cheddar cheese and Stilton and Rhubarb crumble  for desert. It was a fitting end to the  remarkable inaugaral  tour of Normandy and Scotland that included staying in the odd stately home, many fabulous dining experiences, stunning garden visits and along with our informative bus drivers, guides and the intricate putting together of the itinerary we had a fabulous time with an equally fabulous bunch of New Zealanders and two Australians.
A tour that will definitely be repeated in 2018