I had read of Aix en Provence and couldn't wait to become acquainted with this town. Our hotel was in the middle of a tangle of medieval lanes which we drove down several times before locating the 'door' to our fabulous contemporary apartment. The streets were alive with young people – this is a university city with many foreign students and we felt instantly at home. The main Boulevard is lined with a double row of Plane trees which is blocked off on Fridays for a huge weekly market and decorated with fountains in every courtyard and square. The streets were alive in the evenings and the alleyways filled with bars, restaurants, cafes and shops. Dinner two nights in a row  for us was in the same square where there was a huge number of restaurants to choose from. Regional favourites and just favourites like buratta and fresh tomatoes can't be beaten. Fresh fish from Marseilles and our favourite duck were  all sensational.
This is the home of Cezanne and there is a self guided walk to follow through the city following little brass plaques with a big 'C' set in the footpath. Such a terrific idea.  During the walk we came across an exhibition of one of Cezannes  impressionist artist friends Camoin.
Each day small markets are set up until 1pm selling fresh fruit and vegetables, cheese, meat ,fish etc . We came across what looked like the most delicious street food and couldn't resist a baguette filled with prosciutto and melted cheese . It was succulent, luscious and completely wonderful.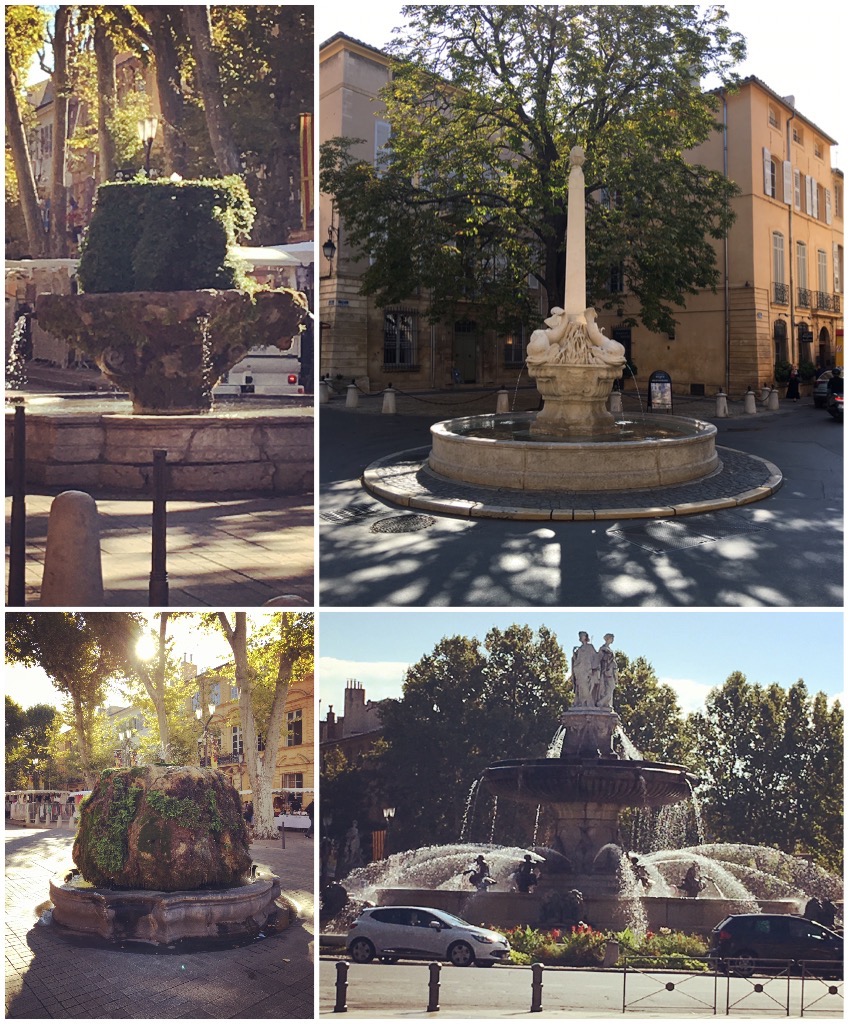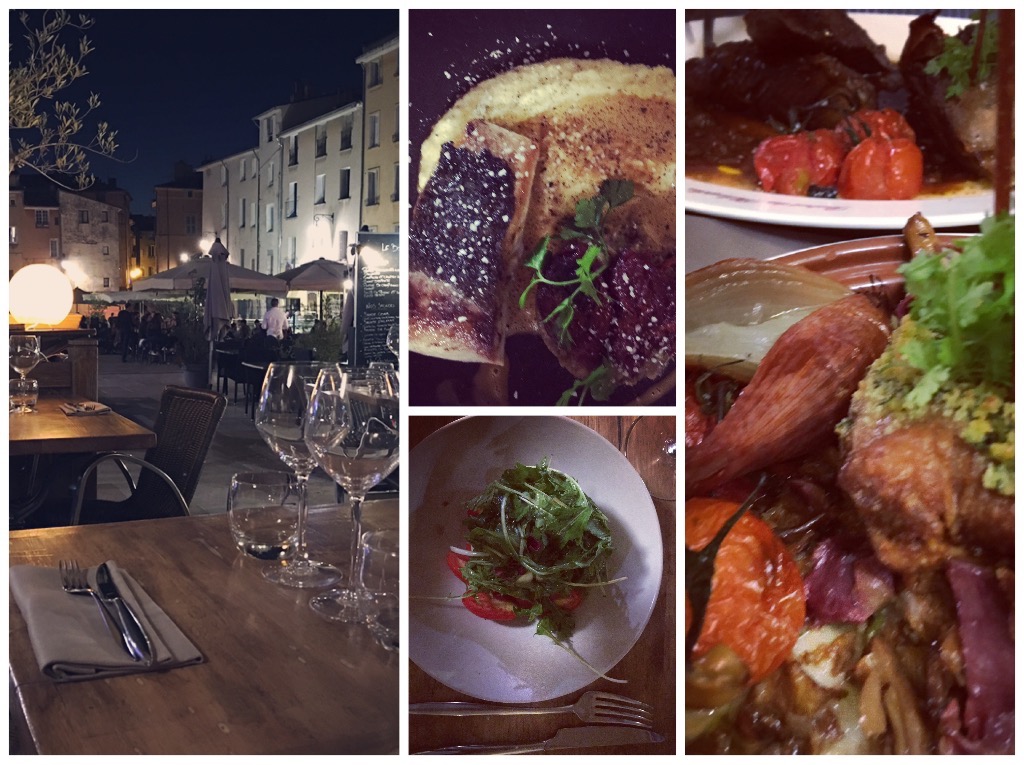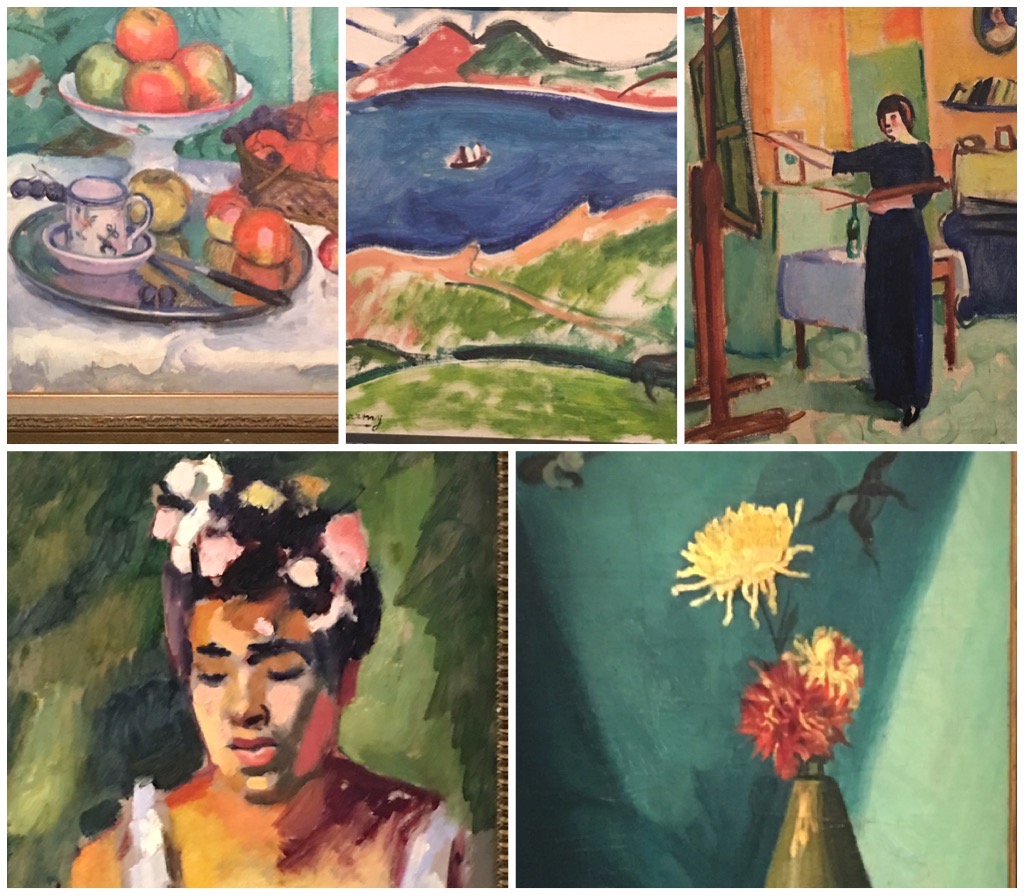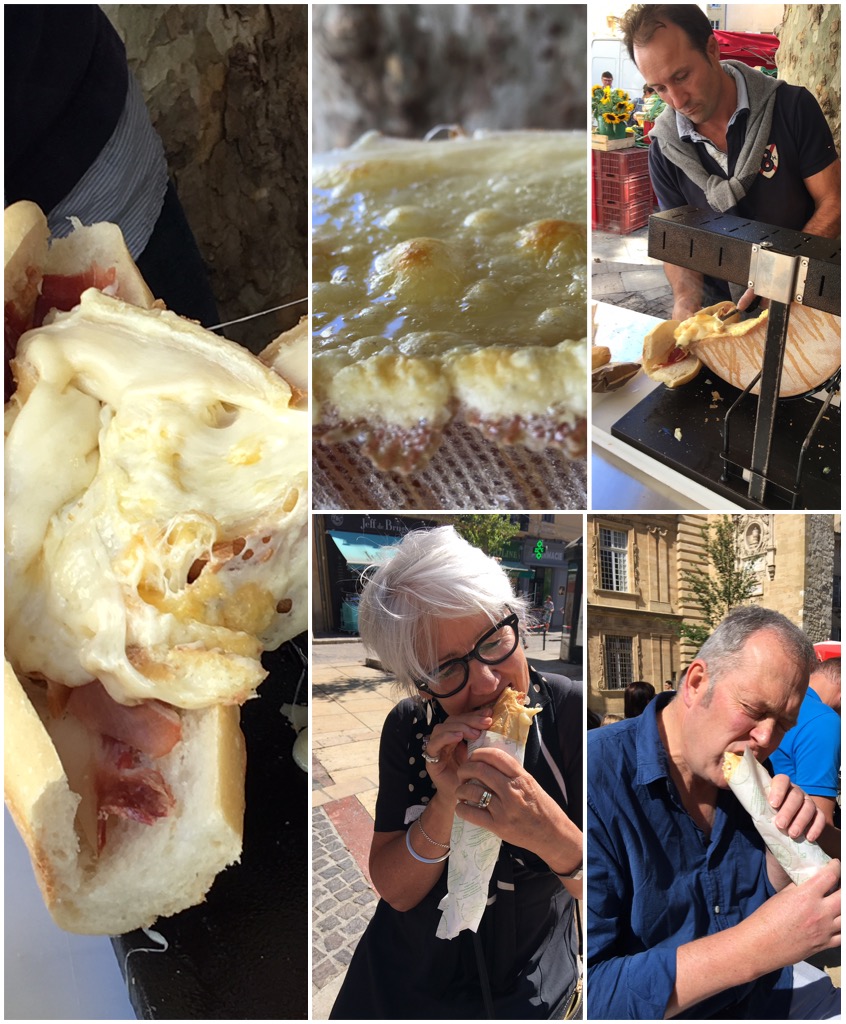 Gardens are what we love to visit and like food and wine they have regional differences – although all good gardens are fabulous architectural landscapes. Potagers and vegetables play a huge roll and the art of espaliering is a dynamic feature used in the garden  Du Chateteau Val Joanis – an hour from Aix en Provence  which is surrounded by vineyards and olive trees.
We know Provence for its rows of colourful lavender, but we are now in late summer and autumn colours are starting to appear.The villages of the Luberon are doted all over the countryside  – People like Peter Mayle made many famous in his books ' A Year in Provence' and  'Tourjours Provence' . In the late afternoon it was a perfect quiet time to visit 3 villages taking in a quant bread museum in  Bonnieux, a walk up through the village of Lacoste to the castle of  the famous Marquis de Sade – now owned by Pierre Cardin and  we enjoyed a  wine sitting on a balcony in Menerbes taking in the stunning view of the countryside and more villages in the distance.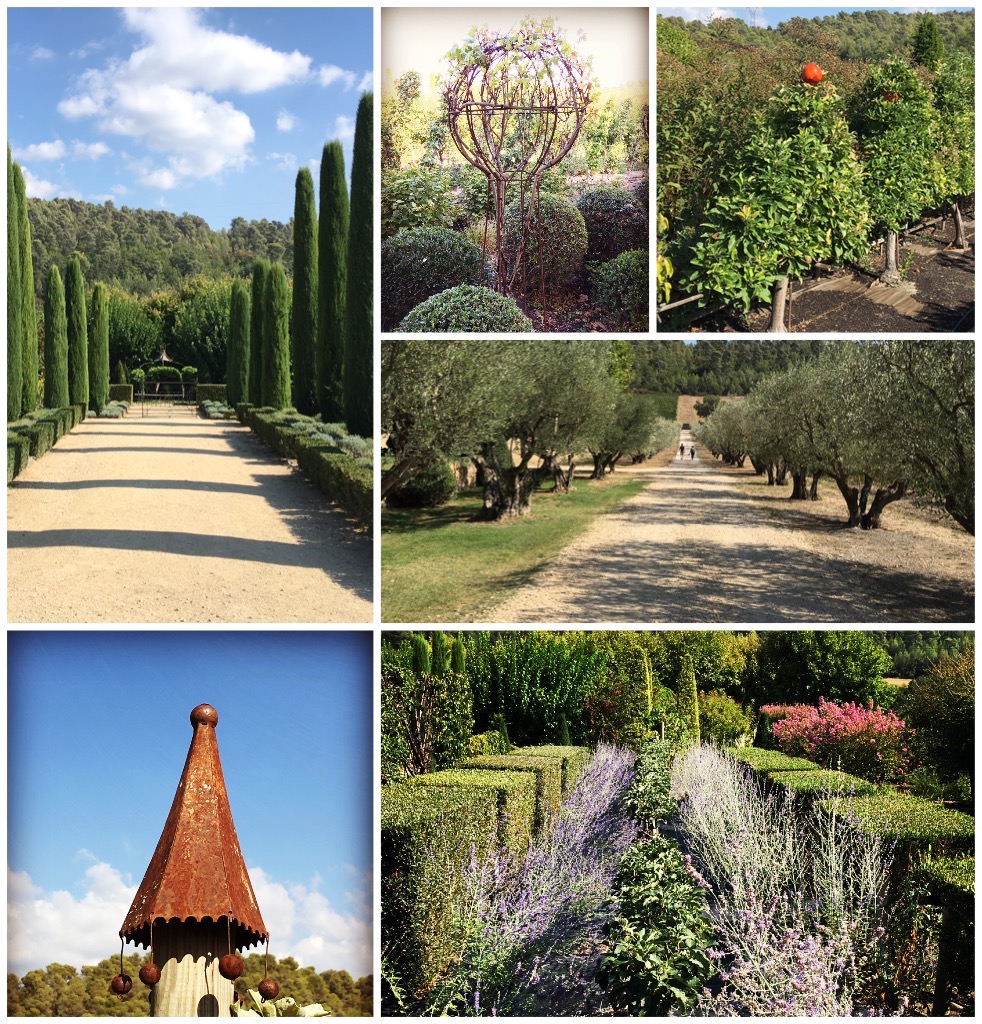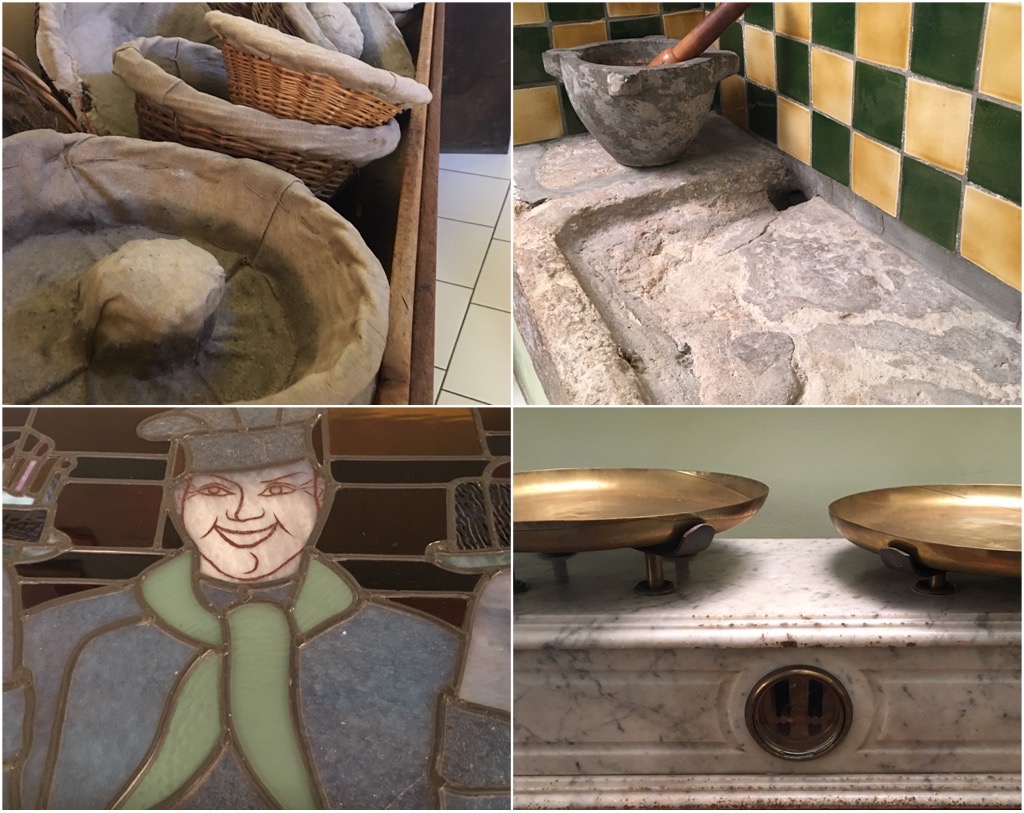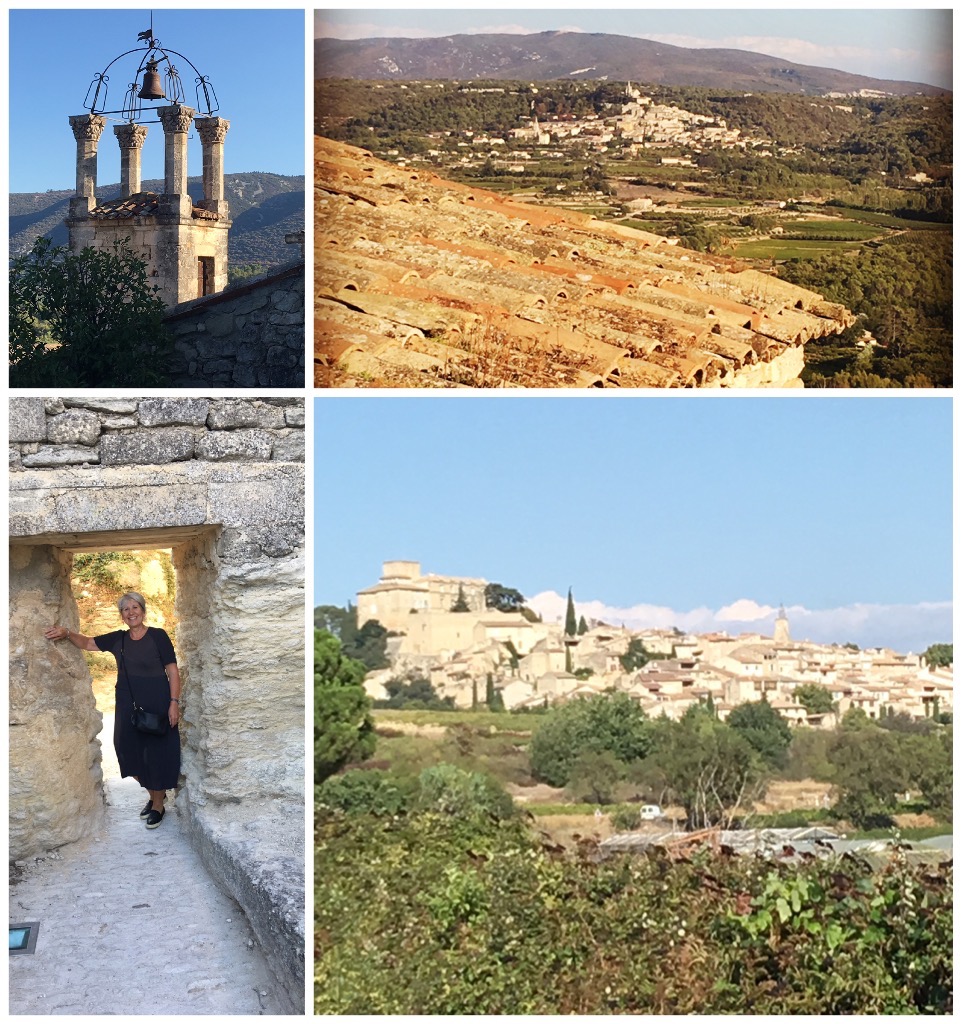 Traveling and exploring has advantages and disadvantages. You certainly cover a lot of ground and get to see many varied regions and landscapes . However, we are finding we always need a day or two longer in each stop. Choosing a destination and staying put gives you time to investigate and familiarise yourself with your surroundings, go to the same cafe for coffee each morning  and the same bar for a wine in the early evening.
Stopping for lunch in Arles was one such stop that wasn't long enough. Narrow streets are lined with houses from the 15th and 16th Centuries and the sidewalks filled with cute little restaurants that were all full of people enjoying the 'menu du jour'. The French love to sit down and have 2-3 courses for lunch with a glass of wine. All the shops close for 2-3 hours and the streets are quiet, children go home or eat at school and it's a lovely time to sit and relax. Arles was the largest city of Roman Gaul and home to Julius Caesar for a while. It  has  impressive remains of a Roman theatre and amphitheatre that now hold UESCO status.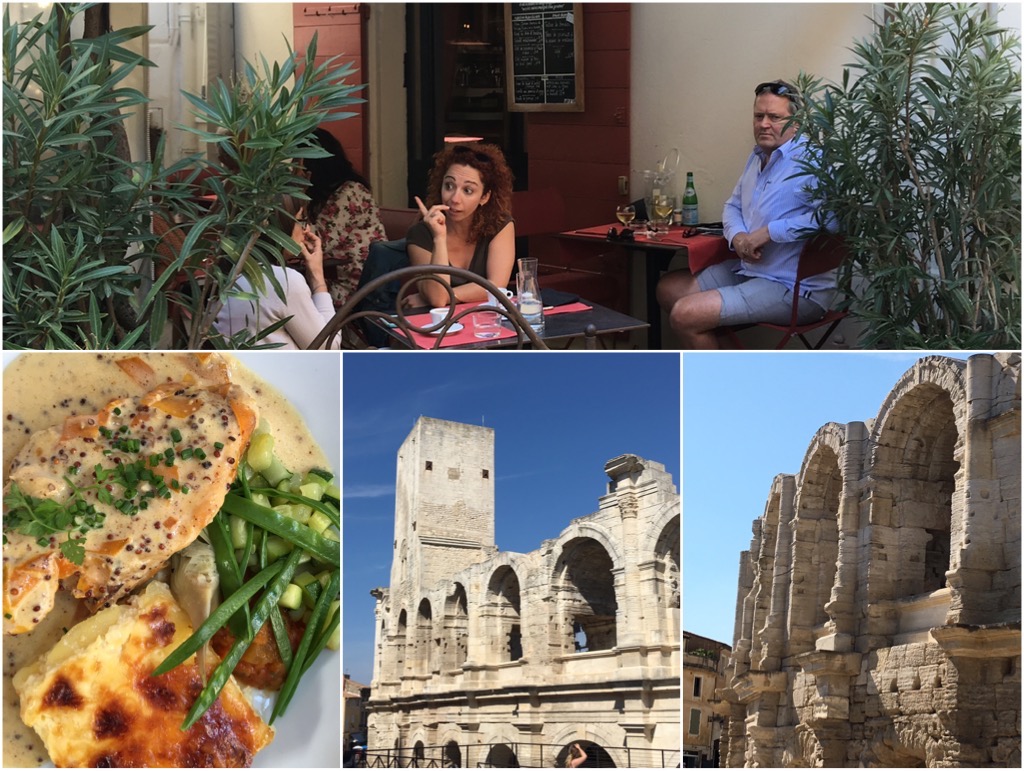 A very Special visit was catching up with New Zealander Philippa Foubert, her husband Yannick  and their two gorgeous 7month old twin boys. They live close to the town of Anduze which is renowned for stunningly beautiful garden pots. Yannick owns and makes pots which are sold all over Europe. I have always loved these stunning things and soon they will have them in New Zealand! Many of the roads in France are lined with plane trees, supposedly  Emperor Napoleon is credited with originating the policy of lining French roads with trees, to enable his soldiers to march in the shade – Not sure about this because they would take years to grow. But today there is a move to remove many sections of trees because of the alarming number of road deaths attributed to cars colliding with trees. We beloved them but I can see the problem.