Philip and I returned to Piedmont to become more familiar with the region and explore the hill top villages  that popup above the vineyards producing stunning 'B' word wines  –  Barolo, Barbaresco and Barbera.
It was a travel day from Burgundy to our destination for 4 nights  in Piedmont called Neive. So it was driving on the Autostrada, plus through the very long tunnel under the laps called Fres Jus. Our day cost 75 E in toll!!. The roads are full of huge trucks travelling the length of Europe – they have to stick to the inside lane thank goodness. You certainly don't have any choice if you want to travel long distances quickly .. Philip was travelling between 120 and 130km per hour in the middle lane and the outside lane cars kept whizzing past.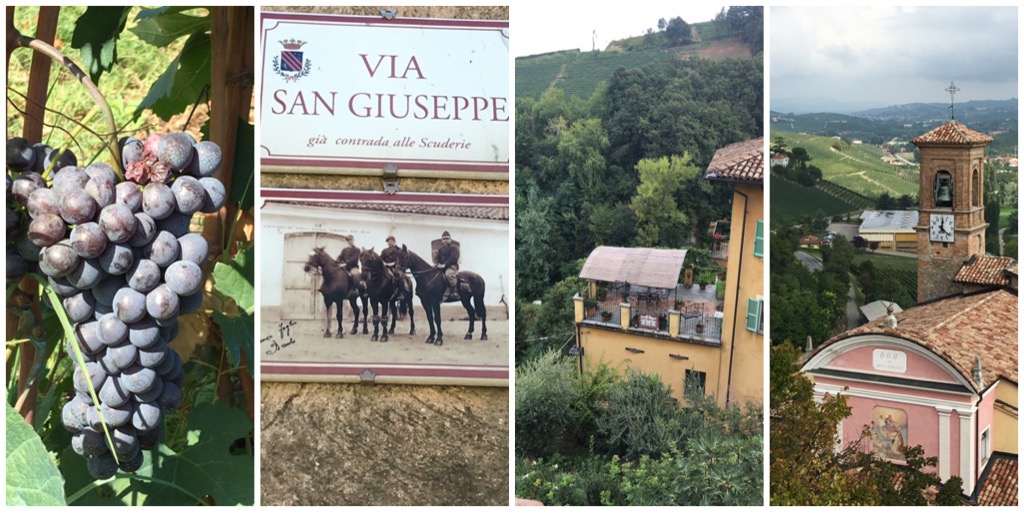 The very neat rows of vines carpet the hillsides of Piedmont. They are on slopping hillsides consequently everything is done by hand here from pruning, thinning to weeding and picking . They have just started picking the whites and Dolcetta grapes and although the thunder is rolling around the hills the rain doesn't come to much .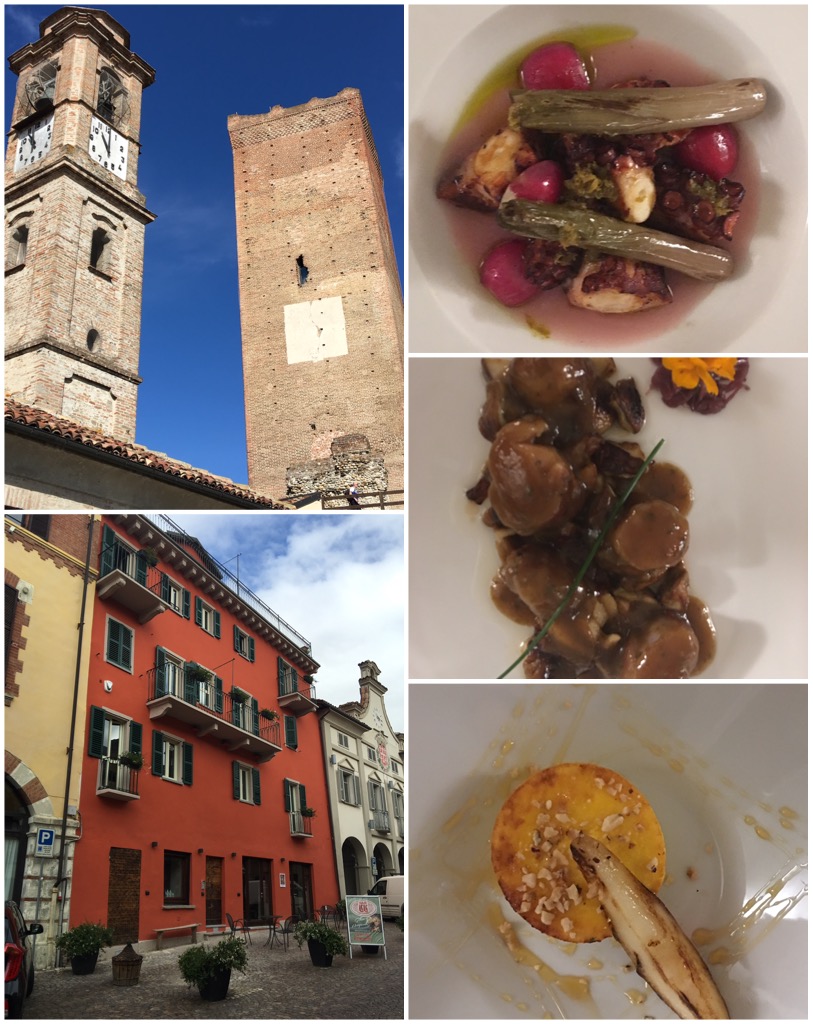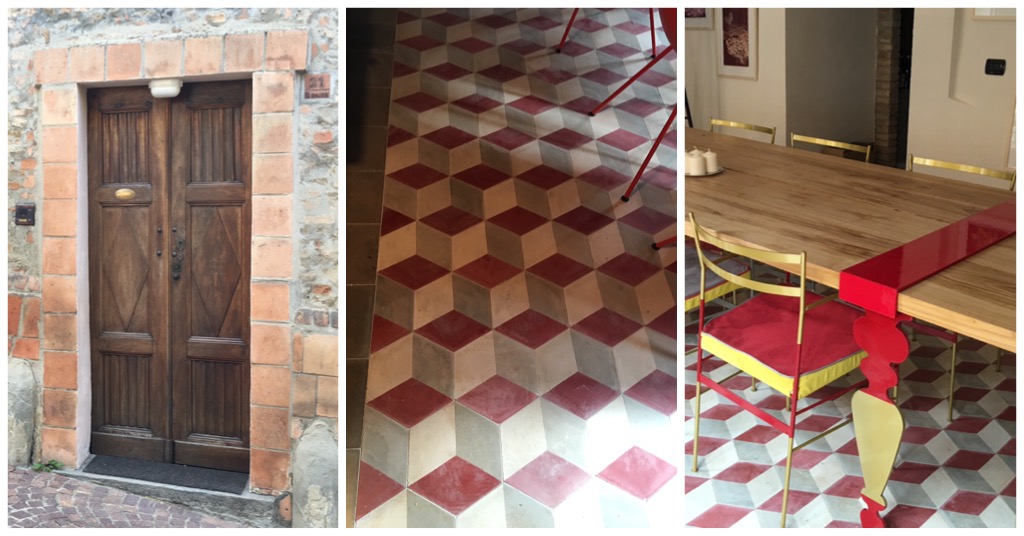 Neive is so cute and our hotel Al Palazzo Rosso is a beautiful example of  simple tasteful decorating. It only has four rooms and it is run by an exuberant  Benedetta who can't do enough for you. We arrived on a Monday night which means most restaurants  and shops are closed. We did find a lovely 'local' run by two young girls who served one of the best dishes I have had all trip . Veal Tartare – thin slices drizzled with extra virgin olive oil. Philip had grilled capsicums with tonnato ( Tuna) sauce.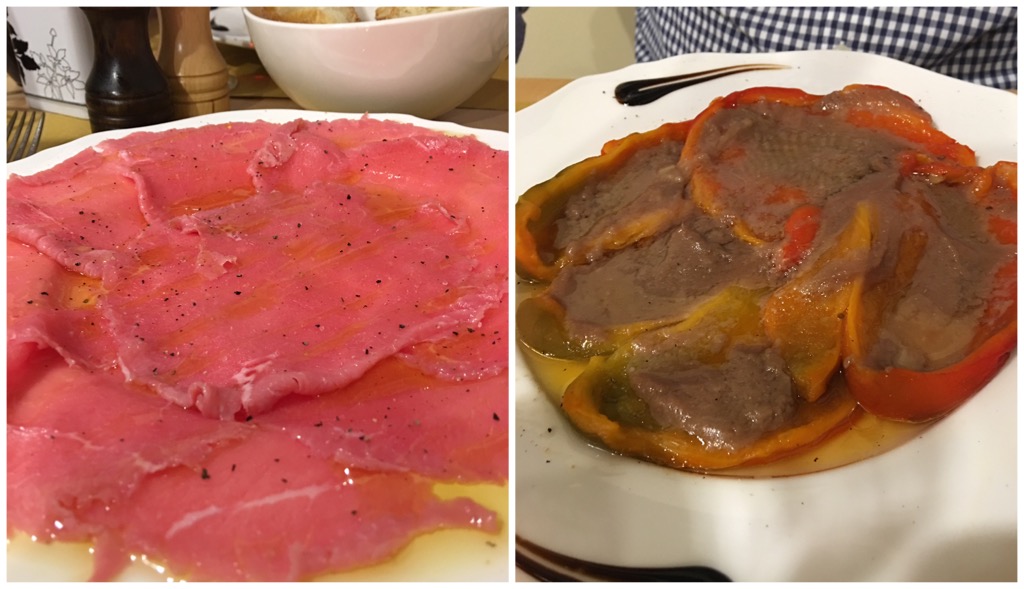 From Neive it was an easy hours drive to Torino. Visiting  big cities is fraught with anxiousness  – coping with one way streets, parking and traffic queues. We did pretty well and spent a day visiting the city sights and a fleeting visit to the most amazing Egyptian Museum. Sitting down for lunch is always a relief when you do so much walking and our salads were delicious . The waiter was thrilled to know we were from New Zealand and showed us a bottle of St Clair Sauvignon Blanc he sells.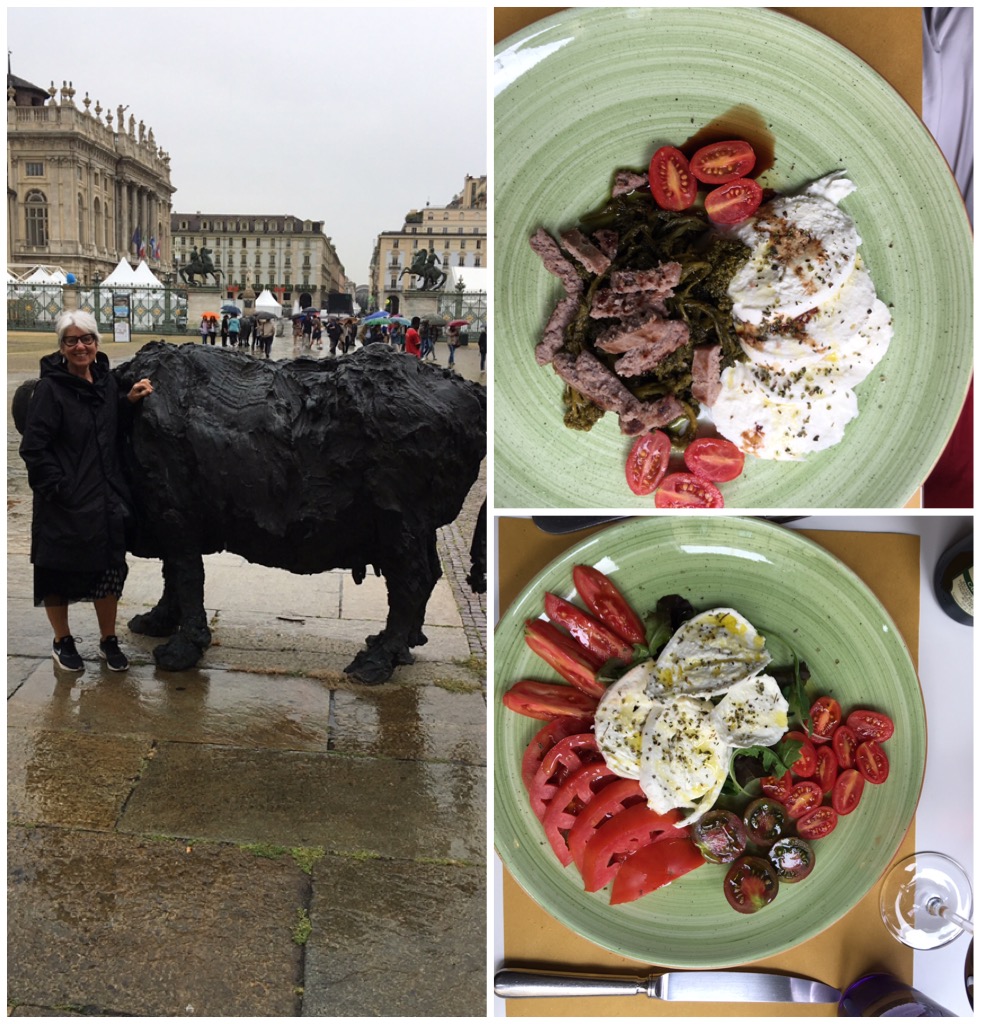 Each day there was always other village to visit. The highly prized wines here are very famous and the Villages of Barolo and Barbaresco have plenty of places for wine tasting and purchasing. Hazelnuts are also prized from this region and they are growing in abundance  – consequently they appear in everything from Nougat, Cakes and Chocolate Spreads (Nutella).  The Alba Market had many stall holders selling their products and away from the main fruit and vegetable market was a special section with small producers selling their organic produce. From many stalls selling fabulous cheese there was honey, wine, Veal, Pork, Olives and nuts.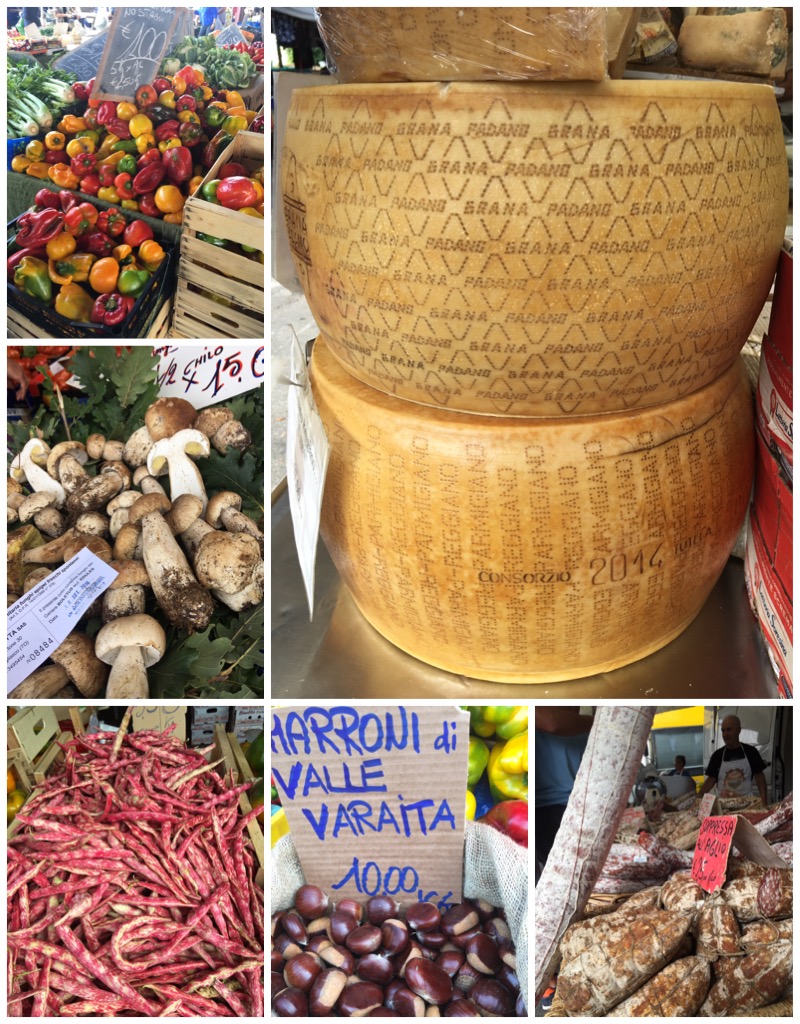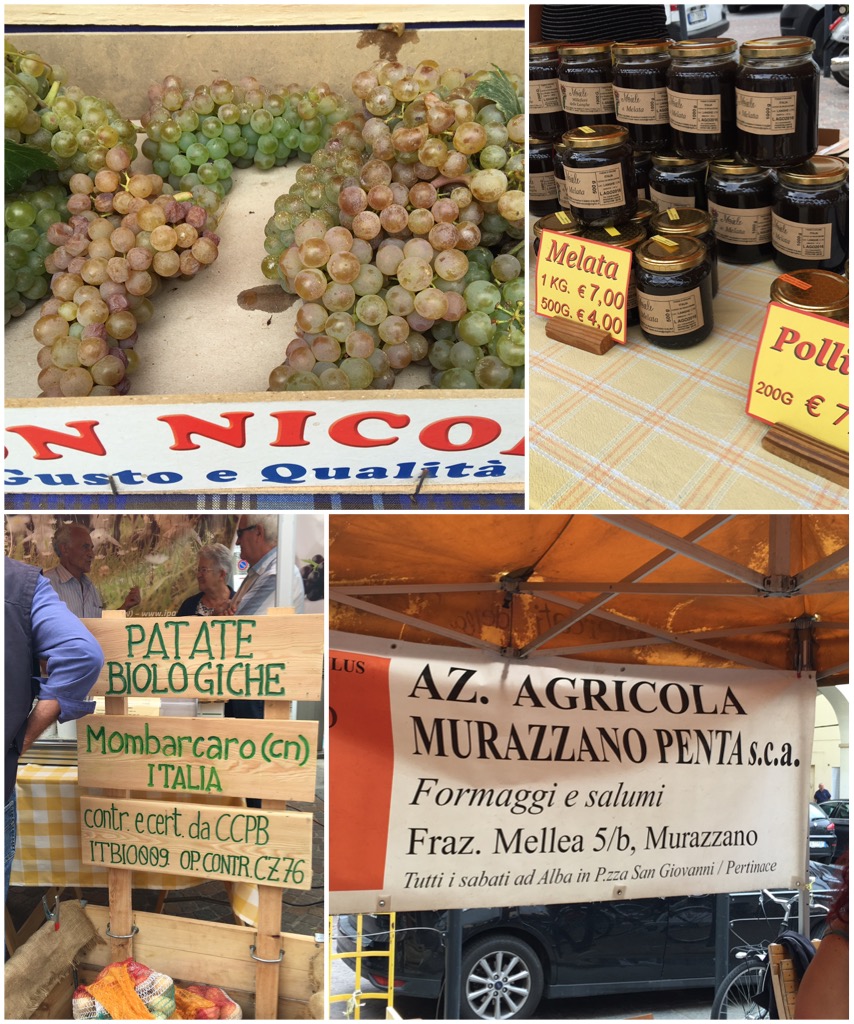 One of the highlight of our four days in Piedmont was arriving in Asti for a visit the day before the Palio. I have been to this twice before on previous tours.  Sand is packed into a strip around the perimeter of the triangular piazza and thousands of people fill the stands twice a year for the amazing spectacle .The Palio is a traditional Italian festival of medieval origin that culminates with a bareback horse race. The race has been run each year since the 13th century.  Italian towns and cities have areas like suburbs and each district participates in a  dazzling parade in which medieval costumes take pride of place, racing gets going as the Palio di Asti reaches its climax in the late afternoon.
But… the day before the Palio it is the childrens  turn and I have never seen such a glorious spectacle of these delightful children. Some very tiny – all disciplined, some beating drums ,some throwing flags and all 27 districts, all in period costume and all patient and very proud. It was very emotional and the excited parents and families were waving and clapping.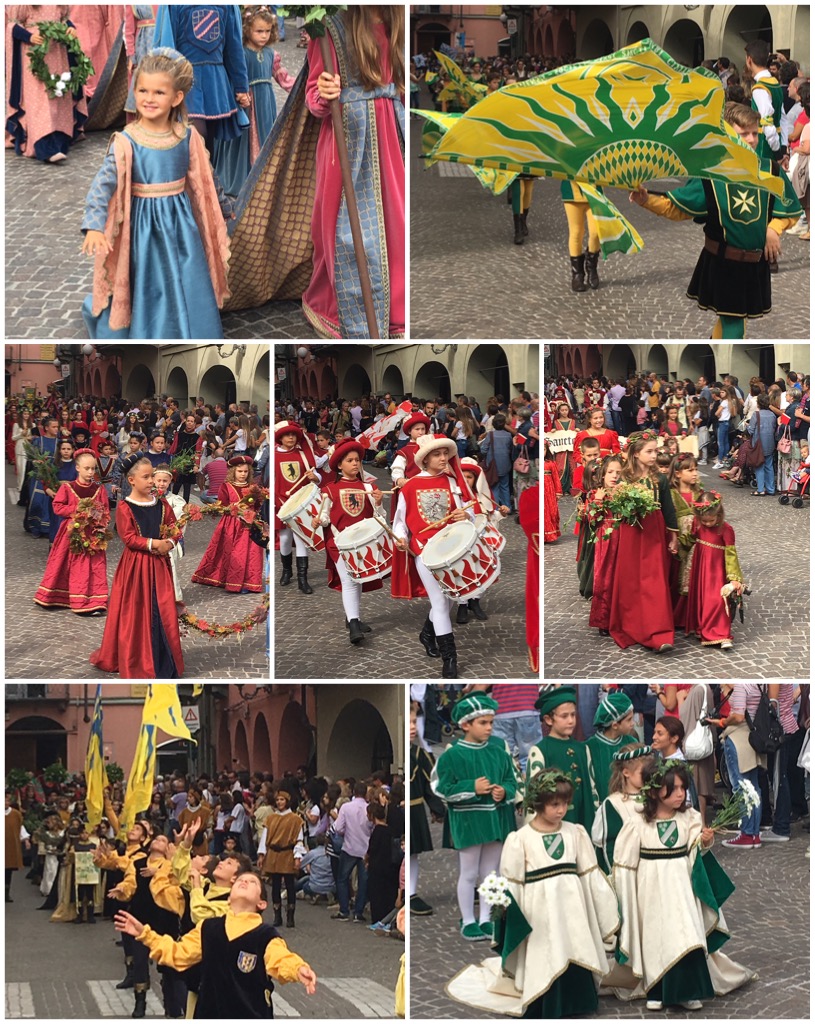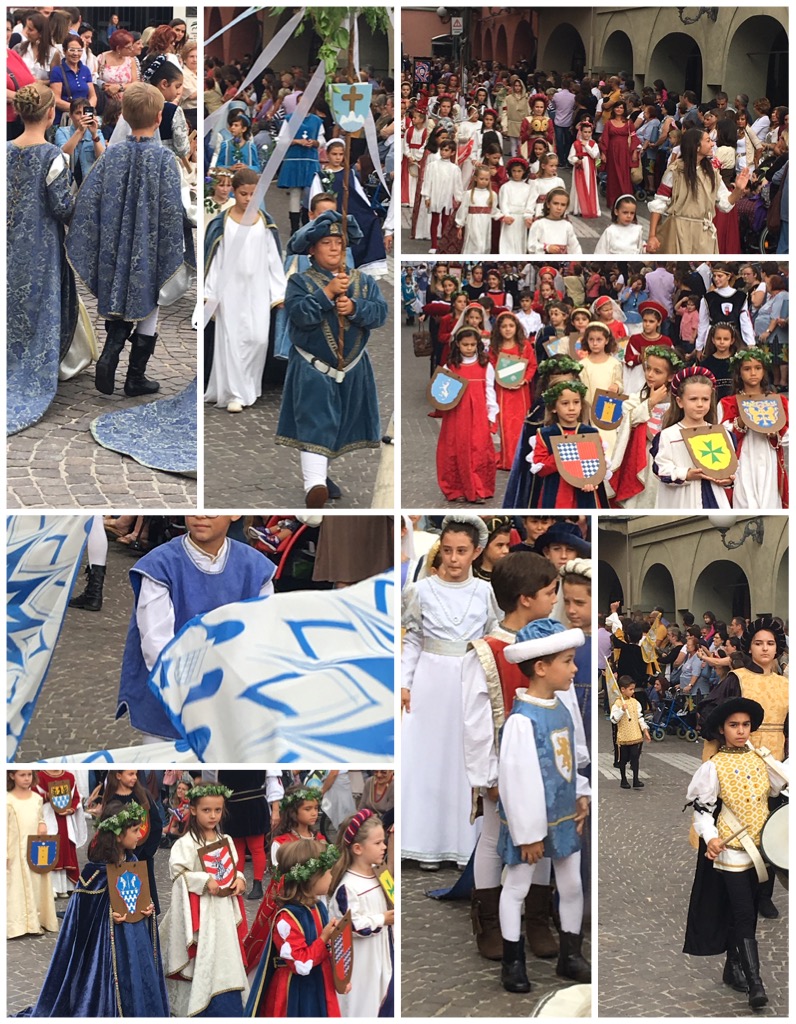 To end our four days in Piedmont our  lovely NZ friend Jeffrey Chilcott invited us to a wine tasting with the NZ consul General Ann Clifford and her partner Jeremy, Blair Walters from Felton Rd in Cromwell and his wine maker partner Sarah and two Italian wine gurus from Genova and afterwards to a long lunch in a quiet Village. ( or so we thought ) I swear there was abut 80 people sitting in family groups all taking part in this delicious long lunch . We all had to take a bottle of wine for a blind tasting !!  – No pressure . Mama kept coming with the food and served stunning pasta, ravioli and meat straight from the pot. This was the best example of a family run trattoria with 3 generations all cooking and serving and all controlled by Mama.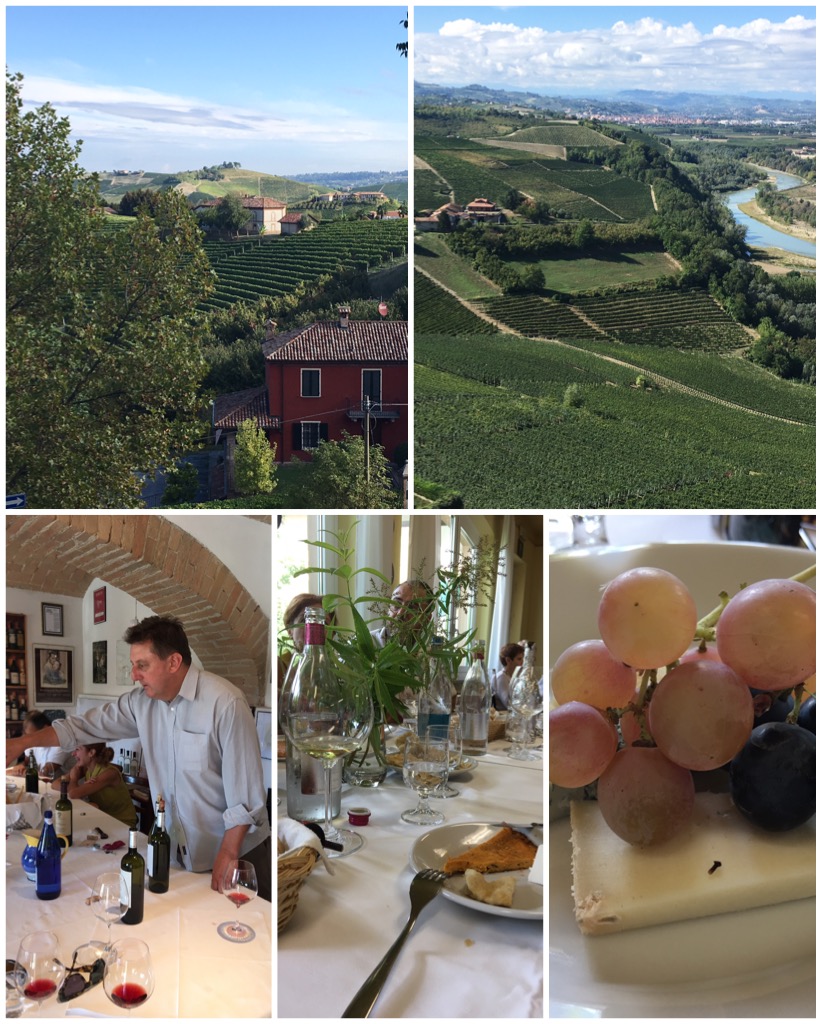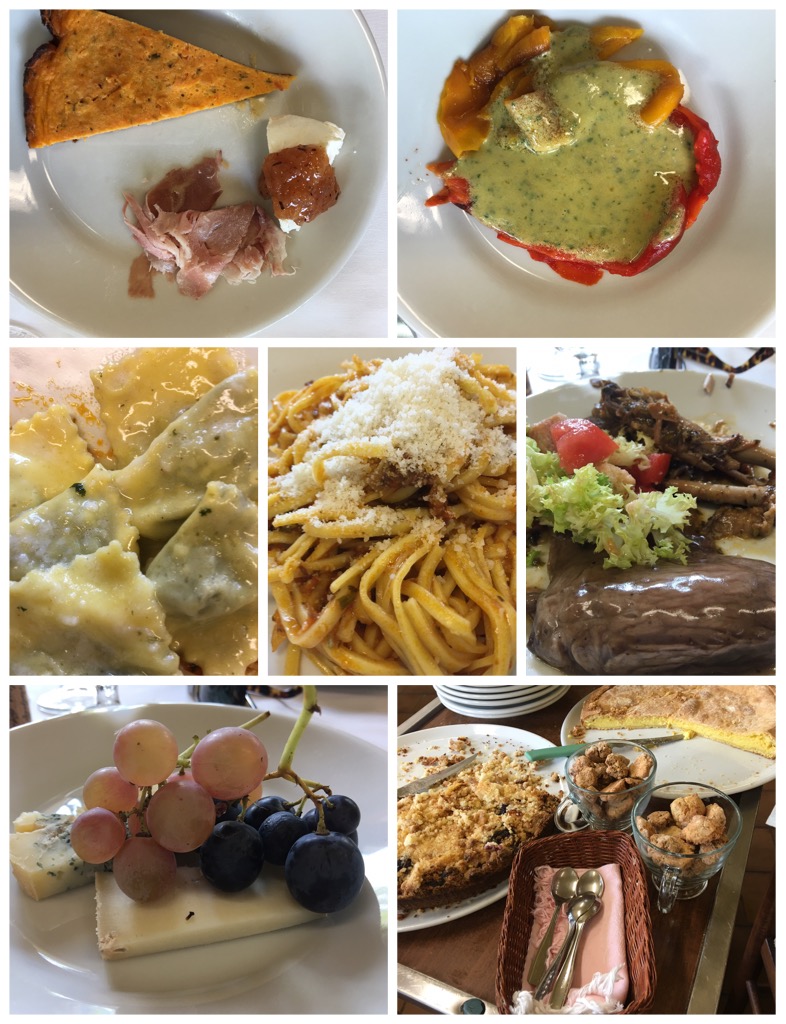 Piedmont is a fabulous region to visit. Once again 4 days is not long enough but as Jeffrey always says :
'We have to get up early in the morning as there are things to do' and in our case places to see!