Geneva to Beaune via Cluny for lunch … Its a great stop. Lunch was very traditional in a classic French cafe. A set menu is common here. The French like to sit and have a long lunch with 2-3 courses before going back to work. Ours was one course with a glass of wine!!!
Cluny was the centre of a major monastic moment in the middle ages. At its height in the 12th Century over 10,000 Benedictine monks committed their lives to continual prayer, worshiping in the largest Christian building until St Peters in Rome was rebuilt in the 16th Century. Today 1 transept remains . Sadly the 'Light of the World ' was demolished and the abbey stone was sold .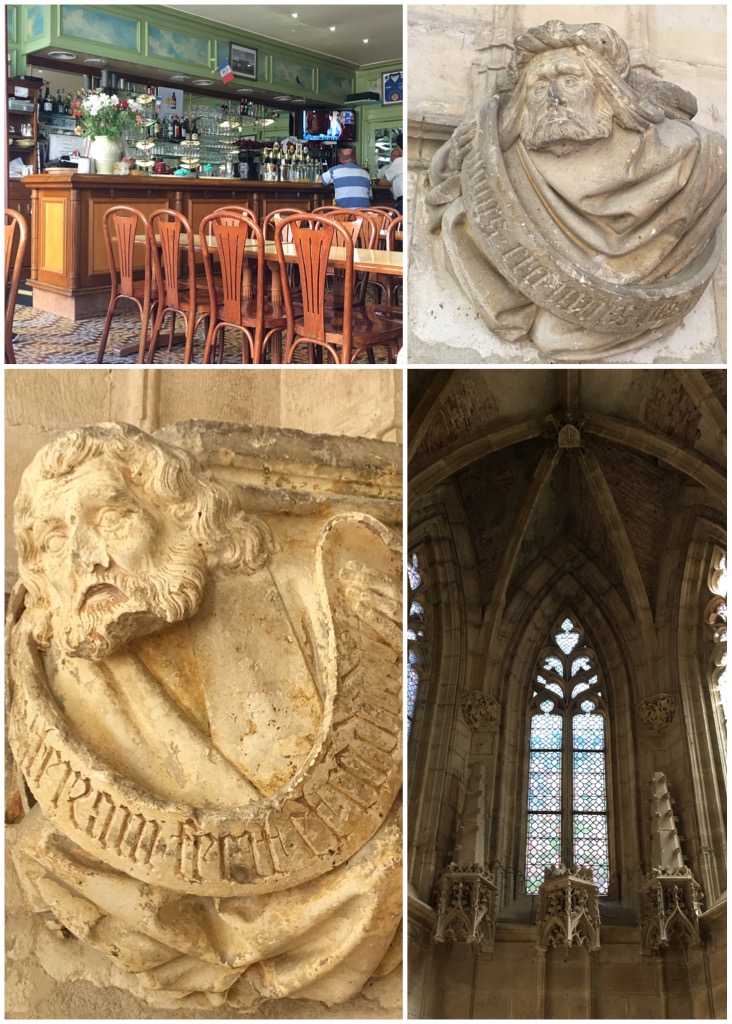 It starts to get exciting driving from the South towards Beaune, especially when you pass towns called Chardonnay. But, a few kilometres up the road the landscape becomes a sea of vineyards stretching up to the low hills on the left and far away on the flat to the right. Villages are grouped in little pockets amongst the grapevines and my group gets their first glimpse at the historical Burgundy countryside. Beaune is a stunningly beautiful walled town. It is always my stop for the last four nights of the tour and its all about the wine !!First night dinner menu introduces everyone to typical dishes of the Burgundy region, Snails, Eggs poached in Red Wine, Ham and Parsley Terrine, Beef Bourguignon, Spiced Gingerbread Cake and a huge delectable cheese selection.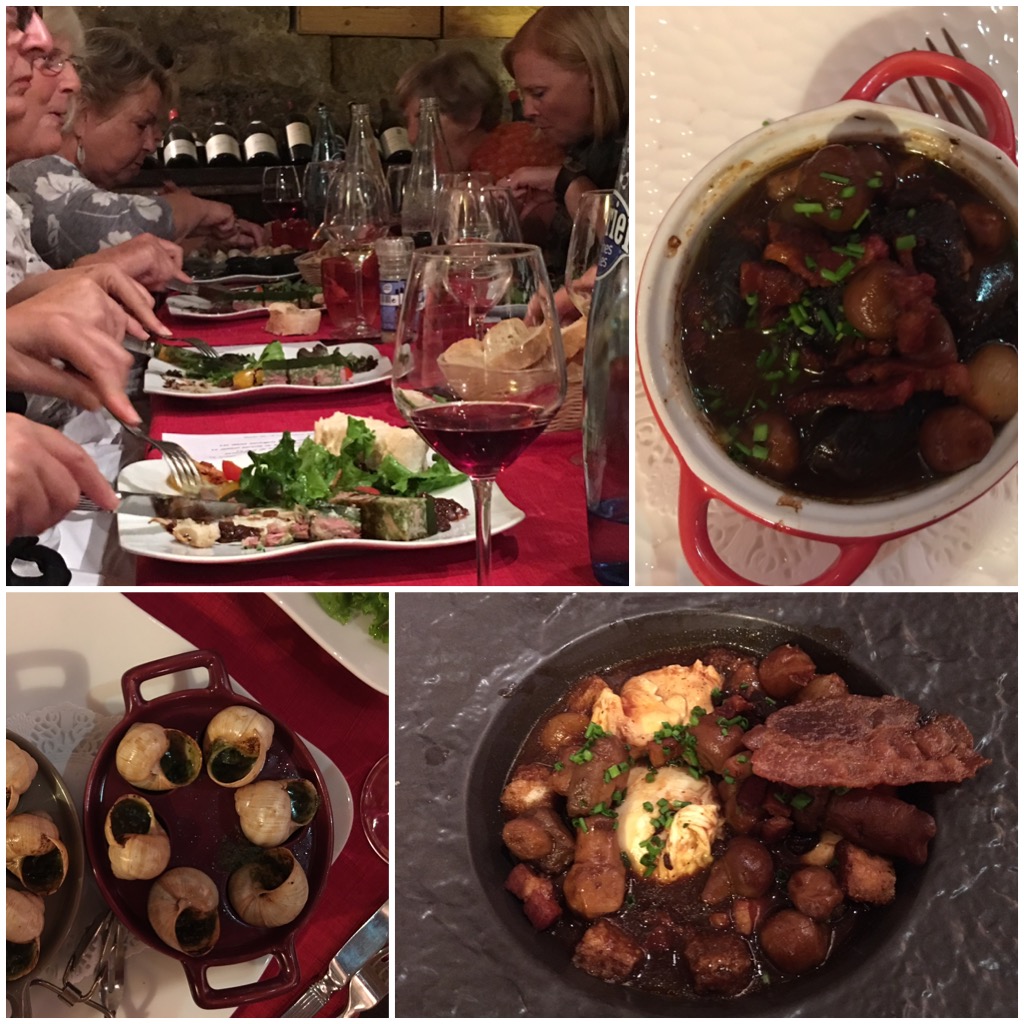 Vincent Martin is my guide for the morning and after 4 hours my group is all familiar with the wine classifications. Grand Cru, Premier Cru, Village and Borgogne  become familiar terms.  There are only two grape varieties Chardonnay and Pinot Noir so they know not to ask for anything else. Then comes the best bit a wine tasting in a village called Nuit St George. The most expensive wine in the world comes from this region infact, Vincent is sitting just in front of the rows – they look the same as any other grapevine. But, the terroir here makes something exceptional with about 4,500 E a bottle minimum . Guess what … we didn't have any.
Truffles feature all over France and Vincent's Aunt Claire and her husband Hubert intoxicate everyone with Truffles for the evening – from watching their two cute dogs finding truffles in the forest, to learning the flavours and names of varieties. Ending up with cooking dinner together. It was a fun day and Burgundy not only turned on fabulous hot weather but taught everyone why it is so famous.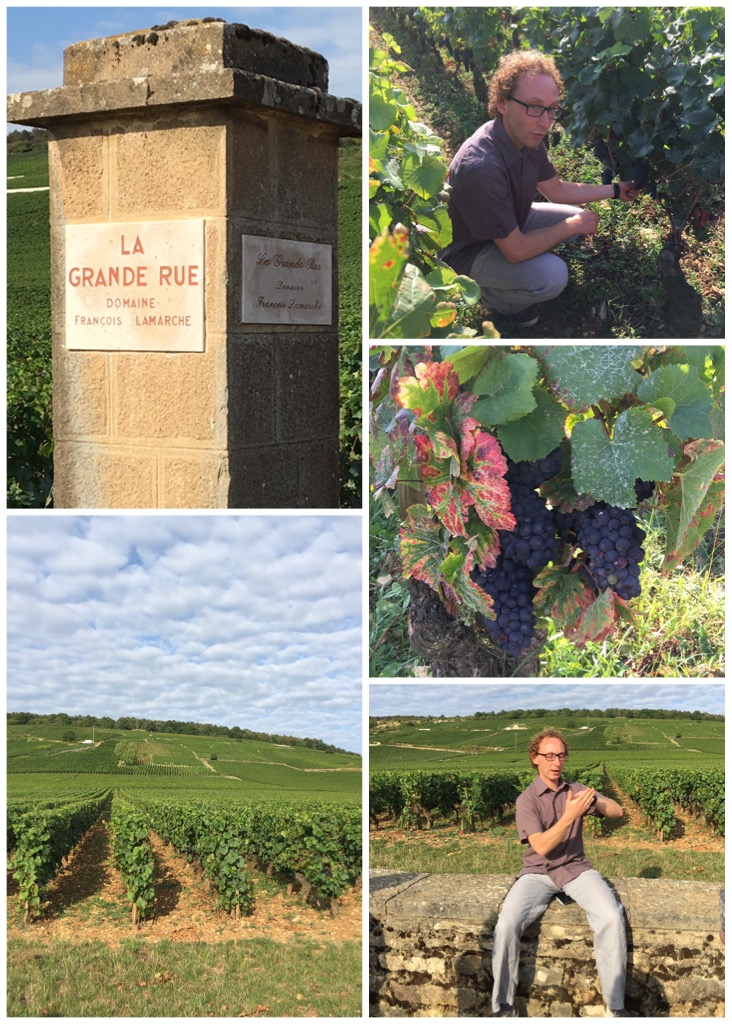 From lunch beside a canal in the Santernay countryside, to a visit to Chateau Mersualt, complete with  tour and wine tasting, a morning wandering around the amazing  Beaune Market –  full of locals shopping for the week, a leisurely walk around the town walls on the quiet Sunday morning to our last visit to Hospice de Beaune before eating dinner outside on a balmy Autumn night. I have once again had a fabulous group to travel with. From Italy to  France we have explored the food, wine, culture and history and had many many good times to remember for ever.