Last week Otago Polytechnic held their 2nd International Food Design Conference here in Dunedin.
It was a huge success and involved speakers from as far away as Nigeria, Netherlands and Brazil. A host of talented speakers highly professional in their fields – from: Ice cream making, working with truffles, foraging for food and Nigerian Cuisine plus,many brilliant lecturers from the Otago Polytech itself.
This 3 day journey of discovery involved concepts like – Eating and Human Touch , Food for Thought-Perspectives on Food, Communicating Food and Eating, Food Media in our changing world and Food Waste.
Nick Nuttall, Global Director of Communications, United Nations Environment Programme states very bluntly : 
"The way humanity manages or mismanages its food supply will in many ways define the 21st century—currently we know that we are not doing a great job with at least one third of all food produced lost or wasted. It is an ethical and economic challenge but also an environmental one: for example if food waste and loss was a country it would be the third largest emitter of greenhouse gases."
In 2012 a remarkable woman called Deborah Manning left her job as a lawyer, started collecting and distributing donated food from her own car. In  the first month of operations the equivalent of 1000 meals were distributed amongst Dunedin's charities for their clients. Now Food Share collects surplus food from a growing list of providers and regularly distributes more than 45,000 meals each month.
Deborah's tenacity is infectious and to see her volunteers collect food – 4-5 trips a day….from Cafes, restaurants, supermarkets and bakeries -. Weigh it, sort it and repack it, then deliver it to Social Services the next day is a  miracle. With the growing success of Food Share a second venture, Kiwi Harvest was established in Auckland and began operations in March 2015.
Pop up events popped up throughout the city during evenings of the 3 day Food Design Conference and the Dunedin City Council 'Love Food Hate Waste'  Campaign organised my event at Kitchen and Things.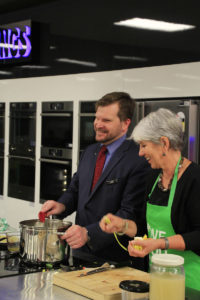 I was lucky to spend an evening demonstrating recipes that I developed using ingredients collected from Dunedin Food Share. I was like the kid in the lolly shop and came away with a huge array of discarded vegetables, fruits, cheeses, yoghurt, biscuit edges, chocolate, cans of beans, a lovely huge roll of Havoc Pork, nuts and what turned you to be the special ingredient – Ginger Beer.
I only bought 2 cans tomatoes, a can of chickpeas and a packet of butter.

Here is my menu – You can see it was a busy night- although lots of preparation was done at home.
Fingerfood :
Roasted Pumpkim, Camembert and Caramelised Tarts
Crostini with two toppings- Eggplant,smoked paprika, yoghurt and cannelleni bean  / roasted carrot, cumin seed, yoghurt  and chickpea

Soup:
Smoked Ham Hock , Leek and Lentil Soup
Mains:
Roasted Kumara Wedges with Capsicum, Courgette, Black Olive and Tomato Sauce topped with Fresh Mozzarella.
Pancakes filled with mushrooms, bacon and sliver beet stems  and a little cream.  Topped with blanched silver beet, cheese and parsley

Slow roasted Havoc Pork – rubbed with olive oil and fennel seeds. Baked in ginger beer and served sitting on thinly sliced potato cakes, topped with paw paw chutney and coleslaw.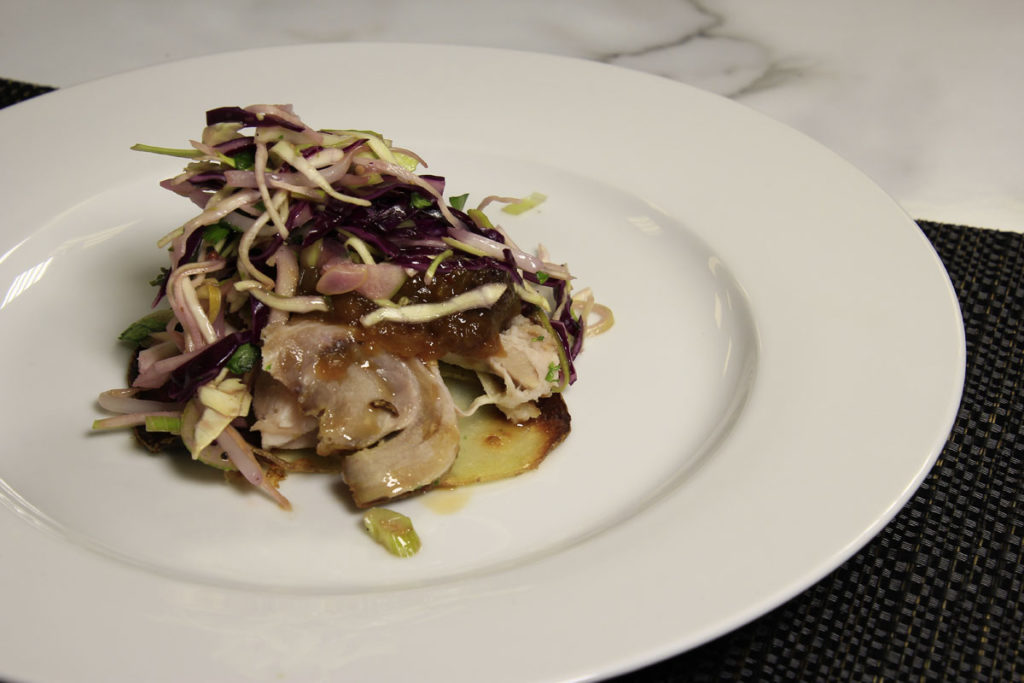 Desserts;
Chocolate brownie edges and date truffles coated with white chocolate
Raspberry slice edges -pulsed , covered in caramel and chocolate jaffa icing
Lemon yoghurt cake with poached pears in ginger beer  and star anise and stewed persimmons
Macadamia nut and orange tartlets.

The recipes for the demonstration are up on the 'Food Share " Web Site:
www.foodshare.org.nz
 My 'Food Waste' Thoughts for the ODT 
My Son's Matthew and Richard's  favourites comment used to be look out Mums 'Surfing the Fridge." I wonder what we are going to get for dinner?
And I suppose that is what I did at Food Share after the food came in from supermarkets and bakeries.
Using leftovers requires an on the spot decision and lots of lateral thinking of how you are going to deal with it. Cutting out bruises, washing greens and vegetables in cold water and storing in good snap lock bags will ensure they perk up for a few mores days. If you don't have good cookbooks, use the internet  and Mr Google is sure to have an answer.
 Deal with perishables first.
Vegetables :
 Root vegetables can be diced, mixed together and tossed with vegetable  oil, seasoned  and roasted:
Serve hot as a vegetable or mix with vinaigrette and fresh herbs to make a warm salad.
Mix roasted vegetables with eggs, milk and cheese to make tarts and pies
Roasted Vegetables Bake – Top with a savoury tomato sauce and grated cheese.
Use roasted vegetables to make a dip – carrot/ beetroot / pumpkin
All vegetables can be made into Soup- use left over pottles to fill with soup to be frozen.
 Grate vegetables like cucumber and radishes – fold through plain yoghurt with a little lemon
juice and chopped parsley to make a dip or an accompaniment to barbecued meats.
 Large quantities of excess vegetables can be made into chutneys.
Salads:
 Trim salad leaves and use immediately. Mix with chopped herbs like mint, parsley or
coriander and toss in vinaigrette to make a simple salad
Breads:
 Make croutons with left over bread. Toss in a little oil and bake.
Use in salads or a soup topping.
 Use the same croutons mixed with chopped parsley and grated cheese as a pie topping.
 Thinly slice bread and bake in an oven to make toasts suitable for finger food.
 Put stale bread through a food processor to make fresh crumbs. Use to coat fish or meats or
use as a pie topping.
 The list goes on with bread. Making cheese toasties, use for open topped burgers, or as a
base for mince dishes.
Fruits:
 Poaching and stewing down for breakfast and desserts.
Use fruits in baking – Cakes / Muffins – rhubarb, apples, oranges, lemons, plums,pears, etc etc.
Fruits like apples, kiwifruit and pears can be diced finely and used in coleslaw.
Toss pear quarters in a little oil and use in a salad with blue cheese and roasted nuts.
Hints :
By having a simple herb garden you can add a flavour hit to your cooking.
Season with salt and pepper
Use things like pastry – filo or flaky to make leftovers into another meal.
Learn to make pancakes – they can be filled with so many vegetables, meats, fish and fruits for
dessert.
Have basics on hand always – flour, sugar, baking powder, vegetable oil, salt, pepper, butter, milk,
pasta, rice, potatoes and onions
Stock up on cheap cans of chopped tomatoes.
Buy a Tasty cheese – you don't have to use as much and it tastes better.
Plant a vegetable garden and if room fruit trees as well / or use large tubs or plastic containers
Share excess with your neighbours and family.
When shopping: Use a list.
Buy exactly what you need.
Buy small amounts to save wastage.
Buy in season and take advantage of specials in the fruit and vegetables.
Make use of your freezer and don't let it all get forgotten about.
Buy New Zealand grown.
Food is not only all about cooking but also about pleasing your appetite.
Excess food can be shared – asking friends and family to come and enjoy a meal is fun and
rewarding. It may be a neighbour next door.
Family meals around the table is an opportunity to talk and communicate.
Encourage everyone to help in the kitchen and be involved.