For Alison, Hasan and our first bus driver Hikmet excitement gathers the closer we get to Cappadocia . They always say they leave the best until last – and of course they are not biased !!!!
It's a very long 10 hour day from the Mediterranean coastline, over the Taurus Mountains up as high as 1500 meters and down to the vast plains of Konya. I love passing the old Caravan Surai's – used when life here was very nomadic and they were a safe nights stop. They are all along the old Silk Road and are placed a days travel apart. – many are in ruins – but others are quite grand.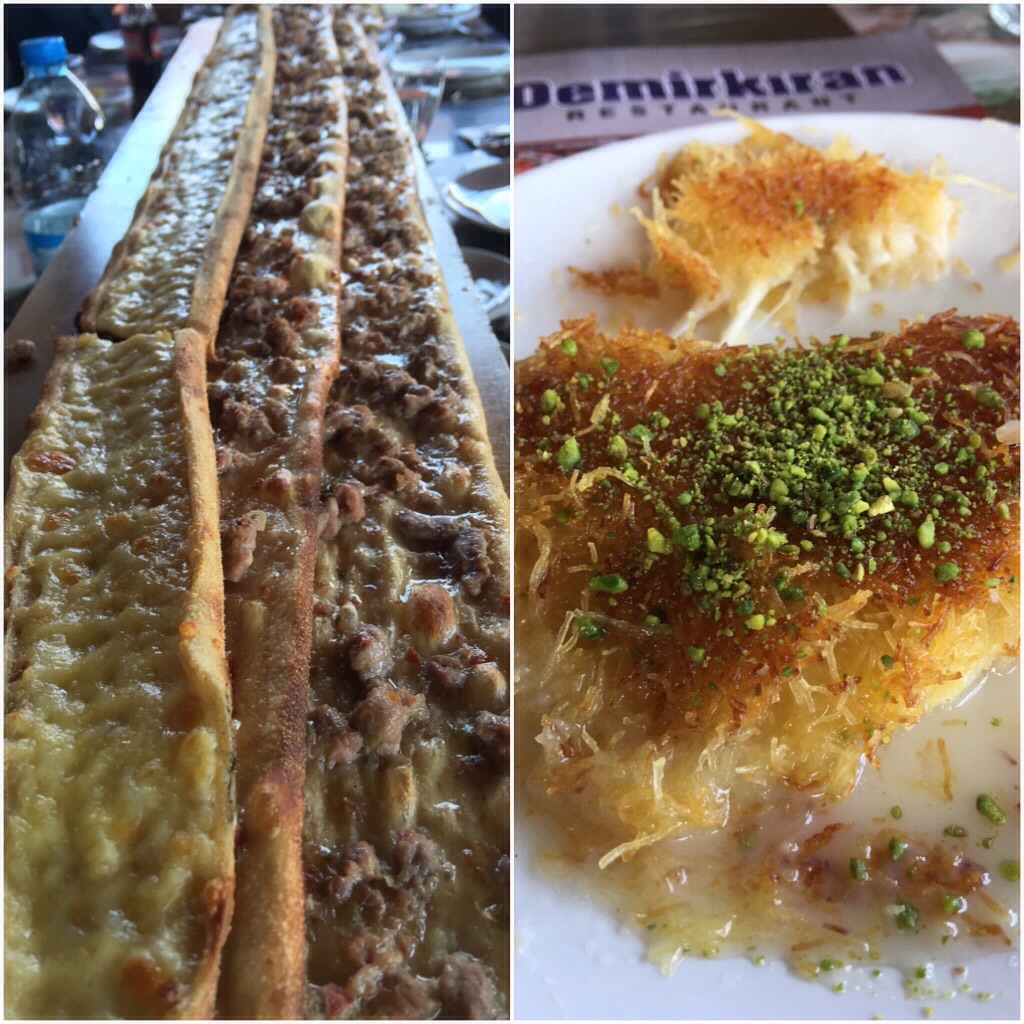 The long filled pide's in this region are one of my favourite road side lunches. We are very happy with the Turkish beer as an accompaniment on these hot days but Alison and Hasan alway drink Ayran – A salty yoghurt drink .
Desserts in Turkey are usually very sweet and syrupy and today was no exception the traditional dessert was Katafi (shredded fillo) filled with cheese – baked and drizzled with very sweet milk !! Delicious -well just a few mouthfuls !!
After a brief stop at the Mevlana museum in Konya – a holy mosque dedicated to the beginning of the whirling Dervishes. It was another few hours sitting in the mini van before arriving in Urgup – our home town for the next 4 nights.
This year we are staying in Hasan's nephew Baran's new Cave Hotel- Asawari. It has only been opened 2 months and it was very exciting to be ushered into our cave bedrooms surrounded by stunning courtyards and balconies with large soft couches.
It was Baran's birthday and we sat down to delicious meal of lamb casserole that was cooked in the local bakers oven and a selection of birthday cakes ( 3)
The best surprise was to come and we had our own private performance of a 'whirling dervish' – this chap is a friend of Baran and was actually sitting at the table beside us for dinner, although he looked very different in his trance like whirling.
There were cameras and a drone all filming a promotional video – available on :
YouTube / Asawari- we even feature !!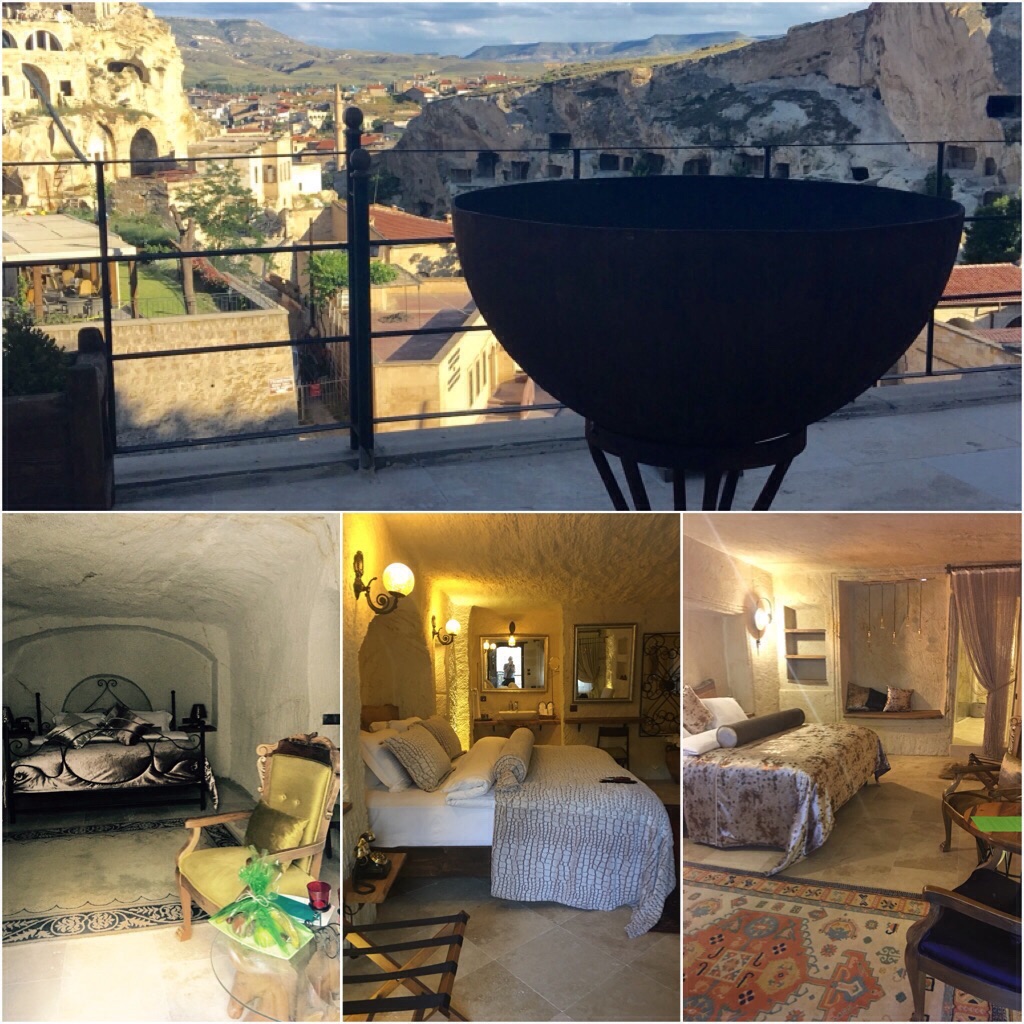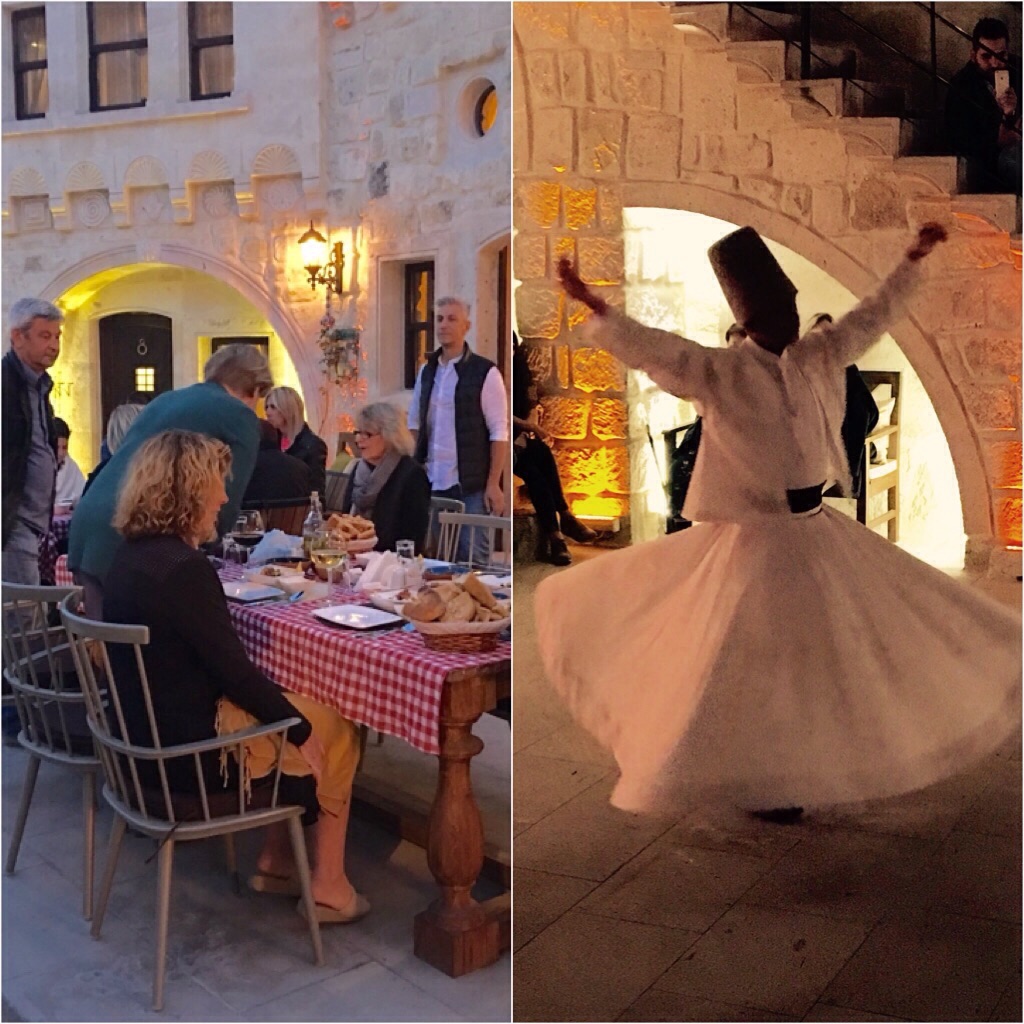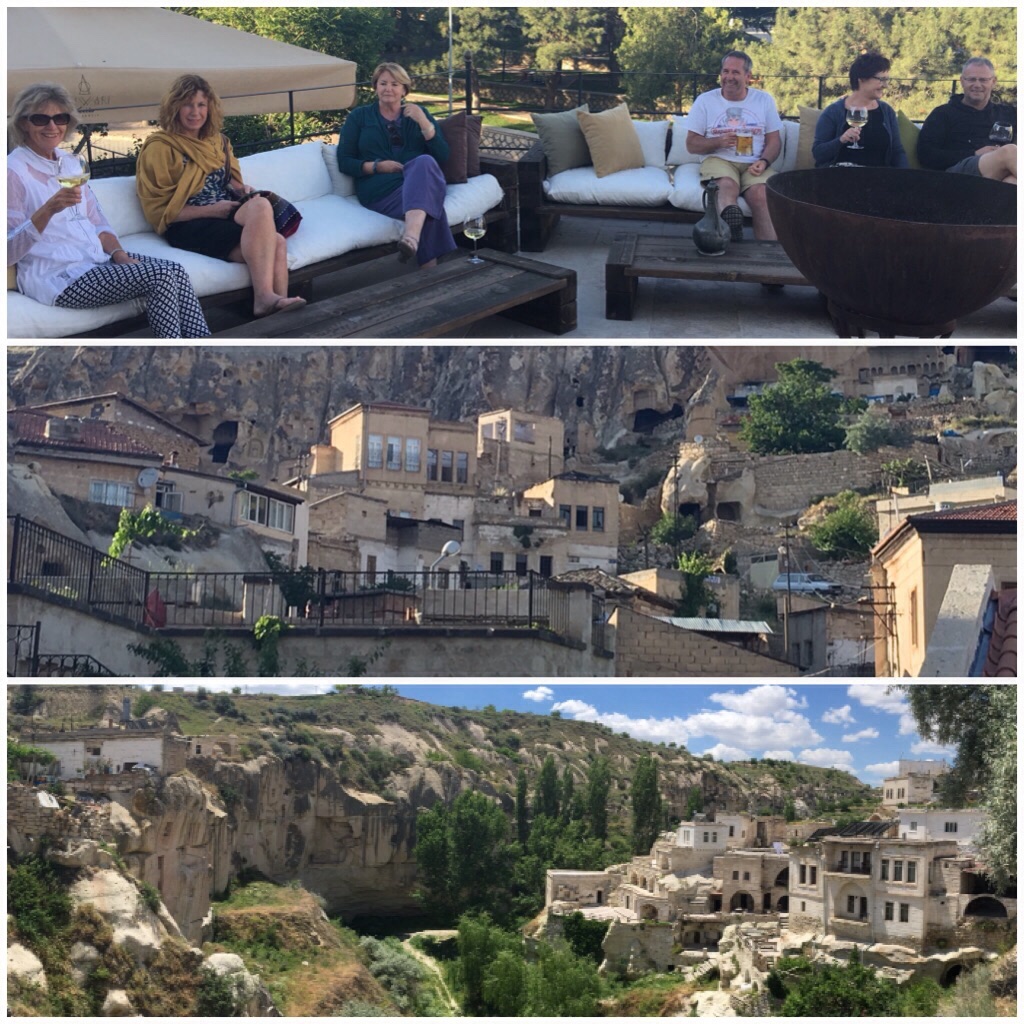 The next four days was Alison and Hasan's local tour of the outstanding magical countryside of Fairy Chimneys, ancient deserted villages, Christian Cave Churches from the 5 th century, a lesson in Turkish Carpets, open air museums and a visit to the local Urgup market with all the locals – each day including lunches of gozleme – the famous stuffed type pancake, barbecued meats with fabulous ripe tomatoes and always a selection of meze.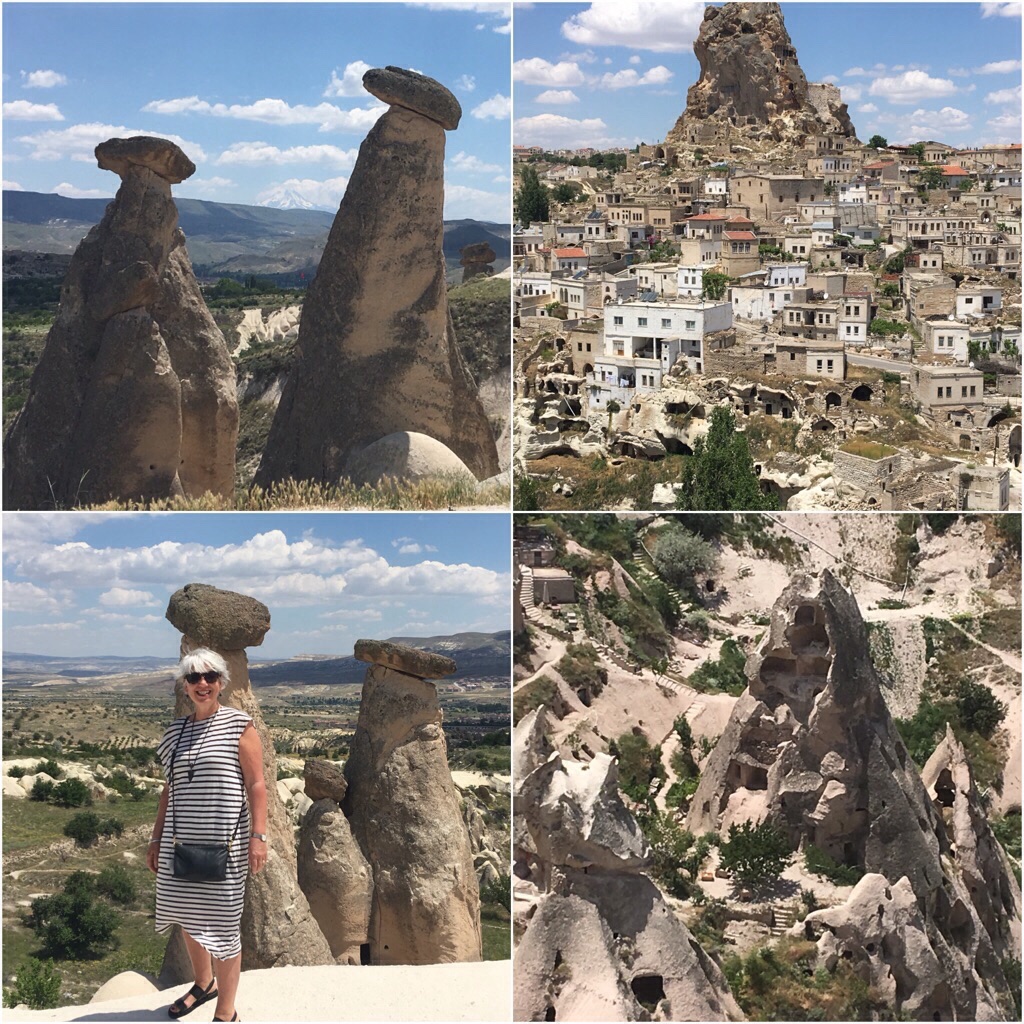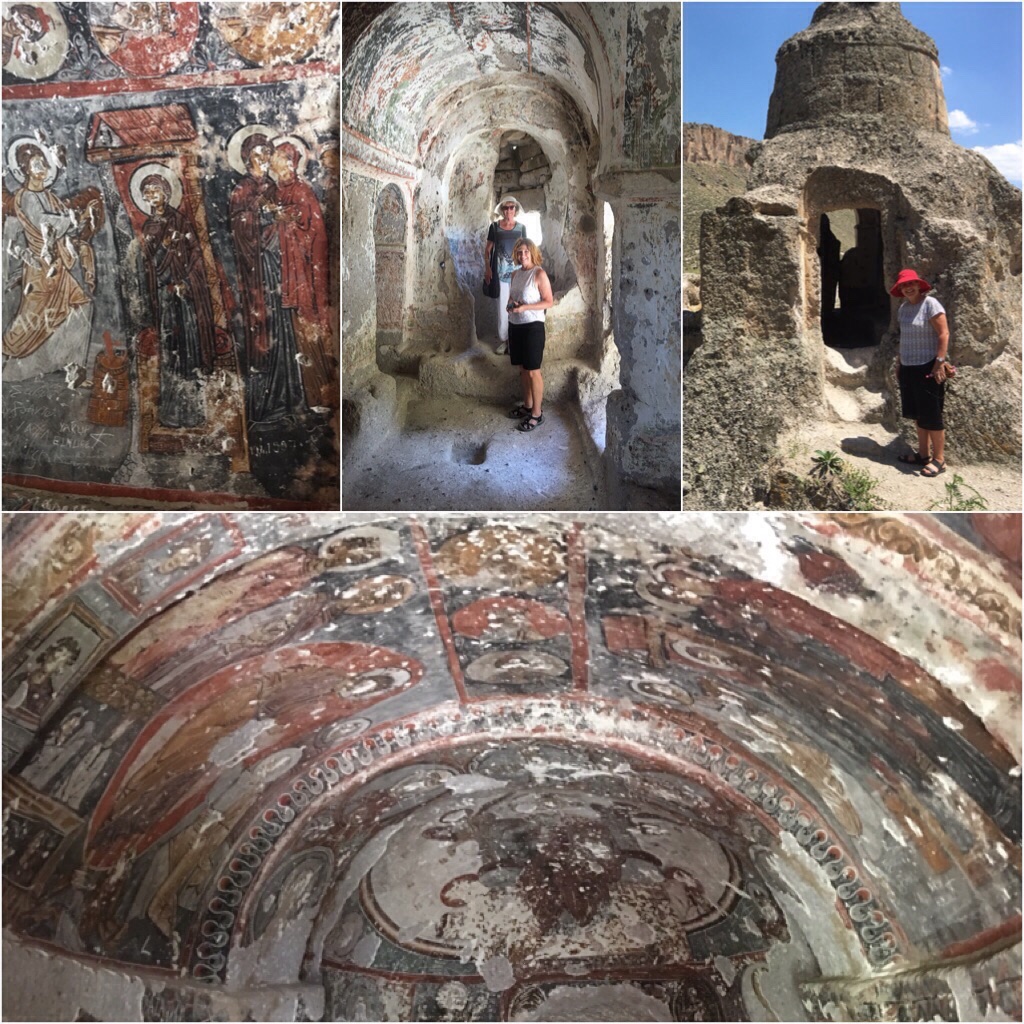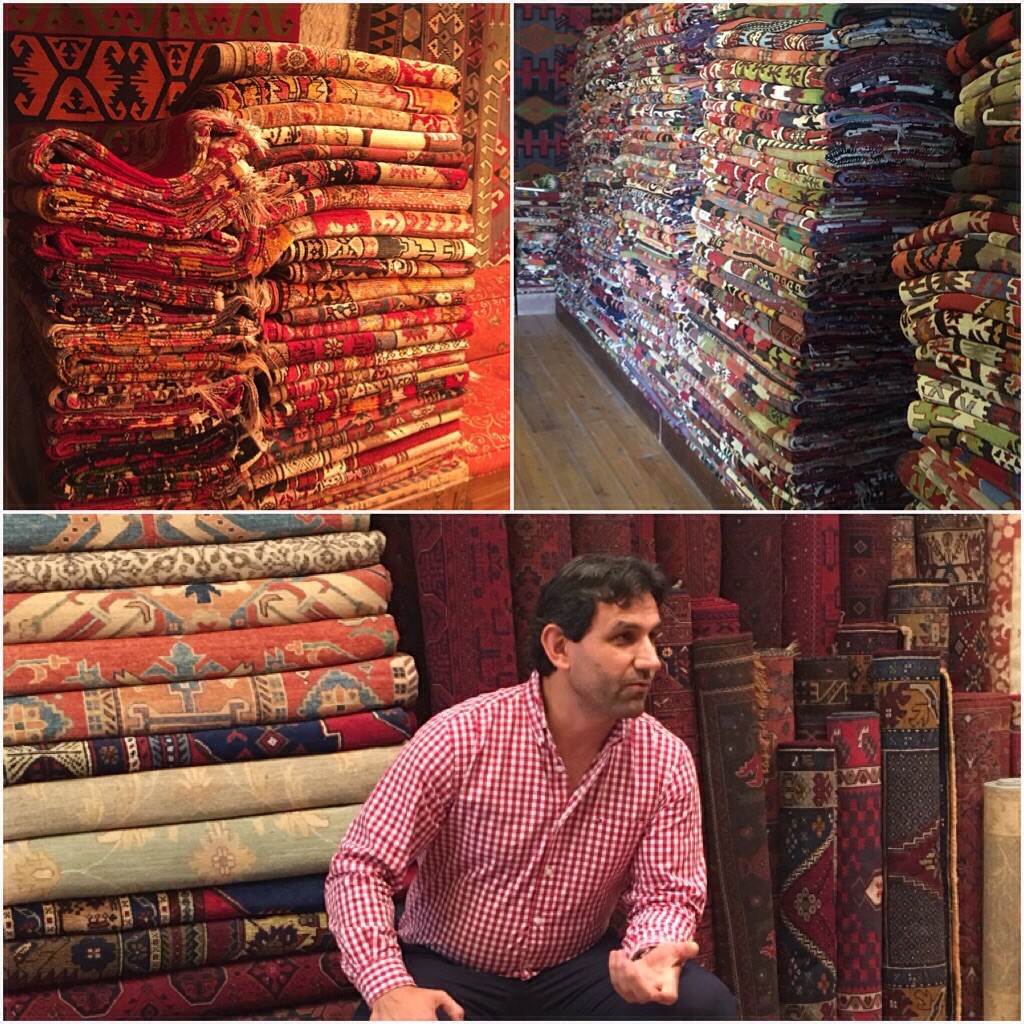 Ballooning is a huge draw card for this region and all except Bruce left the hotel in the dark at 4am after being woken by the first call to payer for Ramadan.They came back buzzing and it is always a highlight. I believe there were 80 balloons up which was pretty good since Tourism is also devasted here.
Visiting the Urgup market was a wonderful experience . Fabulous fruits and vegetables piled high surrounded by staples of herbs like dill and parsley, there was cheeses, eggs and you could even by a portable milking machine !!!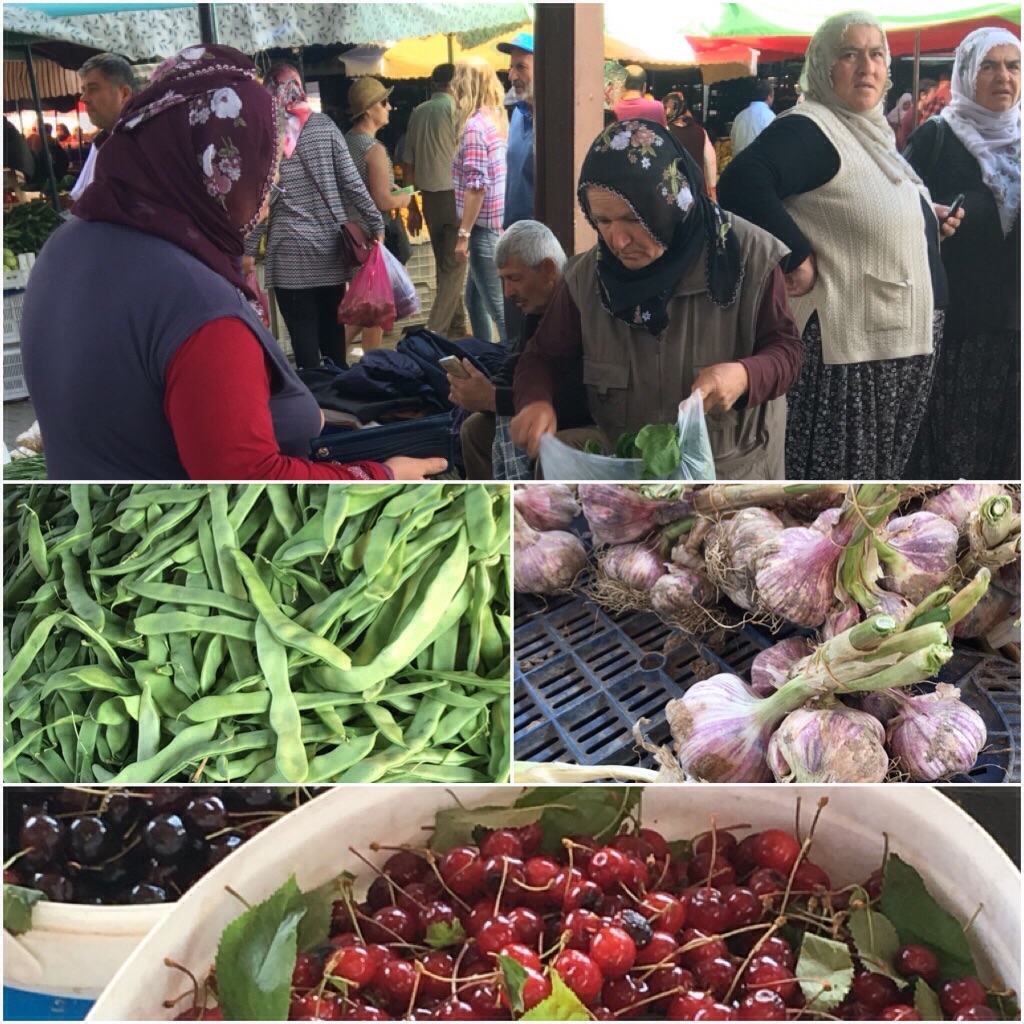 The food in Turkey has been tremendous and although most of us bought a cookbook way back at Ephesus. Everyone if keen to learn a few tricks and regional recipes. Hasan and the hotel chef lead us through making kofte, beans in tomato, stuffed courgettes and an eggplant salad followed by my favourite sweet semolina cakes with hazelnuts. It was fun and nothing like having the hotel to ourselves – I think pretty spoilt really. Especially the long breakfasts in the sun with such a beautiful section to choose. from: cheeses, pancakes, omelettes, olives, tomatoes, fruit platters and crunchy fresh bread.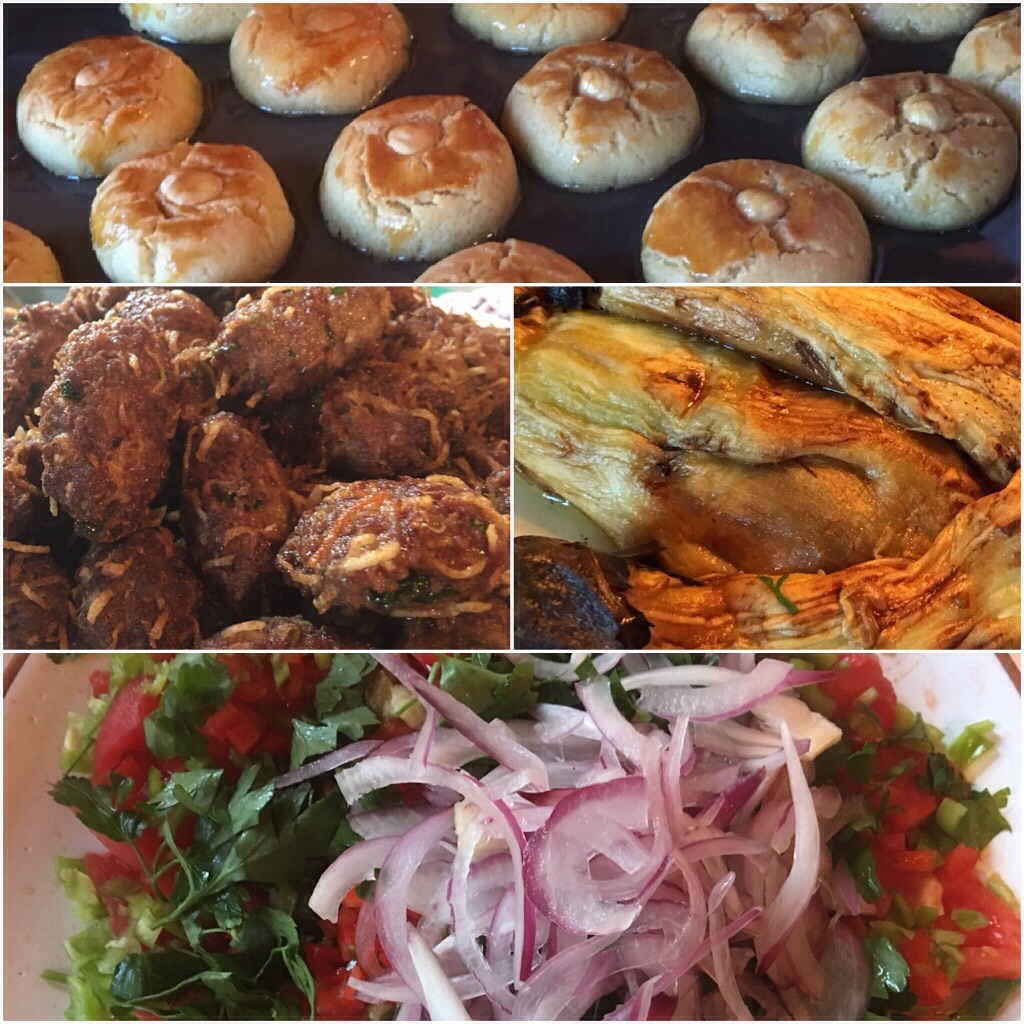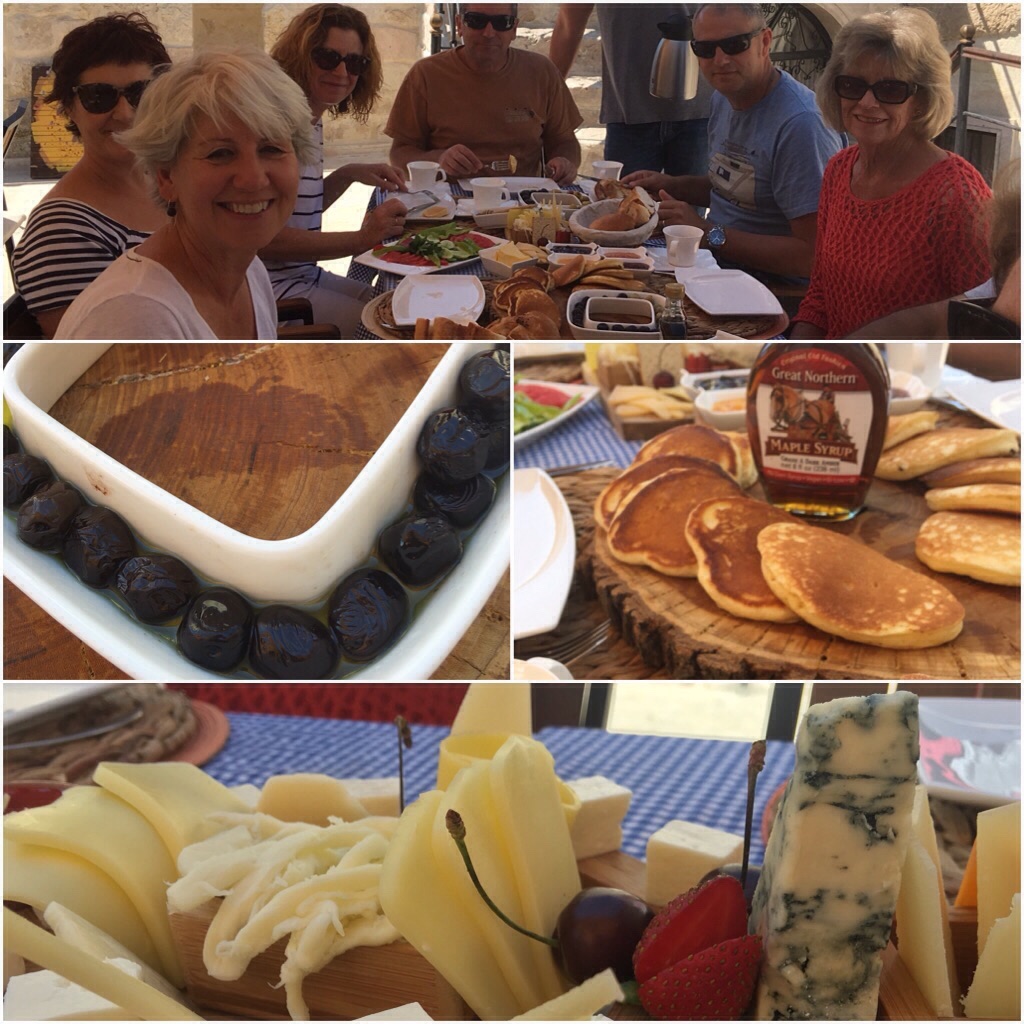 Local restaurants are set in some very incredible buildings – most with roof top terraces overlooking the towns and countryside. I am always amazed at the stunning lighting, furniture and decorations in buildings which started off as a stone ruin . Electrical and plumbing in these rock buildings must be a nightmare.
There are over 300 boutique hotels in Cappadocia and more seem to be under construction – but I know some don't have any quests and the future is a complete worry.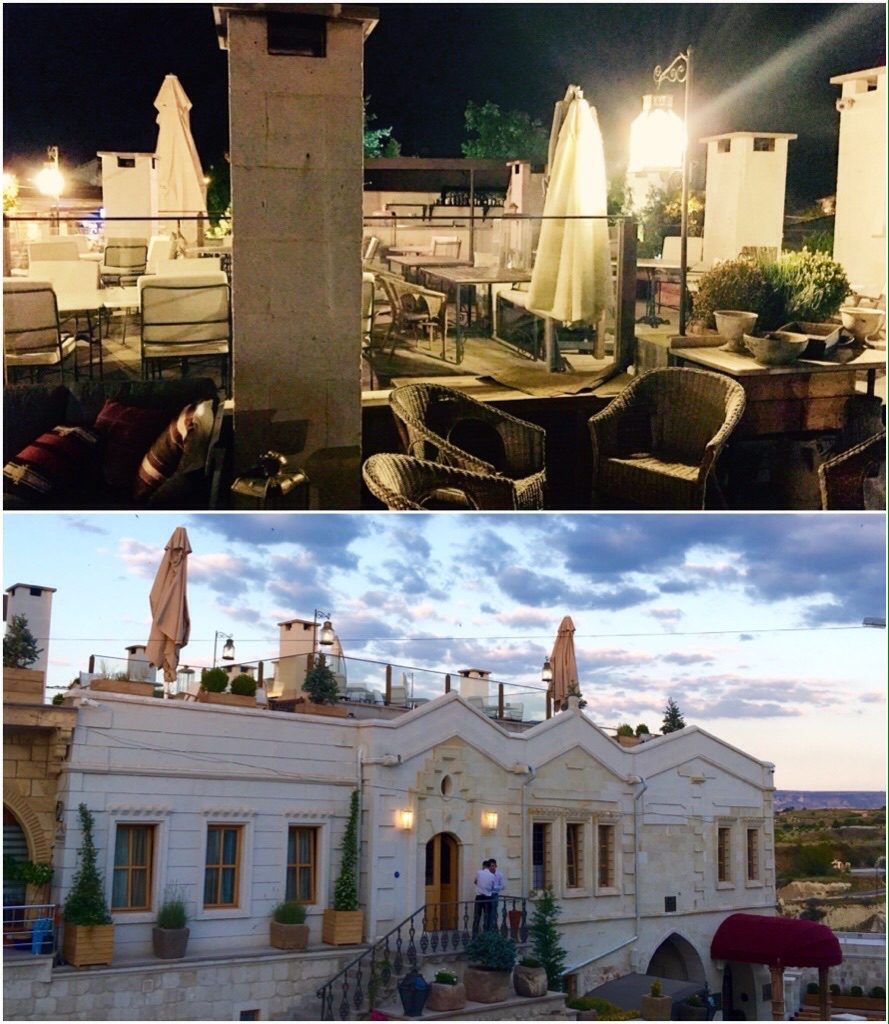 This is my third tour to Turkey and Cappadocia. It once again captured the hearts of my tour group. At no time did we see anything untoward or feel uncomfortable. The Turkish people remain stoic but their livelihoods are being eroded away as tourism declines. With the advice and help of my knowledgable guides we enjoyed an outstanding 18 days and I am hoping to return in 2017.