Leaving the infinity pool and view of the Aegean Sea was hard . Nice stop, nice hotel and outstanding visits to 3 Byzantine and Roman archaeological sites.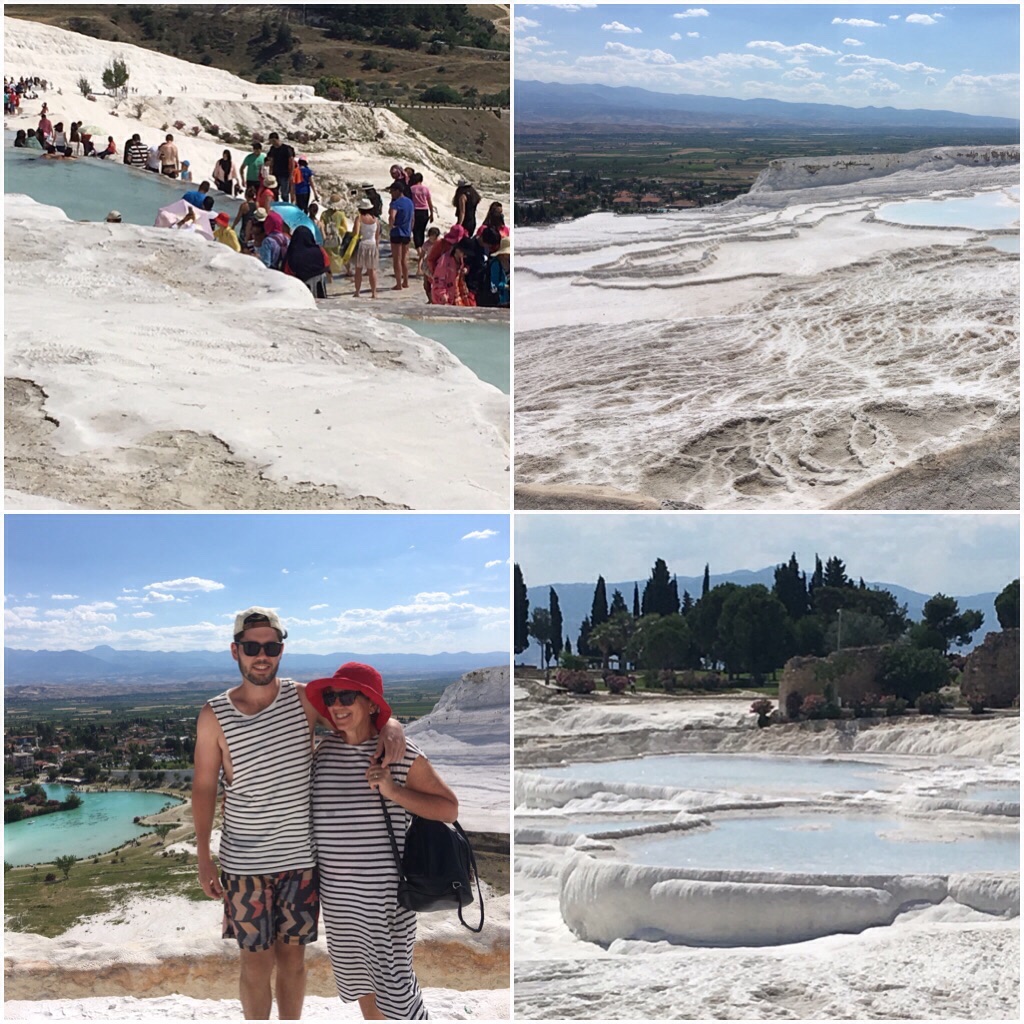 Pamukale is 3 hours inland – famous for its calcium white terraces that look like puffy white cotton. (Pamuk meaning cotton)
They are surrounded by a vast agricultural region growing mainly fruit like apricots, figs, pine nuts and pomegranates.
At the top of the terraces is the remains of the Roman centre of Hieropolis – important for its hot thermal water and spa's and like today it was a popular tourist attraction for the health  properties of the water. We walked down the side of the terrace with 'lots' of people . It was a Sunday and the place was crowded .It is easy to walk on the rough surface and we stopped in one of the man made pools to lather ourselves with the soft white clay and exfoliate our skin.
Turkey is very well known for its textiles – mainly cotton and the beautiful brightly coloured cotton towels are sold everywhere. Pamuk – cotton is grown, dyed and woven here in this region also.
The Taurus mountains run through Turkey from West to East and although we meet them again later in the tour on our way to Cappadocia – we climb as high as 1500 metres through a very rocky environment covered in cedars and pine down to the coast and the large city of Fethiye.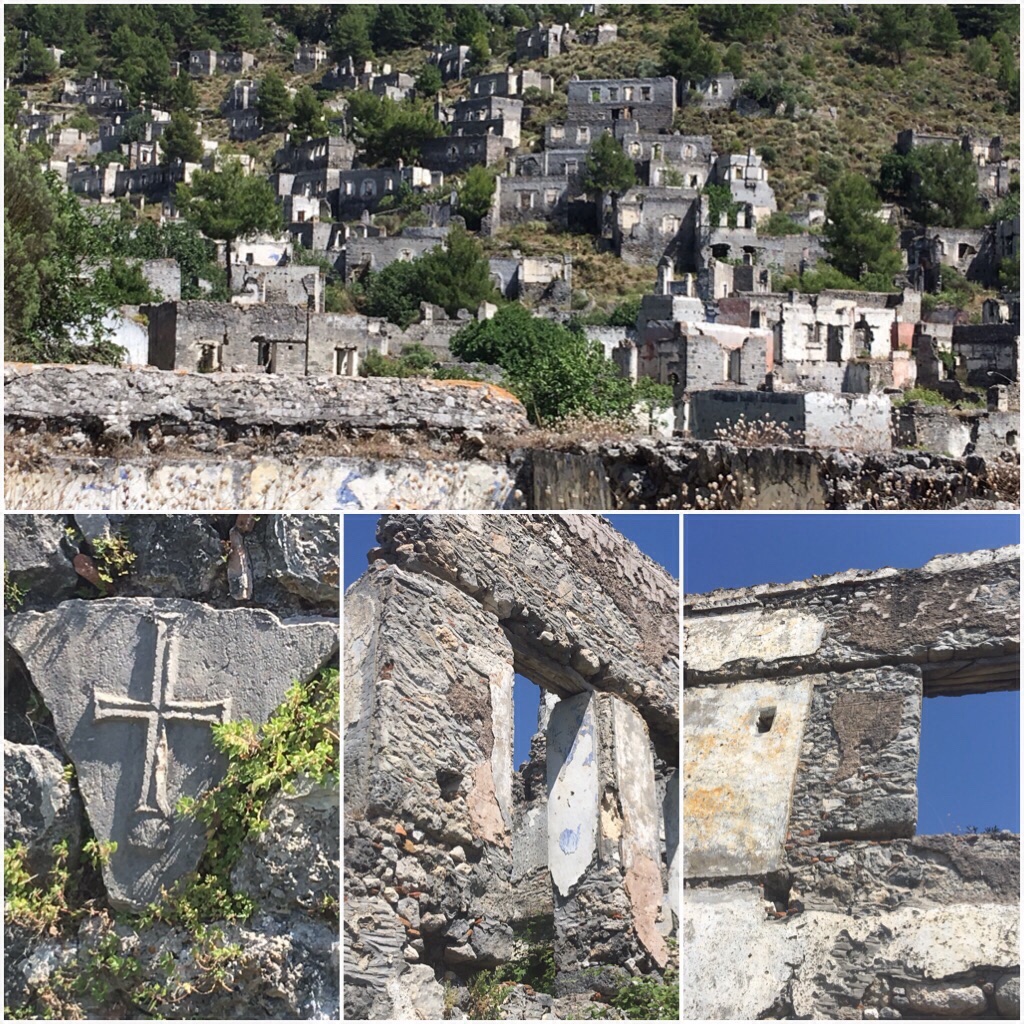 One of the huge highlights for me is to take our tour group to the abandoned village of Kayakoy. 'Birds without Wings ' by Louis de Bernieres based his book on this village and the lives and characters of the village.
'I went to south-west Turkey and there's a ghost town there. It used to be a mixed community, as described in the book more or less, and they obviously had a wonderful way of life, quite sophisticated. An earthquake finally destroyed the town in the Fifties, but it really started to die when the Christian population was deported. It was walking around that very special place that gave me the idea .The town, called Eskibahce in the book, will be recognizable to those who know Turkey, 'but I'm not going to go round telling people'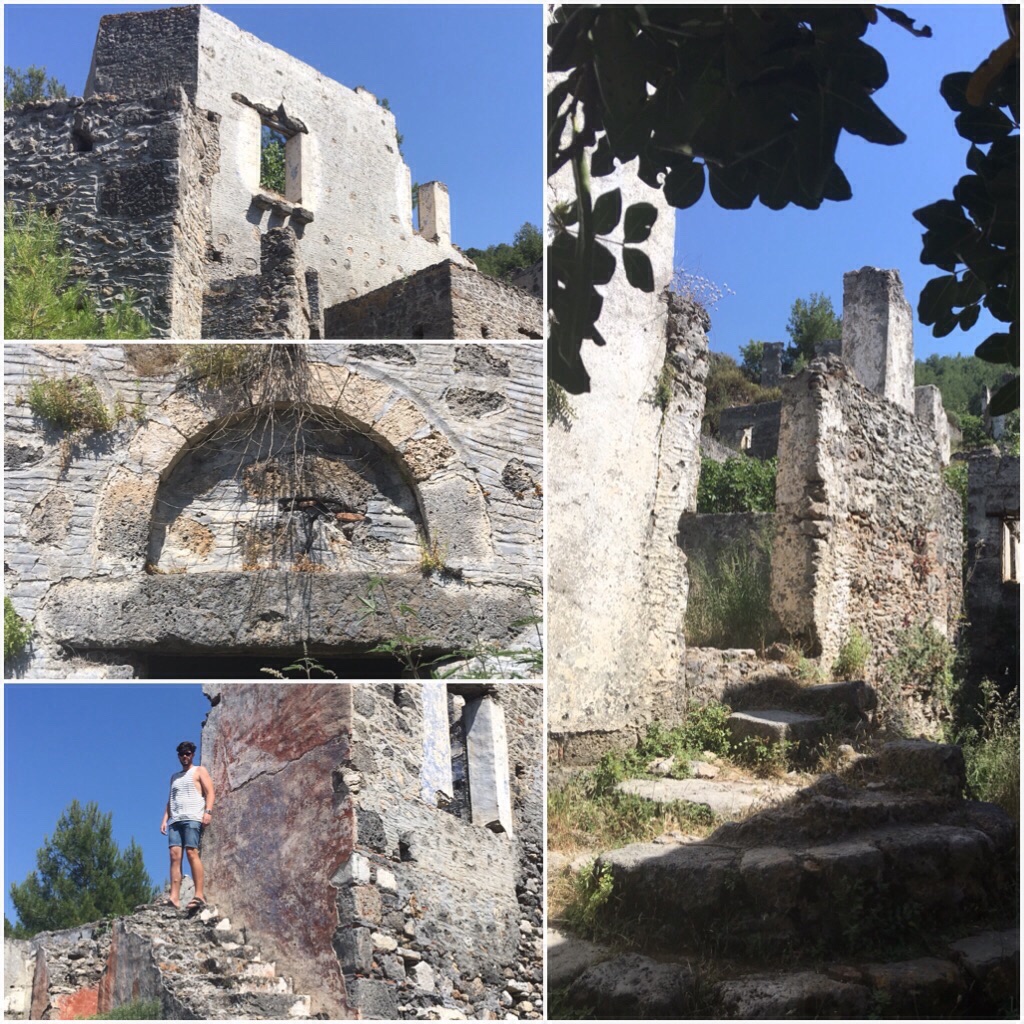 The abandoned stone buildings in this once bustling town are roofless, weathered and incredibly sad.
It once had Turkish and Greeks living here in harmony through the Ottoman Empire, the First World War and the the Greco -Turkish War 1919- 1921.
However, after the Greeks were resounding defeated- the worst atrocity happened called the exchange of population where within days all Greeks had to leave Turkey for Greece and all Turkish in Greece had to leave and go to Turkey . These people had lived for generations in each country. Relocation was compulsory . Approximately 350 homes in Kayakoy now sit empty, roofless and in ruins. Harsh winters and winds plus, finally an earthquake in 1957 stripped this village to a ghost town. A modern ruin, now a world heritage UNESCO site and very a moving visit especially if you have read the book – one of my all time favourites.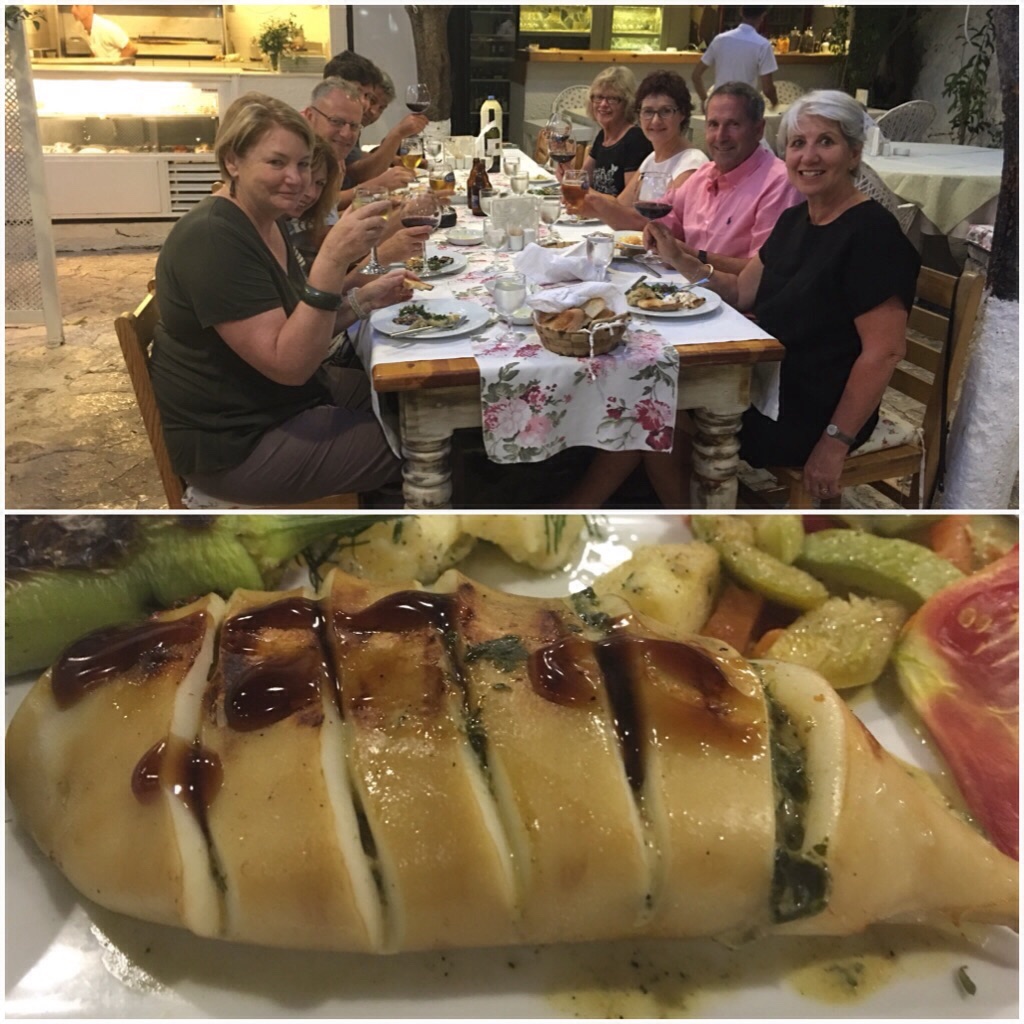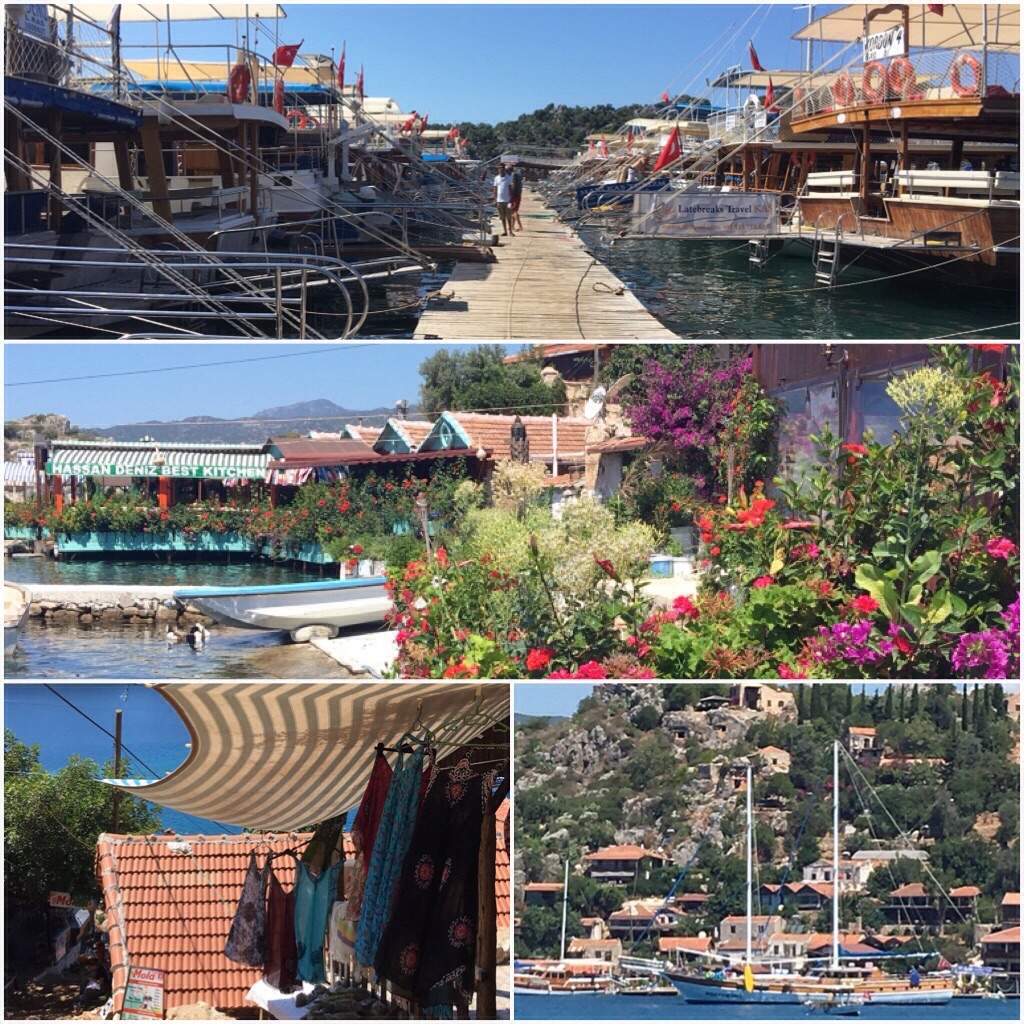 Our two night stop in Kas not only enables my group do do some lovely retail therapy, stock up on towels, scarves, jewellery and 'stuff' plus spend a day on the Mediterranean in a Gulet ( boat) it's so….. Relaxing – most had several swims – jumping off the boat into the crystal clear azure blue water. A siesta after a delicious barbecue lunch and a spot of sunbathing before sadly returning to Kas in the afternoon.
Following the picturesque coastline it is filled with apartments and condominiums for large numbers of British and foreign nationals plus acres and acres of plastic houses used for growing tomatoes, capsicums, chilies and eggplant .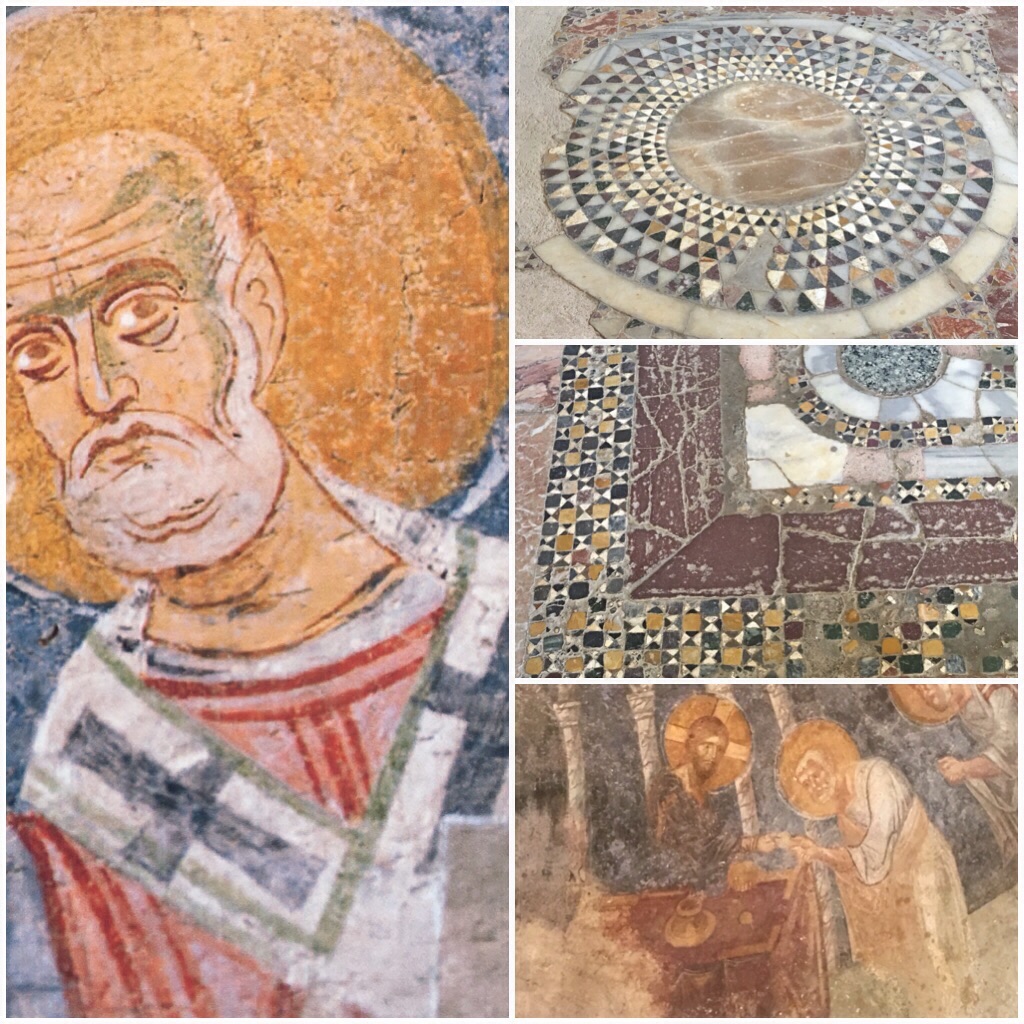 From Kas we head to Antalya stopping in at the church of St Nicolas – patron saint of seamen, ships, children , coopers, repentant thrives and pharmacist – so apart from giving out gifts to children he was quite a busy man.
Another tour surprise is lunch at a trout farm set amongst a forest – sitting on divans covering a stream the food is carried down on large trays . Today however , we had thunder, lightening and torrential rain. So… We still enjoyed our grilled trout lunch but, under cover looking down on the stream and the ducks enjoying the rain.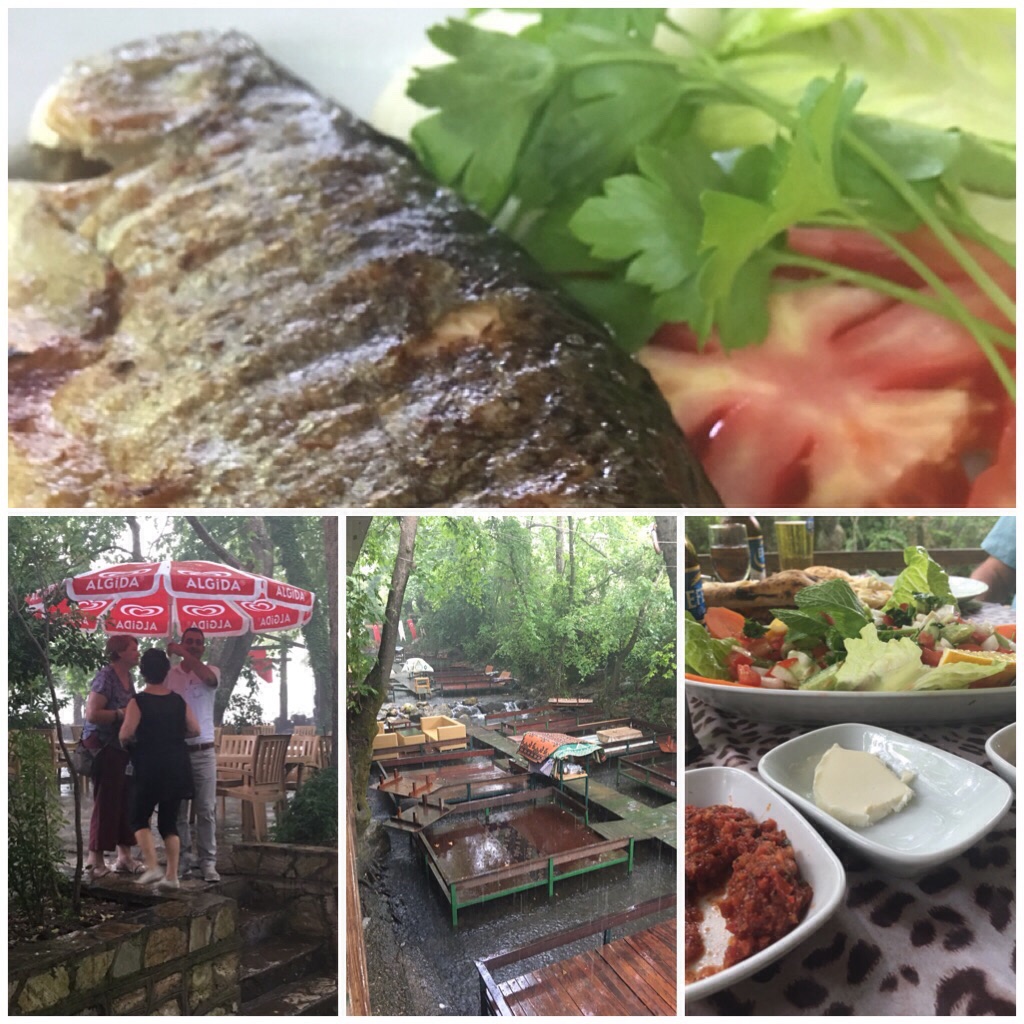 I can see why tourists all over the world want to spend time on this coast. Large Gulets are in all the ports along with lots of very impressive enormous palaces.  The boom box young people's fun boats can be heard loud and clear. The water is warm, the sun shines over 300 days a year and the temperature is ' hot' .  It's very lovely .