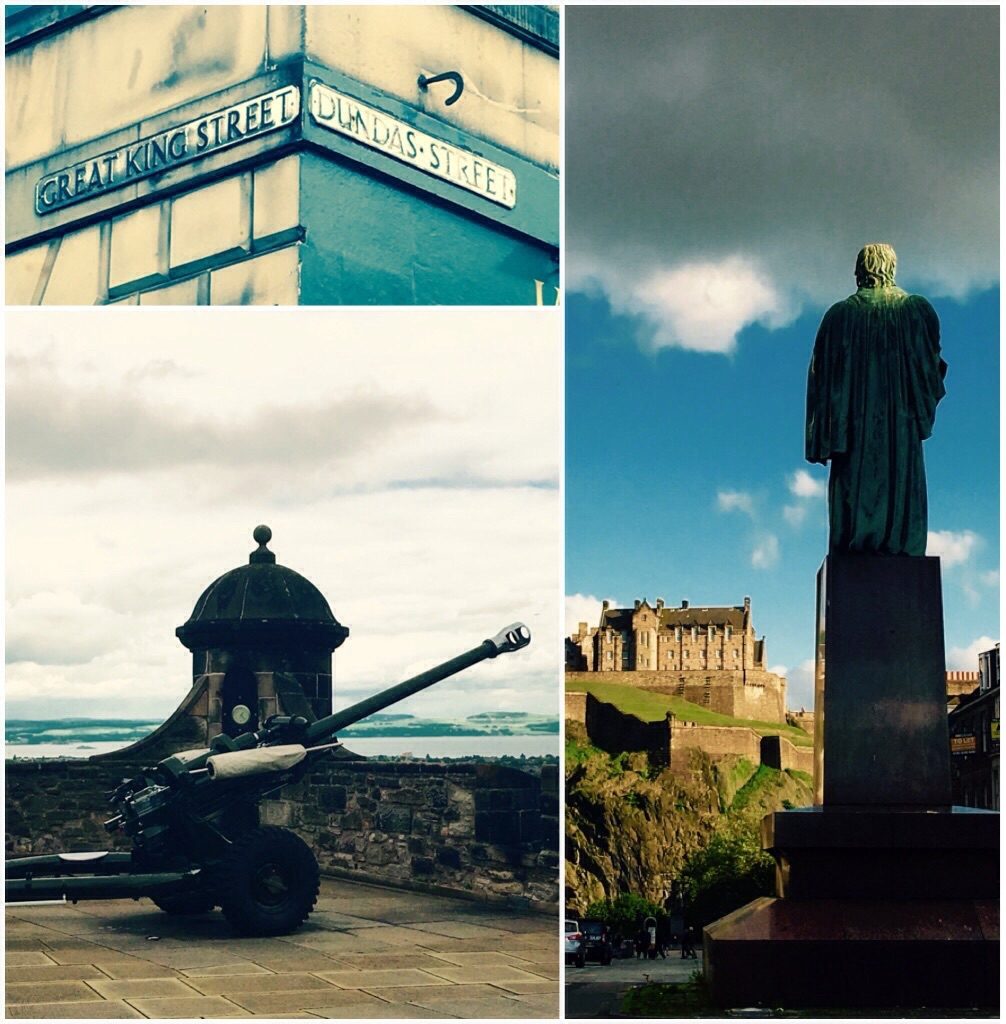 It was rather a culture shock to travel from Turkey, where I left my tour group after a wonderful 18 days traveling from Istanbul to Cappadocia and arrive in the middle of the night for my first visit to Scotland.
My Guide on my Italy / France tour is Charles Barkla . He used to be our neighbour in Dunedin and now lives in Edinburgh with his wife Lissa and their Australian Terrier dog called 'Bango'. This is his ancestral home town and he has an impressive command of Scottish history, geography and culture.
I have toyed with the idea of doing a tour in Scotland for many years. For the past 7  days he introduced me to Scotland and his favourite places. For the first 3 days we drove over 1000 miles  up to the Highlands staying in a delightful gorgeous village called Plockton, over to the Isle of Sky, included Inverness and Culloden, plus visited beautiful gardens including Iverewe and the stunning Cawdor Castle grounds.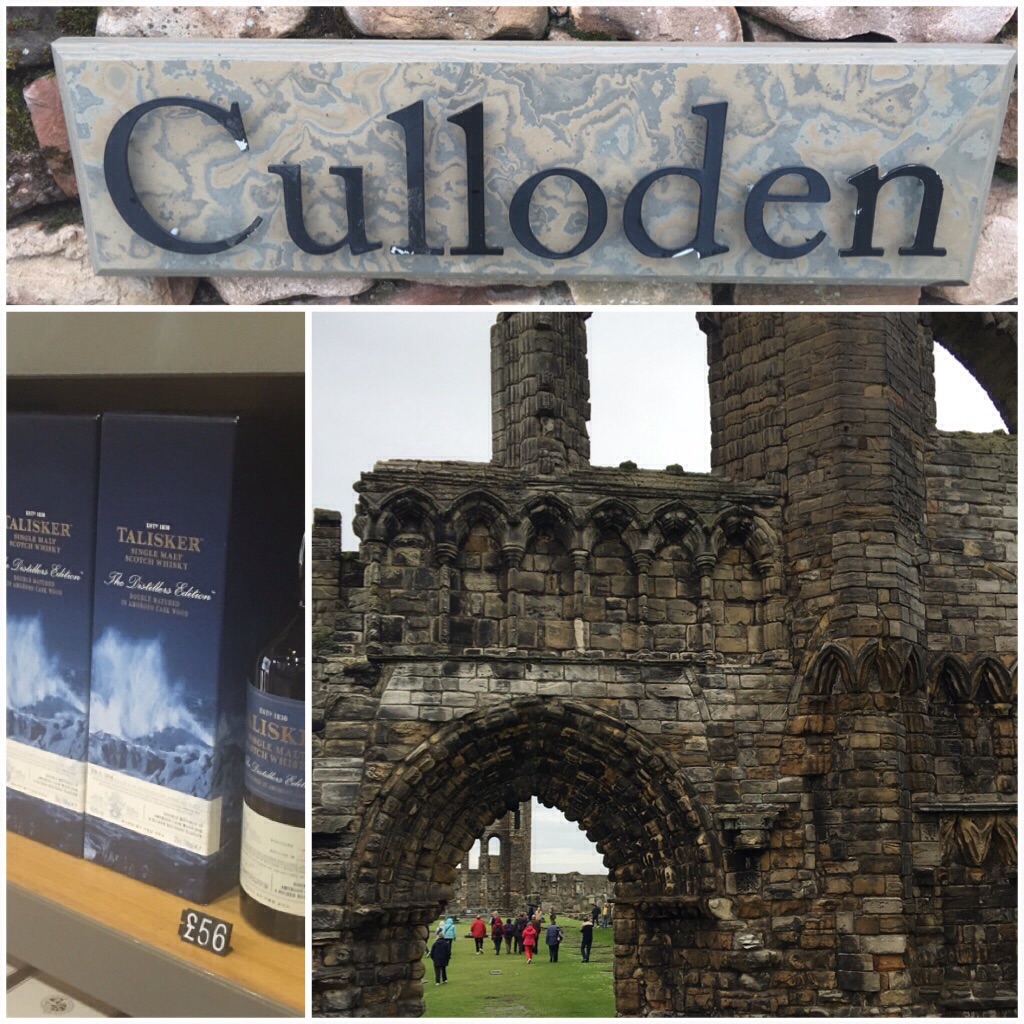 I have walked and walked Edinburgh away from the touristy royal mile to the new city, the botanical gardens and back and forth through a fabulous area called the meadows, past the university and enjoyed architecture of this very old city.
Lots of time has been spent looking at hotels, eating at restaurants and visiting historical sites -including a few castles!! Finding enormous scallops, prawns and delicious hot smoked salmon was fabulous. (I think I had scallops 3 nights in a row). I was challenged with kippers for breakfast!!, but enjoyed a Haggis, Neeps and Tattie pastie, Pigeon, Black Pudding and Baby Spinach salad plus a few bowls of Cullen Skink. Rule number one: you can't travel anywhere without eating the local regional food.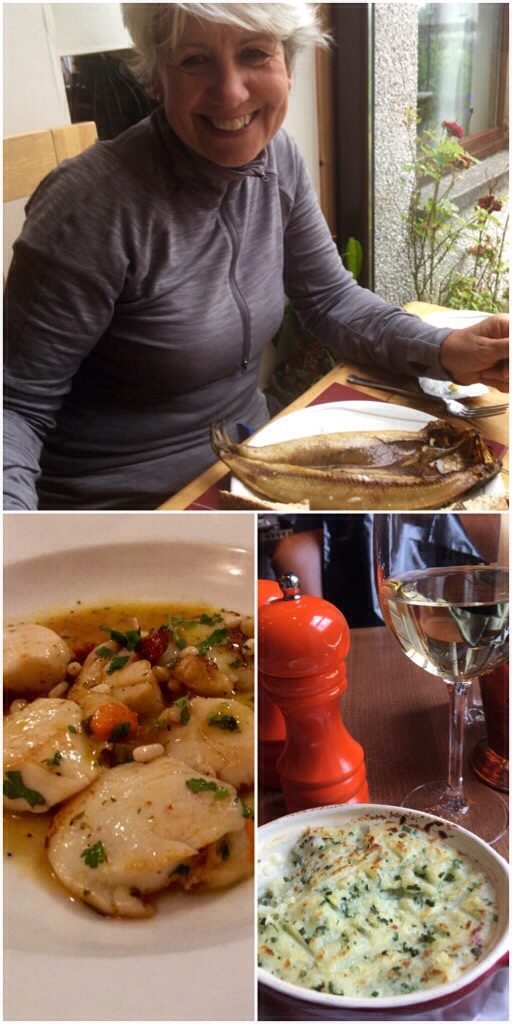 My other love is gardens and I want this tour to capture Spring in Scotland. I was overwhelmed by the lovely trees and wild rhododendrons massed along the roadsides.
From the East Coast and the temperate growing conditions to the west which can be hit by the wild North Sea. The coastline is dotted with many many cute fishing villages waiting to be photograhed and explored.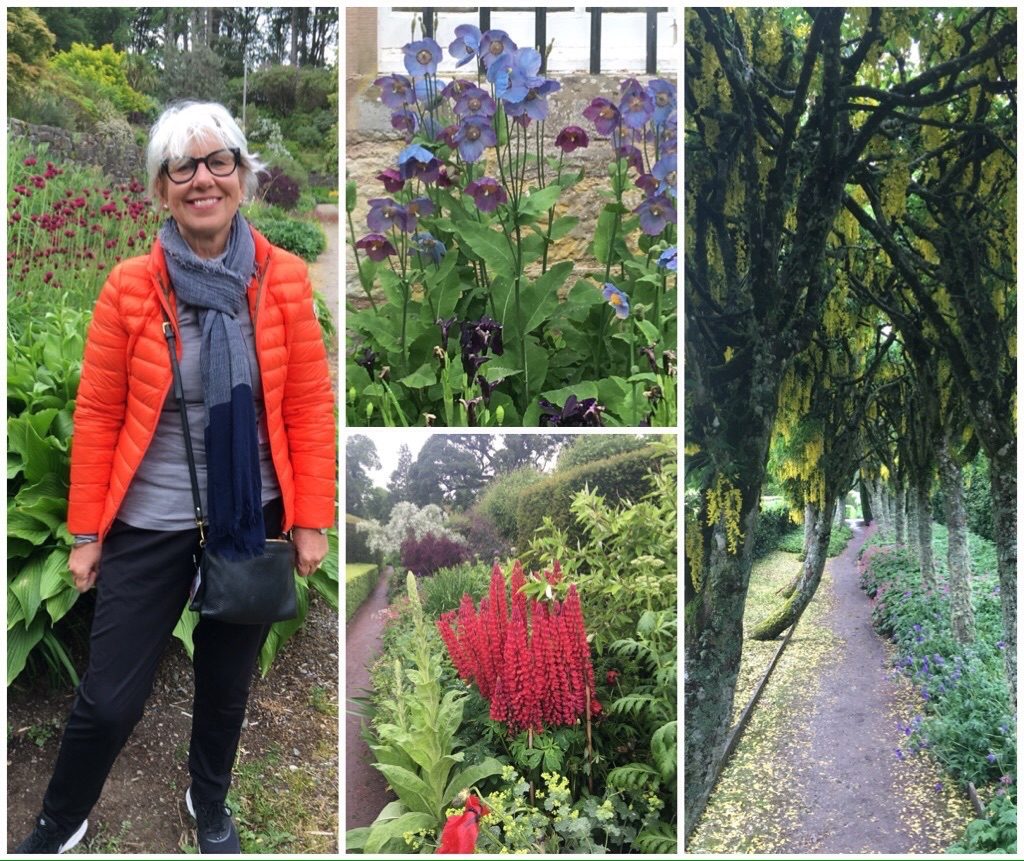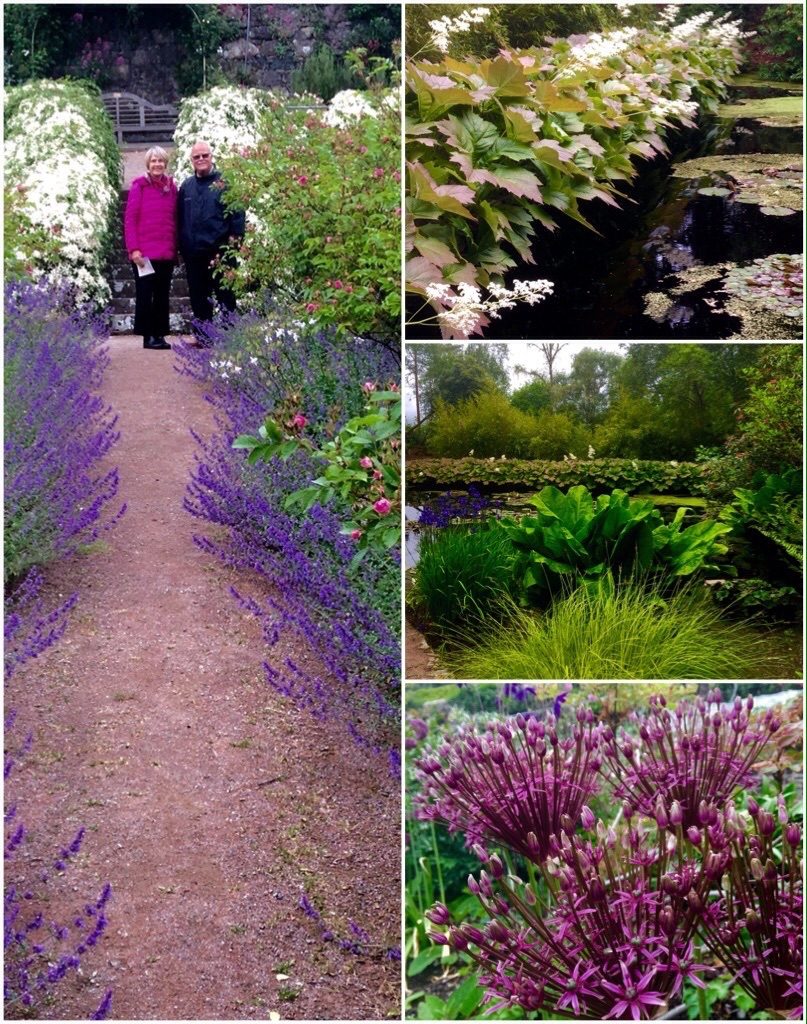 I come from a big golfing family and I am the 'non' golfer but I did have a thrill visiting St Andrews on a Sunday when the old course is closed to players, but open for the locals to walk on. I remember my Mum and Dad visiting here many years ago and my brother in law and nephew have just played in a father and son tournament recently.
I know my sons Matthew and Richard will be very jealous about their mother getting to walk on this sacred course.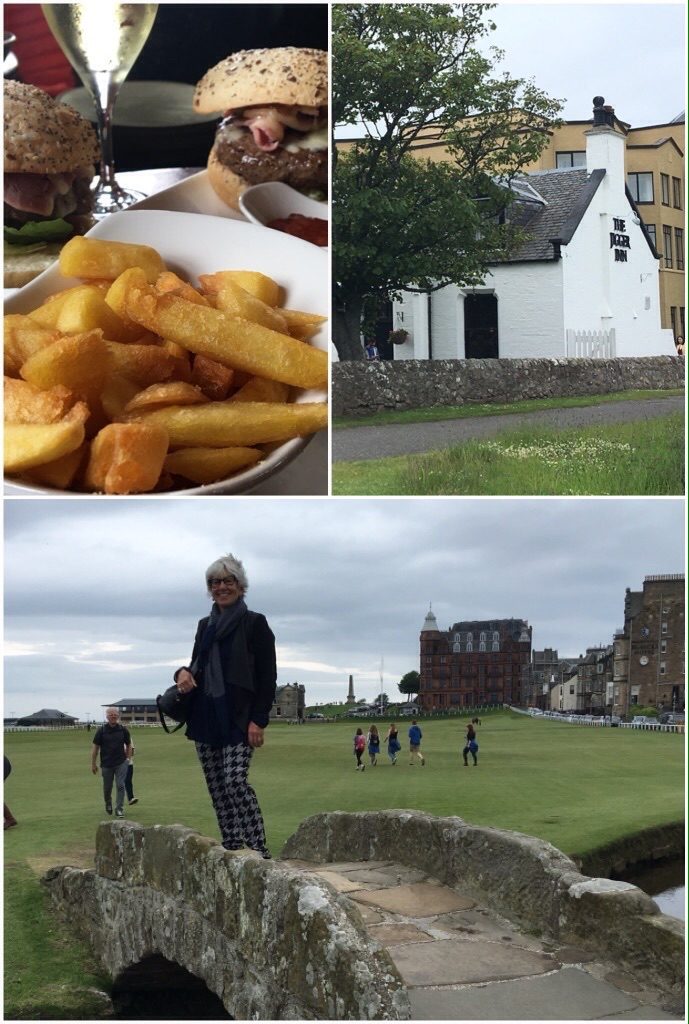 I don't know why but burgers are huge in Scotland. They are on the menu where ever you go and the Jigger Inn over looking St Andrews was no exception. I would never order a burger but it seemed appropriate and it came with delicious chips triple cooked in dripping – I had to walk a few holes after that hefty lunch to feel more comfortable.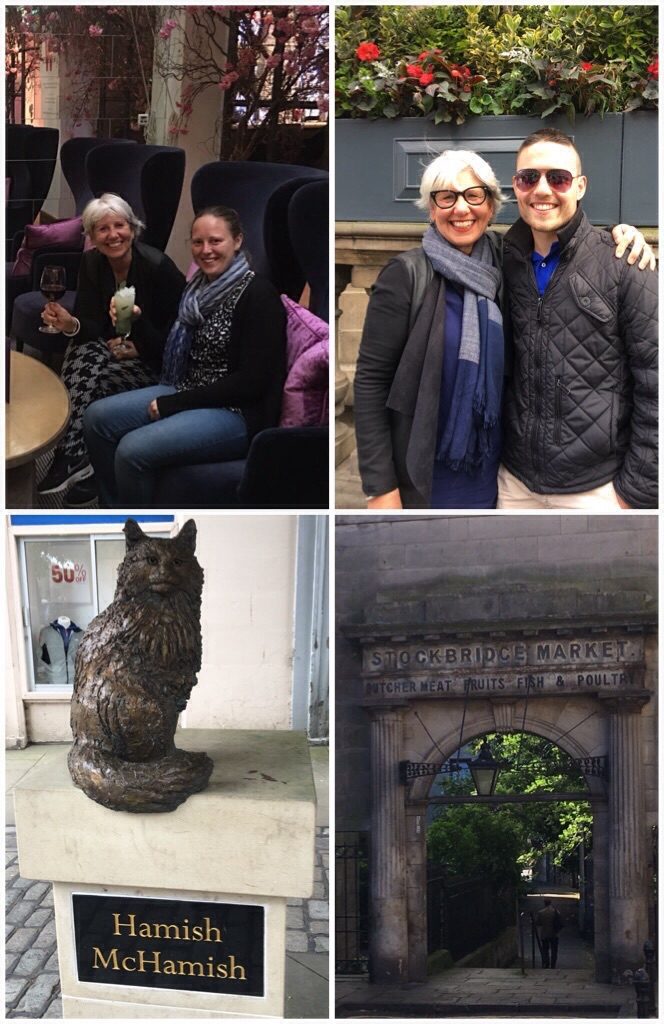 So I was lucky in my 7 days ( not with the weather) with how much we achieved. Surprised when I finally found a good espresso, enjoyed the stunning countryside  and I felt like a local in Edinburgh… I even caught up with three old friends -The lovely Connor shouted me lunch. He comes from Scotland and was in Dunedin playing Rugby last year and occasionally he would help cut our hedges and come to family dinner on Sunday nights. The last time I saw Stephanie was the world  IRB surf life saving championships  in La Grand Motte France  in 2014 where she was defending her world title with her sister Carla and Hannah was their patient and on my last morning I even caught up with Sue who I used to teach with many years ago at Kaikorai Valley High School.
I have a better understanding about what I want to include on a tour which I hope will start in Scotland and finish in Normandy in May 2017.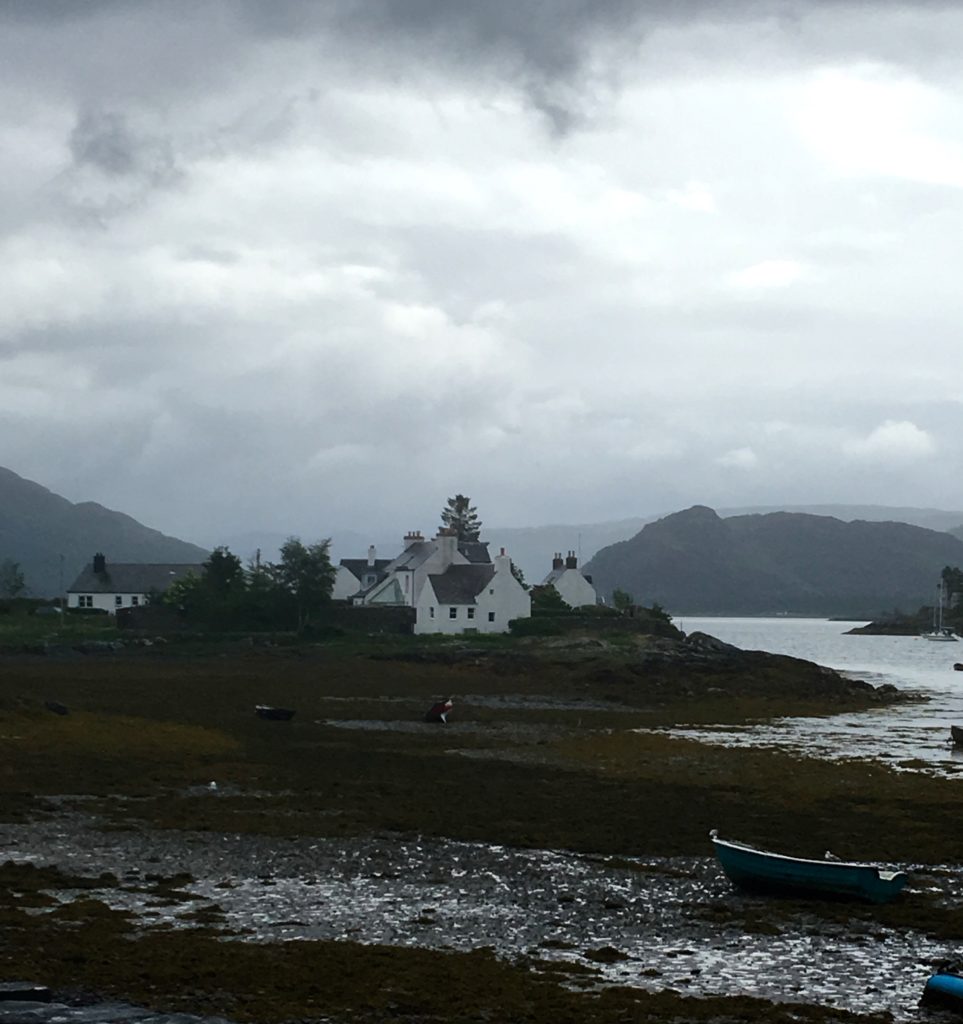 The world can surprise you with its tastes and traveling is a collection of memories that you can always drop in and out of at any time and is so valuable.
Watch this space !!!