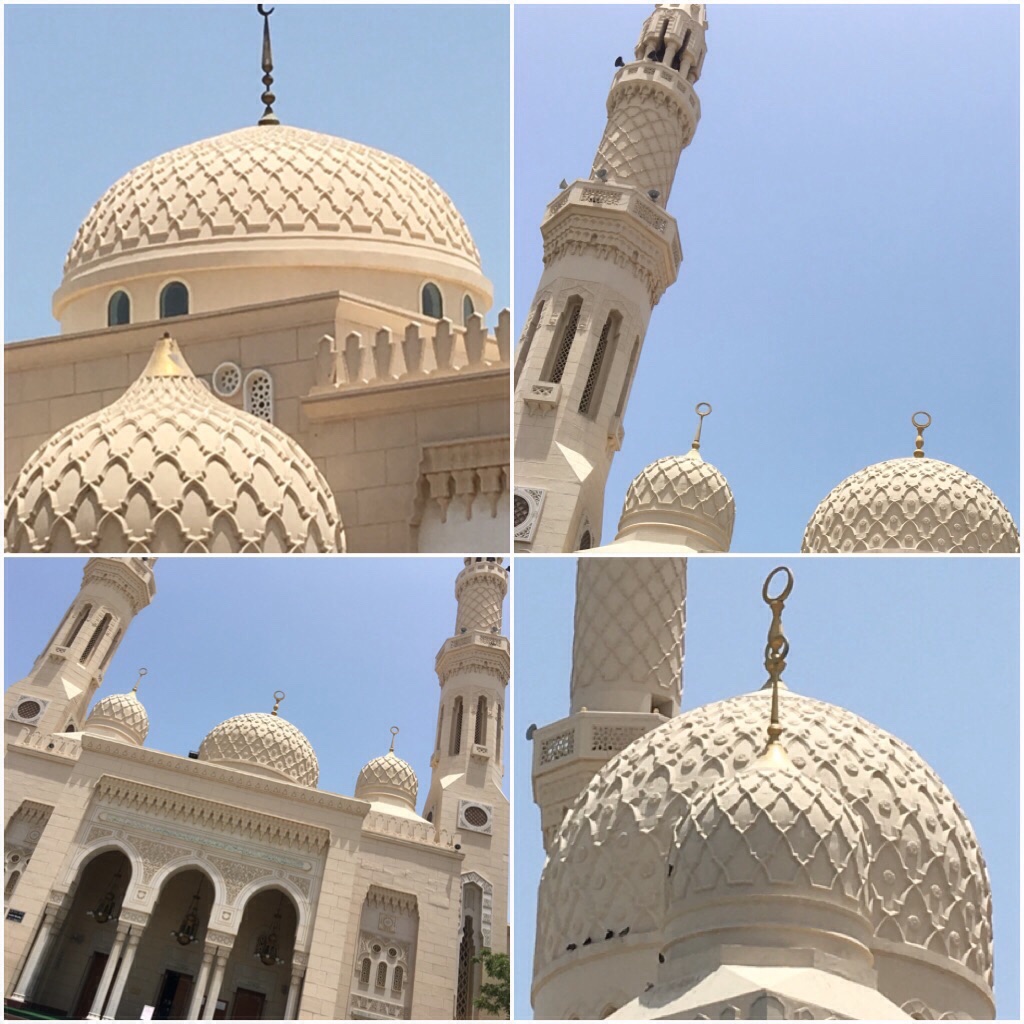 'Oh Dubai I am so lucky to visit you twice a year'
It was a little bit different on this trip since I only had two others stopping off for two nights in Dubai and it had to be my very best friends Hilda and Bruce .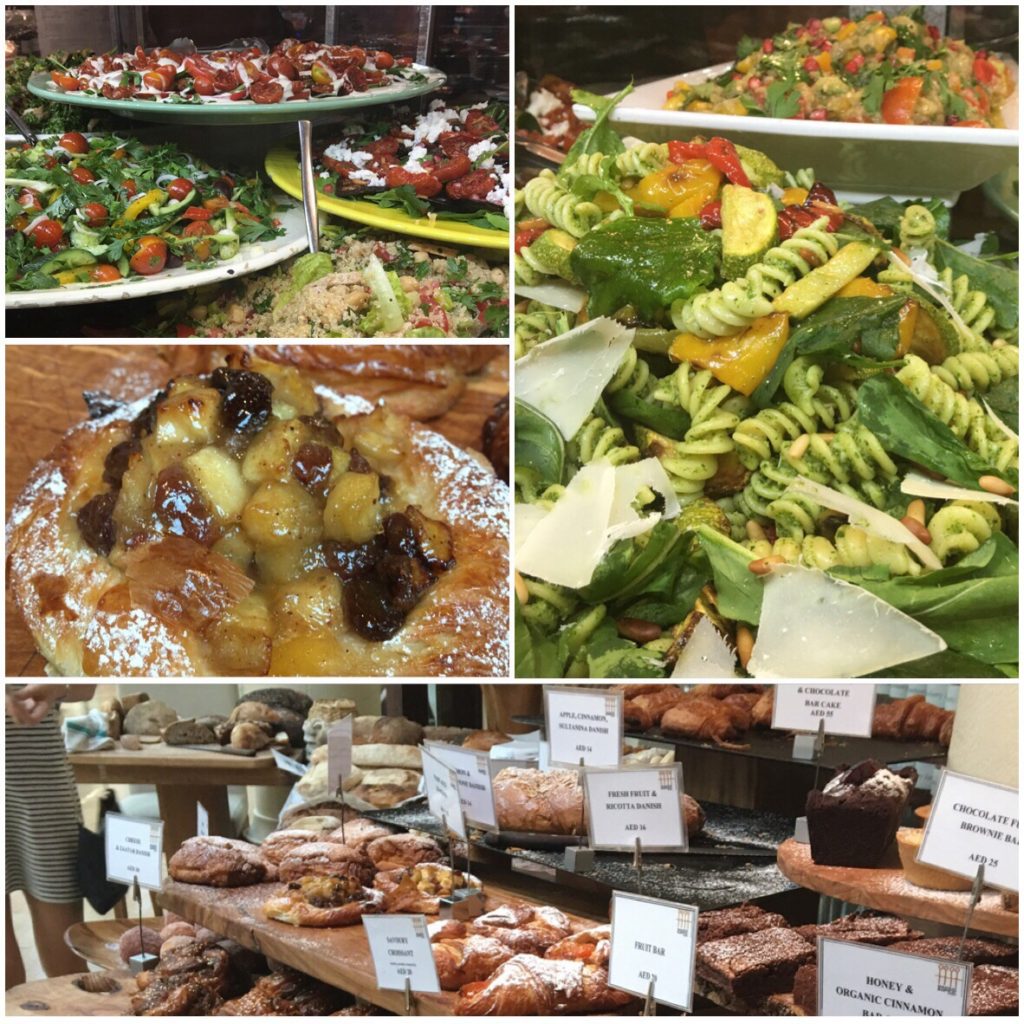 My hotel is always in Downtown Dubai and it is so accessible to lovely casual Arabic restaurants like :
Wafi Gourmet and Baker and Spice – they are still my favourites and serve delicious Arabic cuisine, stunning salads and 'can't stop eating' fresh warm pita bread. Both have a view of the famous fountain and an evening outside in these balmy temperatures is both relaxing and fun. This year the tallest building in the world 'Burg Khalifa' also put on an extraordinary lighting display up the full height of the building . Plus, they are within walking distance of the hotel for tired travellers from New Zealand .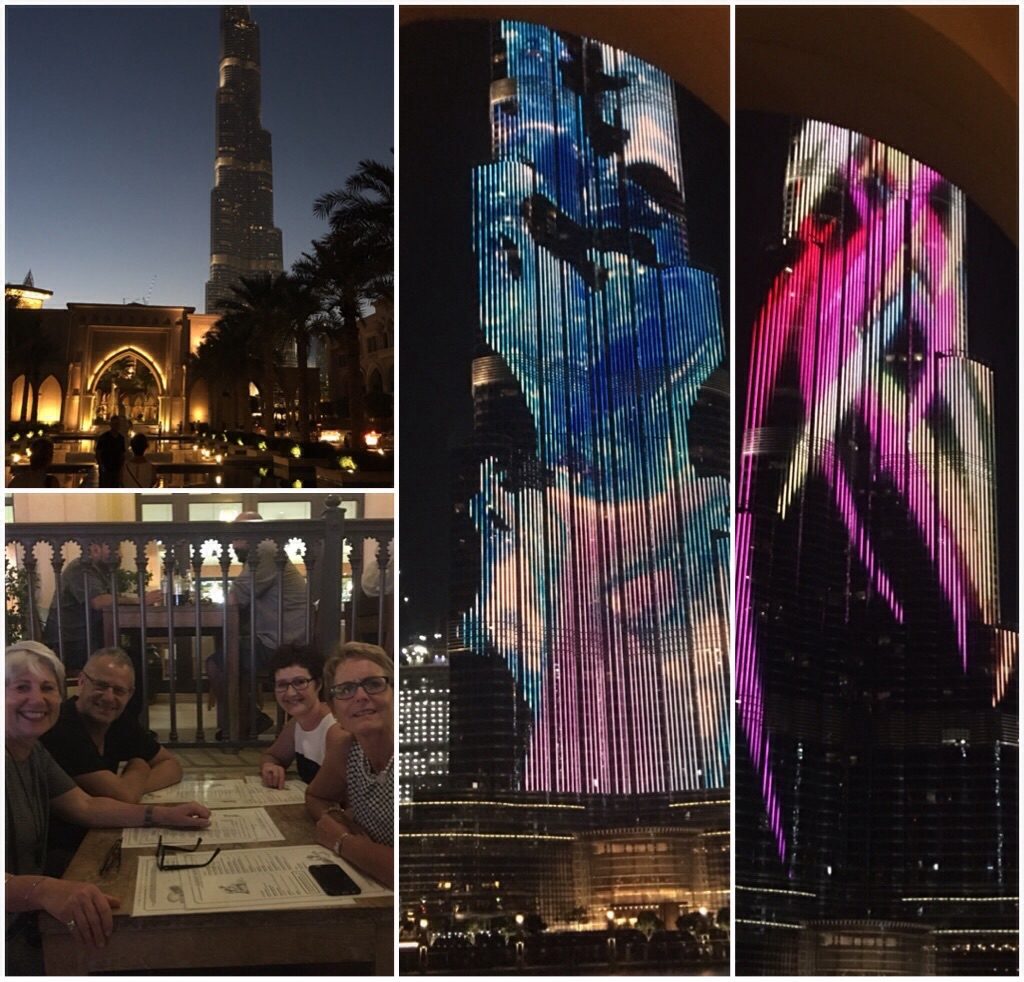 After a few hours of retail therapy on our second morning , Bruce returned to the hotel for an afternoon beside the hotel pool while Hilda and I embarked a Recce !!!
Our destination was Jemeriah Beach Towers – We traveled by Mono Rail . Embarked two stops too far… Caught another tram and after retracing our steps found ourselves on the street between a Manmade canal, the highway and the monorail. There was no road side directions and after stopping a couple of people we were directed through a car park to emerge onto a boulevard ( full of Taxis… This is how people. Travel here obviously ).. One block away was the Gulf and a sandy beach heaving with people . A walkway along a coastal path past a humungeous number of restaurants on the right and the beach plus play activities on the left .. anything from multi trampolines, bouncy castles , sandy football pitches , to rows and rows of loungers ..
It was very hot and our aim was to find a 'drink ' which in our terms was not a sickly sweet fruit punch but a beer and wine. That means you have to find a hotel and the Hilton sign loomed ahead.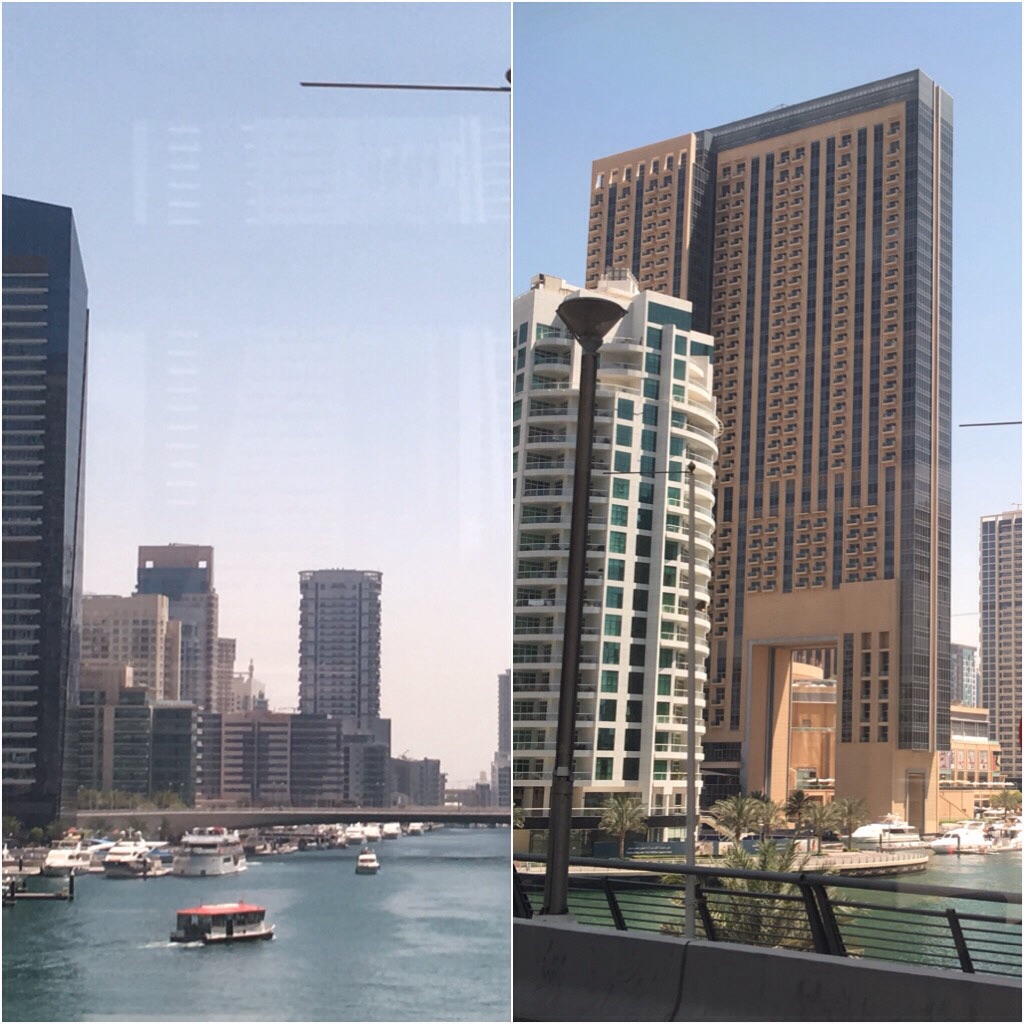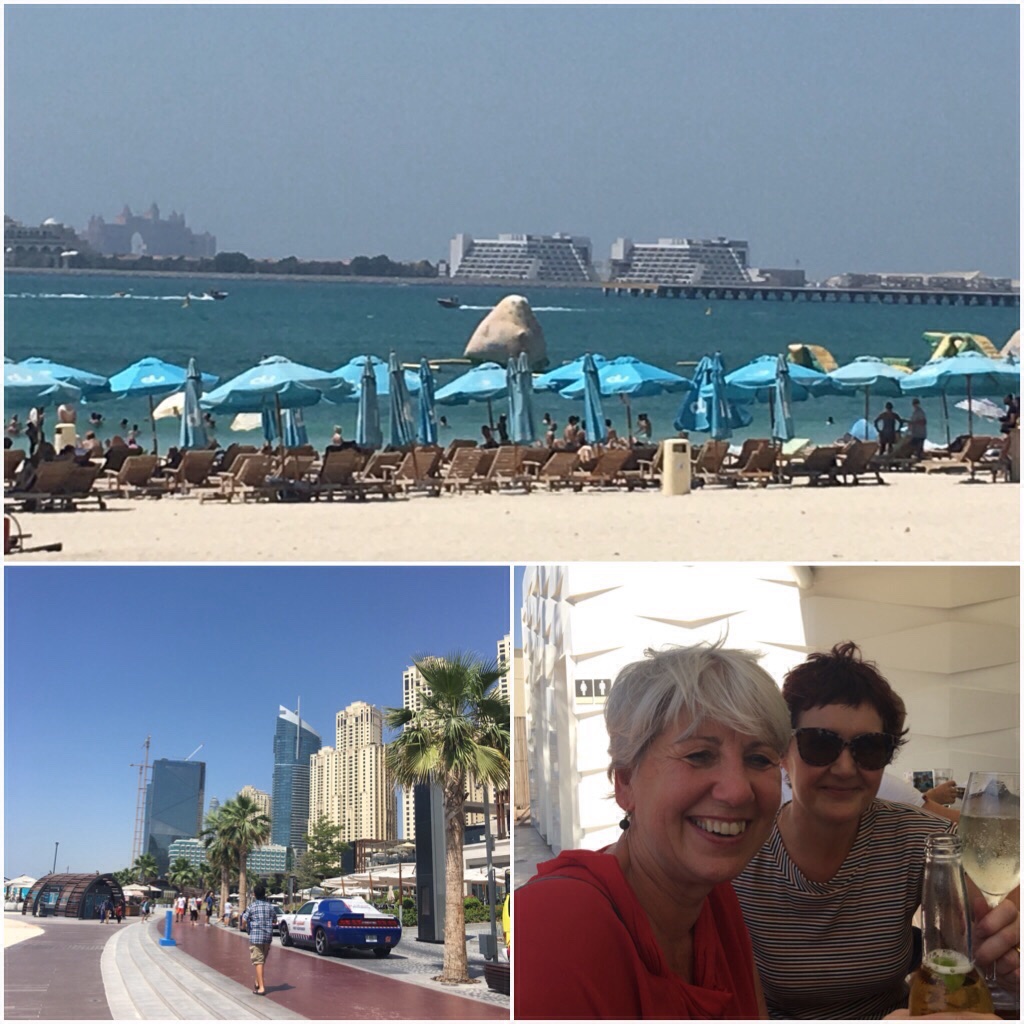 Hilda and I spent the next hour sitting at the bar beside the beach – talking to our 'mate' from California about his life in Dubai.
It was fascinating and I think the best analogy he made was describing Dubai as a 'Sanctuary' – a city with 4.5 million people, 80% expat, all living in harmony working, earning and living in this tax free haven with wild terrifying atrocities going on all around them.
Weird yes . But the fabric of this city . Empowered by its amazing architecture, culture and wealth has created a tourism Mecca growing exponentially each year.
We were more succinct travelling back to Dubai Mall which by now was seething with people since it was Friday and a weekly holiday ( Friday and Saturday here )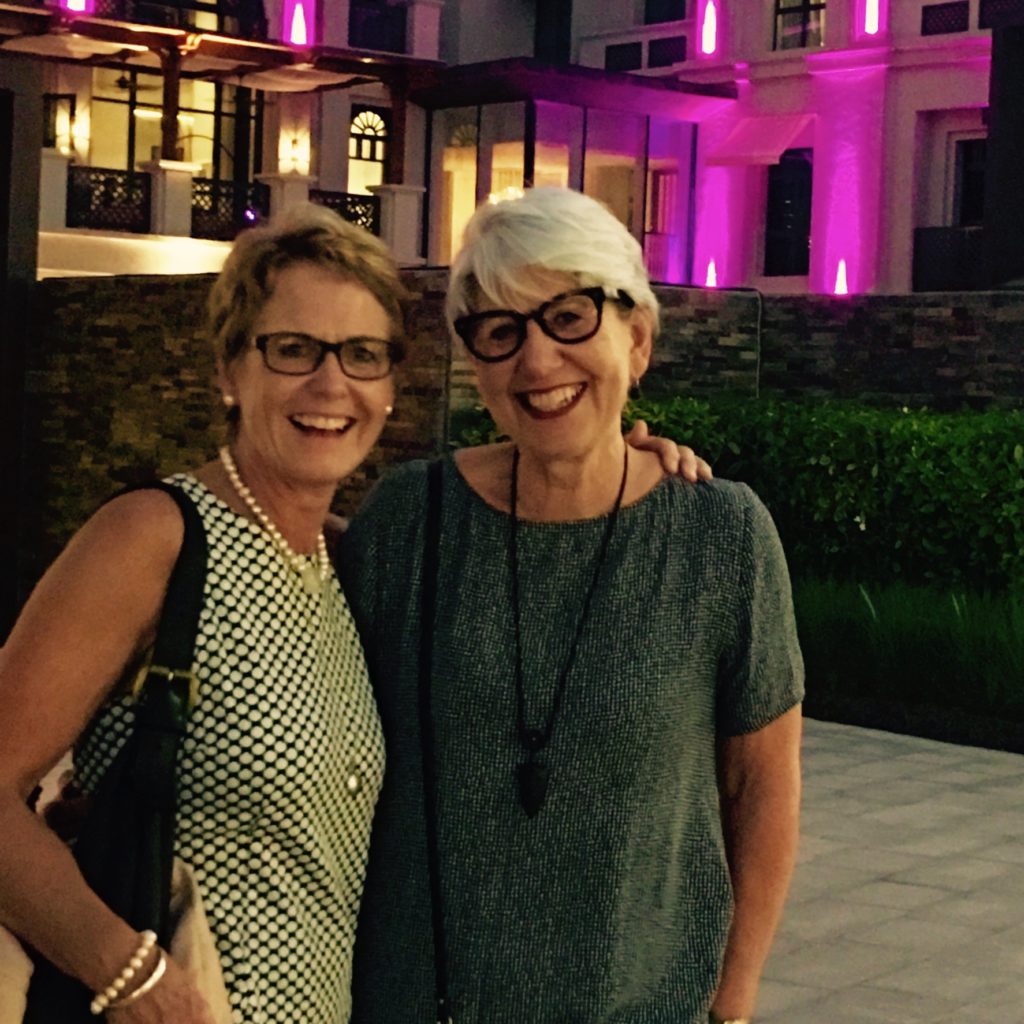 There are lots of expat New Zealanders in Dubai and I miss my dear friends Lou and Peter who are responsible for helping me get to know Dubai so well.
Tonight I caught up with Deborah Nicholson from Dunedin – now nursing in Abu Dhabi and it was nice to show her my favourite haunts and chat over a glass of wine.
Turkey calls and once again my two night stopover has come up trumps and 'done ' what it was meant to do. With the help of Dana my clever guide who turns Dubai into facts and history to the best hotel breakfast you can experience and a relaxing few hours by the pool surrounded by Dubai glitz and wow I can't wait to return in August with another tour group.