Thankyou Trevor for his honest comment after lunch in Asolo:
Great View / Great Walk / Great Lunch
When I asked Silvia the owner of Locanda San Barnaba Hotel to tell my group about the history of the hotel she said ' there is nothing to tell – it has been in my family from the '16 th century ' Wow … For so many generations to live in your family house and for this long is incredible – In saying that there are still many locals here livingin their family palazzos, although the population of true Venetians has dropped enormously.They have proud traditions, strong regional food and speak in their own dialect .
Sadly, we are leaving on the day of the historical boat race down the grand canal.
These people must have extremely accommodating natures – since they have to share this remarkable city with tourists 24/7.  I have come to love the Dorsoduro area of the city and for the past two years my groups have enjoyed staying in a true Palazzo away from the madding crowds. A twenty metre walk out the front door is the campo, where we sit, chat, people watch and drink quite a few aperol spritz – the drink of choice in these parts .I've have booked our lovely 12 bedroom palazzo again next year !!!
Cristina my ' amazing ' guide – (a word I am hearing alot ) Introduced , elaborated , described and made everyone feel comfortable and a part of Venice . Her outstanding professional skills were evident and she transported my tour group through quiet alleys with no tourists in Venice to Prosecco tasting in the hills of the Veneto to boating on the Lagoon in our own private gorgeous water taxi .
We ate Sarde e Sour and Fritto Misto on the first night sitting in campo San Barnaba, Risotto with Octopus on a balcony high above the beautiful medieval village of Asolo and Scallop and Porcini Mushroom salad in the beautiful Osteria del Diavola on the Island of Torchello – the oldest inhabited island in the lagoon. With a mosaic lined 6 th century church looking positively radiant .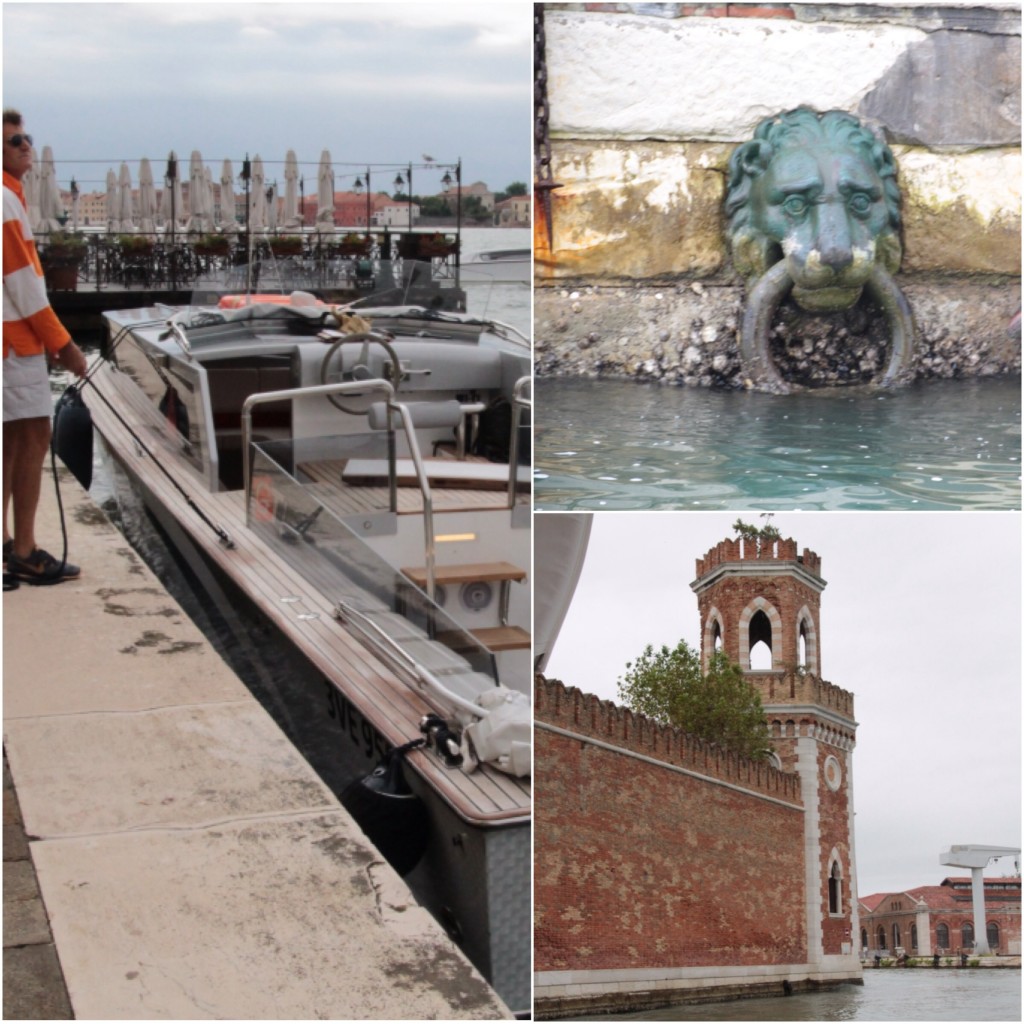 The Venice Mercato never fails to impress and an early morning walk to catch the stall holders setting up for the day is so worth it . No where will you see the black sepia squid in such abundance , along with disks of prepared artichokes and even horse meat.
The final evening for some was spent at a Vivaldi concert of the Four Seasons . While others found tiny restaurants filled with locals to eat and enjoy their last Venetian meal – Charles had Fegato – liver, a real favourite here.
Four days is definitely not long enough in Venice – However, it just means you have to come back ..