We have had 4 busy amazing days in Istanbul –  this huge cosmoplitan city of  12 million people – and over 30 million in the greater city is 7 times the size of  New Zealand and jammed with over 3 million cars .The city goes on forever in the distance – over 90 kilometres and now outlying villages have been incorporated  into the growing city.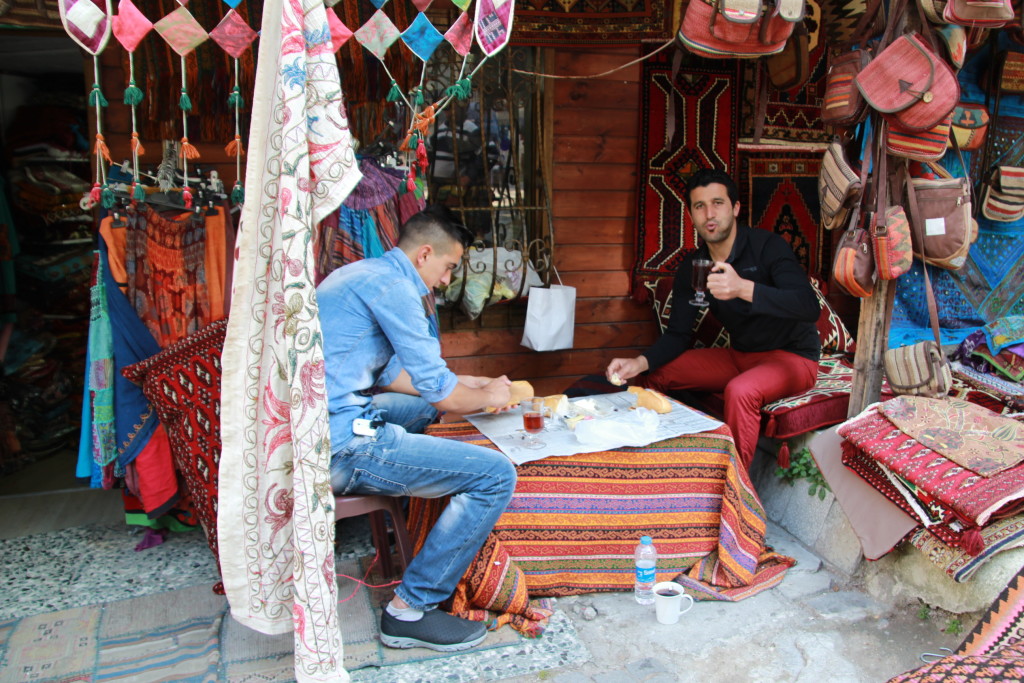 The skyline  is punctuated with enormous mosques – the pointed minarets  tops  tower over the domes. The call to prayer  5 times  a day is a rhythmical chant that have come to enjoy from sunrise to sunset.
The tourists passing though Istanbul each day reach over 10,000 and I am sure they are all in the Sultenhamet area where the Blue Mosque, Aya Sofia, Topkapi Palace and the Basilica Cistern are all within metres of each other . Our hotel is situated within walking distance and the lovely little adjacent souks make a great place for a spot of shopping or a glass of fresh orange juice.
The historical sites especially the huge Blue Mosque and the Palace of the Sultans have interiors covered in exquisite blue tiles portraying flowers like tulips and carnations – the tulip has become a symbol of Turkey and you see it stylists and adorning many decorations.
We had to prepare our selves by  wrapping scarves around our heads and for some sheets had to cover shorts – ( no knees  showing ) before entering the Blue mosque – lIfe as praying mosque continues as  tourists flow in with their camera  and hideous selfie poles – most taking time to absorb the enormity of the interior – decorated in wonderful blue tiles.
Almost beside The Blue Mosque is Aya Sofia – Again enormous and built in the Byzantine era as a  church in 200 AD.  It is one of Istanbuls iconic structures  and was the words largest cathedral for over 1000 years before being converted into a mosque, which also meant the fabulous mosaics which once covered the interior were plastered over. Today some have been uncovered  and it now stands as museum.
I think if you ever want to understand how a city works take a taxi ride … Oh my goodness. We travelled to  our lunch restaurant – Asitane  – the same  as last year where they create recipes and food based from the Ottomans.
But ….getting there was an experience – traveling at incredible speeds though streets filled with cars , people , children selling water, tooting at anything and every car in sight, talking to other taxi drivers  out the car window – at least you get to see 'real life' and we did make it and back !!!.
Our lunch was flavoured with dill, cinnamon ( even in the hummus ) saffron,dried fruit  and nuts  and sitting under large umbrellas was like an oasis in the bustling city.
The classic byzantine church called Chora is immodestly beside Asitane. Here the mosaics are mostly intact and adorn all the  surfaces – depicting g the life of Mary stories from the old and new testament.
This was a Sunday and the park areas  beside the Golden Horn were filled with families out for a picnic  – the air was thick from smoke from the charcoal barbecues cooking kebabs and Kofte – no gas here , many use disposible  cookers and it smelled delicious.
The hotel roof top bar was once again a favourite meeting place in the early evening – it has a birdseye view of the the Sea of Marmara, the dozens of ships waiting to get into the port and the Minarets of the Blue Mosque.
Our second day in Istanbul started with a short walk to the Basilica Cistern- Built around 200 AD -It was an amazing underground water storage area under the city built from columns taken off roman buildings and  down in one corner  – once sitting under deep water is two upside down heads of minerva.
Over the road and past wonderful architectural wooded houses sitting on the out side walls  of Topkapi palace we entered the gates of the last and largest palace of the ottoman empire.
Over 5000 people lived and worked within the walls  and it housed areas such as the harem, caged rooms for the Sultans brothers, Council chambers for the Sultan,  huge kitchens, armouries and stables  and many other buildings.
I loved the rooms of the Harem – again every wall was covered in glorious blue tiles and in some rooms you could have been in Venice  – the gold and opulence was very similar .
Our lunch was typical of the Istanbul city – Sultenhamet Koftecisi – wonderful kofte
(like a flat meat ball ) Hasan tell me they are so delicious  because they include the meat from sheep tails -I believe it is a secret recipe….served with pickled peppers and a chili sauce . It was great  – floor after floor was filled with locals and tourists  all eating the same . The food was cooked in a minute kitchen – of course over charcoal.
A huge mound of Halva ( made from Semolina )was carved away for desert and served with a type of Rum Baba with out the rum .
Everyone was let loose in the Grand Bazar for the remainder of the afternoon . Pauline, Laura and I didn't get past the shop selling colourful fabrics from Kurdistan  – after pulling what seemed like hundreds of Pillow case covers off the shelves we eventually chose fabric and the cushion covers were to be made over night and delivered to the hotel the next day (they did arrive)
Shopping became complete entertainment  and many of my girls are coming home with beautiful fabrics, luscious towels,colourful tiles  and cashmere scarves .
Although tired and somewhat wiery you can't sit in your hotel room. so… Ali our wondrous guide lead us by tram and  funicular train over the golden horn to the area near Taxim square.. we walked up the busiest walking street I have even been on and is crowded 24 hours a day.
Hasan has a favourite restaurant in this area and we meandered through an old flower market – now restaurants to a narrow street again lined with restaurants – I'm so glad Hasan new which one to choose.
The Family was Armenian and the food simple and gorgeous – when we thought we were off home to a relatively early night we were entertained with gypsy Romany music and our own Ali on the Tamborine – of which he is a master.
Our last morning in Istanbul starred with a visit to the Spice Bazar – full of beautiful colourful piles of spices, turkish delight, nuts and dried fruit. On the outside wall  – Venders sold everything from many cheeses, fresh fish and mushrooms to vine leaves,Tomato and Capsicum paste and lots of olives.
We traveled up the Bosphorus to Sariyer ( means yellow place )  and back down a little by bus to my surprise the group .. Lunch at Peter Gordons Restaurant called Muze de Changa.
Set in beautiful grounds of the Sakip Savanci families former private home – now  a Museum
Well  the food was 'Quite Good' !!!! and the marble table was quite lovely too.
This was one of those wonderful memorable lunches- sitting outside on a verandah overlooking the Bosphorous in a quiet gorgeous green garden  – it doesn't get much better.
It is pinch me material ..
Our fours days in Istanbul finished on a highlight  with a hilarious visit to the Hamam – for most it was their first visit to a Turkish bath . This is where you leave your inhibitions at the door , relax and enjoy the experience . Over a glass of wine back at the hotel we laughed and laughed. It is certainly great to do with a group.
Four days in Istanbul has flown by – I am extra lucky to be returning after the tour with my daughter Hannah for two more days .  Istanbul is  captivating and  its  hard to feel you get enough of this amazing East met West city with an history that is difficult  to comprehend .