It is Turkish custom  and good luck to throw a jug of water after your vehicle – 'travel like water'    As we left our lovely hotel in Kusadasi the staff threw water over our bus. This was a special and lovey visit and if you are planning a visit to Kusadasi  – La Vista is the place to stay.

Today we are heading for Pamukkale . Last year we included this visit and returned to Kusadai – this year we are staying a night so we get more of a chance to enjoy the thermal water.
Our day starts driving through Olives Olives and more Olives and I think of the huge job when the Olives are ready for picking – evidently it is all done by hand.   As we continue through a vast plain called Meander Valley , (Meander is  the name for the god of rivers ) it is obvious this is a massive area for fig production.
1 million tons of  figs are harvested each year and accounts for – 80% words supply.Road side stalls are everywhere selling dried figs and apricots, walnuts and hazelnuts and the large dark green leaves of the trees look so lovely on mass.
It is a rule not to  plant a fig near the house because of the roots  – they are very invasive and can be destructive .
I am dreaming of fresh figs, mozzarella cheese, prosciutto and hazelnuts …with extra virgin olive oil.
But the specialty in this region is roast lamb/ Hogget. On the side of the road  there are spit roasting set ups with 3-4 carcasses rolling round and round. Behind is a restaurant and this case huge..
simple, delicious and fresh – no horrible sandwich in a plastic case here..
the bread was puffed up and so soft – its hard to resist and desert was a sweet caramelised pumpkin with hazelnuts onto.
We haven't had a disappointing meal – each region is different and yet all healthy and interesting –
Haven't seen a deep fryer, chips, fizzy or bad bread…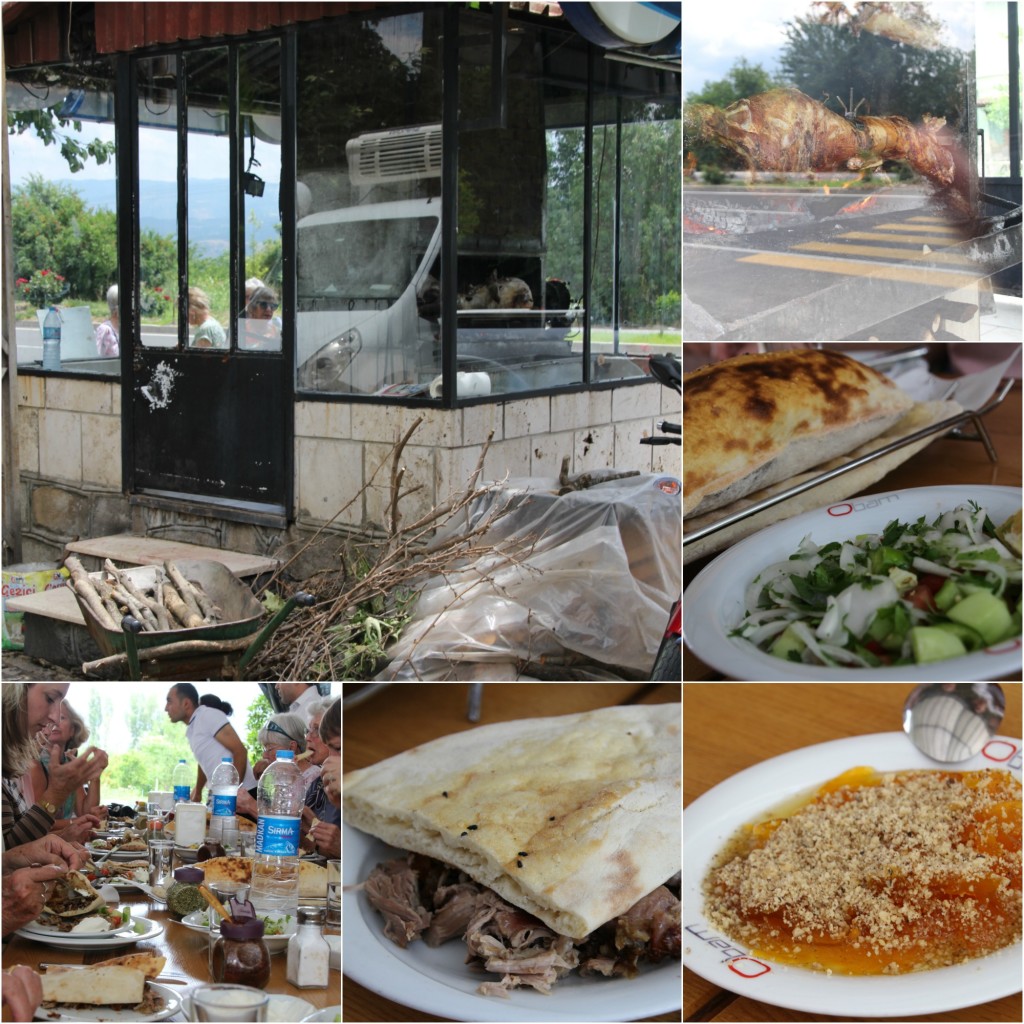 By the time we near Pamukkale we are surrounded on both sides of the road with Pomegranate trees all looking gorgeous covered in scarlet flowers. This is a very popular fruit here and I often have freshly squeezed pomegranate and orange juice.
Oh my goodness yet another incredible ruin  – Hierapolis  – built by the same king that created Pergamum (we visited several days ago ).  It was always popular because of the thermal springs and mineral water.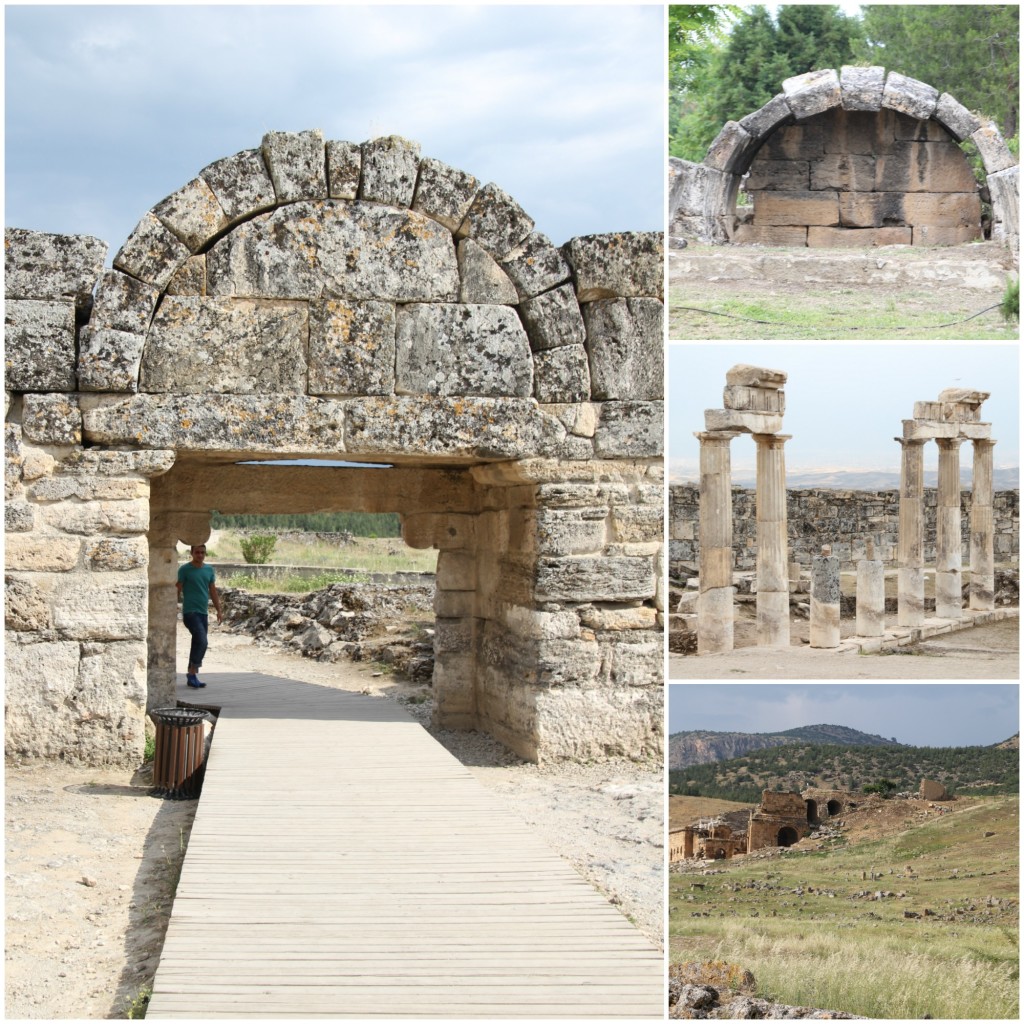 Like all Thermal Springs world wide, visitors come to swim in the mineral rich pools and it 's no different here in Pamukkale but, also to see the stunning white travertine terraces – flooding down the hillside like icing on cake — Pamuk – cotton  / kale castle
We arrived prepared this year to go for a dip in one of the many pools down the side of the walkway through the terrace. If the water is not flowing over the travertine it slowly discolours  and turkish brownish – its very easy to walk on as the calcium deposits create a slightly rough surface and gives you a great pedicure on the soles of your feet.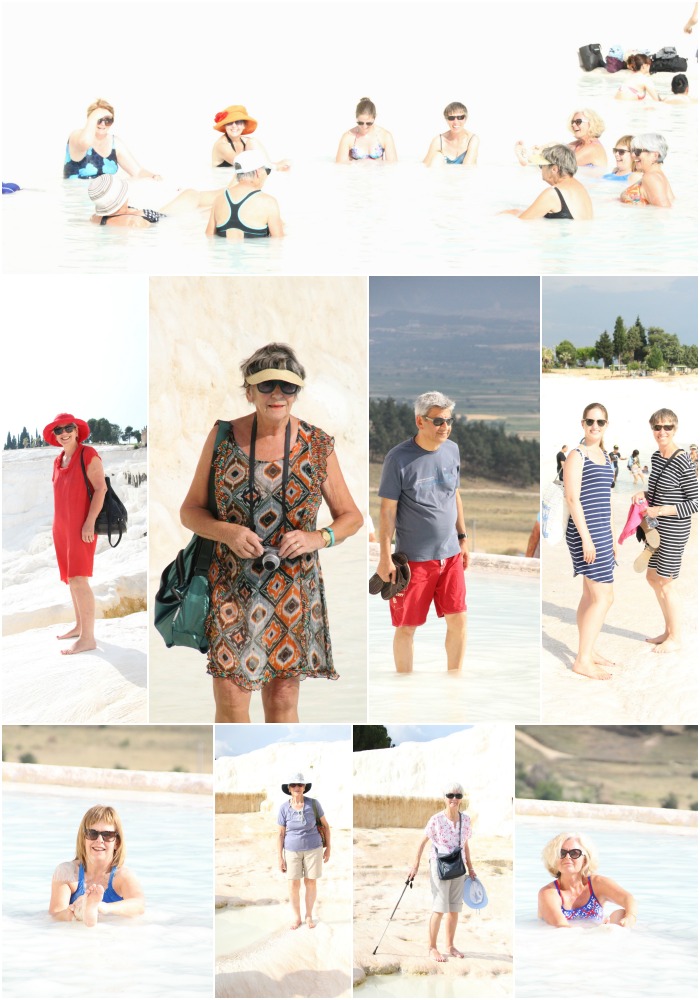 Our hotel was very new and typical of the accommodation up here. It also provided a hot mineral pool and as we returned the sky had turned a very dark shade of grey and it stared to rain – to the point it was a huge thunder and lightning storm. It was fun sitting in the hot pool  back at the hotel being pelted on by the rain. What wasn't so funny infact, tragic was the wedding that was set up out side with white table cloths, meters of pink tule and tables decorations.  At least it was before the quests arrived but, it was ruined and eventually the quests were moved to the reception below our rooms – without the decorations – OMG how disappointing would that be..
We were looking over the balcony at the 'Goings On '  a beautiful bride and groom and lots and lots of quests. The cake was enormous 5-6 tiers high and was actually iced cardboard !!!! they made an imaginary slice down the side and a little piece of cake is in the side where the bride and groom taste by giving each other a spoon full .

I drifted off to sleep with the sound of Turkish music and iI found out in the morning the balcony watchers were invited down to join the wedding and danced with the quests ..
What a day !!