At the end of our Easter break this year we felt rested, relaxed and very happy with our decision to stay at home. I don't know, but sometimes the pressure and rush to organise, pack and drive for a break when often we don't spend enough time enjoying our own surroundings  – so being in St Clair seemed the right thing to do this year.
The calm sunny days continued and during our four days we  surprised and think excelled ourselves –  firstly  in playing 18 holes of golf on a very hot Good Friday with our Australian Cadzow relatives.
Dunedin Saturday Market day was exceptionally busy  – before leaving I mixed up my Hot Cross buns dough and left it to rise while we bought up croissants, bread, corn, fennel, basil, apples and flowers. I greedily ate 2 hot Cross buns straight from the oven – dripping with Al Browns beautiful butter – they continued to be breakfast throughout Easter, and even matching a cognac after the best movie " The Woman in Gold" not to be missed …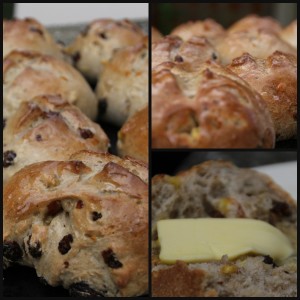 Sunday was picnic day and with Brian and Linda  – we travelled high over the Dunstan Trail to the Maniototo – This stunning landscape reminded us of our visit to Dartmore  in Britian 20 years ago with our children aged 8,5 and 3. – Its isolation and the bare barren scenery is spectacular  – it is definitely acres to the sheep up here – frequented by fishermen and visitors like us.  There is one route  which comes from SH87 at Clarks Junction and climbs over  the Rock and Pillar Range down to  Pareau/Styx.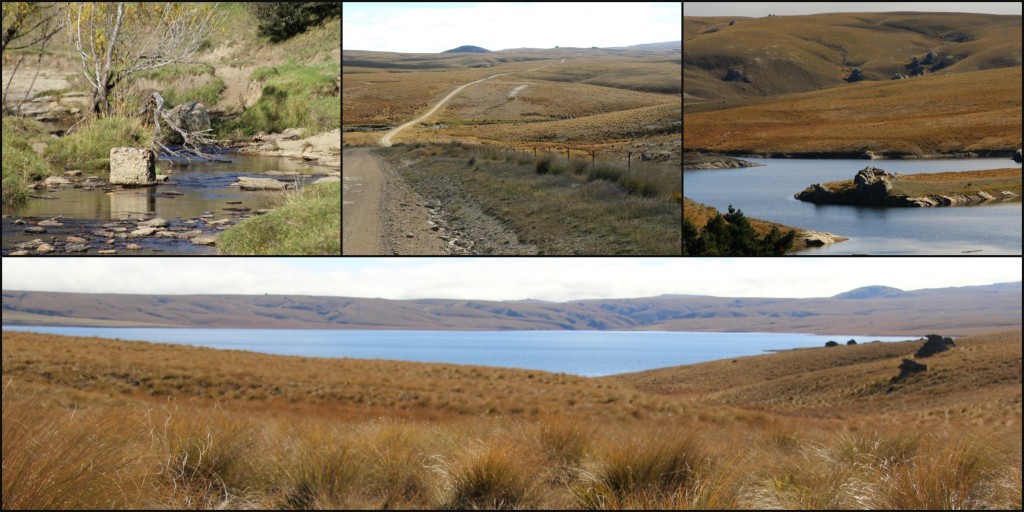 Brian always insists on bringing the "thermet"   – Its all about the process of lighting the fire with a few twigs and in no time at all the water is boiling  – beats water from a flask any day and makes a special pot of coffee – I'm sure it tasted all the better sitting high in the rocks over looking the Styx/Paerau (Paerau means 'many ridges' and is also known as The Styx.)  Little has changed since the road was used by prospectors, coaches and wagons heading to inland goldfields.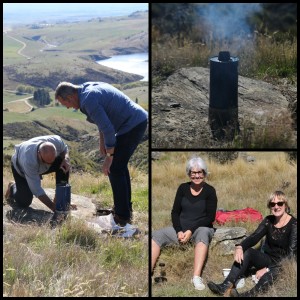 Immediately below us was the original Styx Homestead complete with its own jail. Now Tranquil and beautiful in the morning sunlight and obviously still used for holidays by someone – we rock hopped carefully to wander around the collection of unique beautiful stone buildings.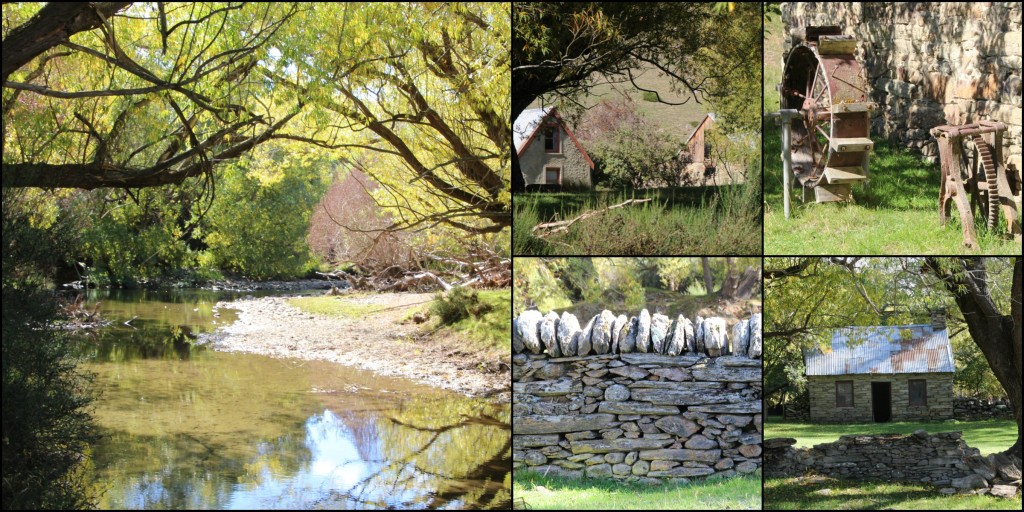 Evidently the historic Styx Jail was possibly more of a lock-up for protecting gold bullion during overnight coach stops than it was for prisoners. Due to the location's importance as an overnight and refreshment stop, two hotels operated on either side of the river in case there was a flood.
Many towns in this region thrived during the gold rush and our lunch stop was the picturesque St Bathans. Famous for its Blue Lake which was formed by gold sluicing and can have a distinctive turquoise colour. (But not today)
Still, we do do picnic lunches well !!!- Linda made a delicious courgette pie and we had homemade focaccia with prosciutto and cheese…. and the setting was pretty amazing.

We could have enjoyed lunch in the historic Vulcan hotel , bought an old ruin or taken a horse trek – but by now it was late in the afternoon and we wandered the main street imagining what this place would have been like with many churches, pubs and businesses in it's hey day. The only thing I could think of, even though it was a beautiful day was how cold it would be in the Winter.
Easter 2015  provided an opportunity to be with friends, enjoying our countryside and golfing – but it also meant a few of the household chores got completed  and lots of preserving was done. There was time for walking, reading, movies, making our favourite eggplant parmigiana and taking dinner and an armful of Hydrangeas to my Mother. If winter comes tomorrow then we feel happy and thankful for our long lovely summer and may it come back next year..