Famous for an extraordinary Hospice called Hotel Dieu -we had another excellent guide called Annie. She made the story and history of this incredible hospital come alive – walking us through the old wards lined with beds covered in red blankets it was humbling to hear about the Nuns that worked tirelessly to improve the health of the poor and the wealthy alike – developing pharmaceuticals and new medical techniques and feeding everyone from a state of the art kitchen. More amazingly it only closed in the 1970's – it was a wonderful visit and from the beautiful tiles on the roof, the lovely stone courtyard and facade to the immaculate wards everyone thoroughly enjoyed their introduction to Beaune.

A good coffee break – all together outside amongst the locals – I can see my group is going to have no trouble having a good time here and their continual chatter and laughter shows they are relaxed already.
All of Beaune and in fact all the villages of this region are honey combed with underground cellars . Full of millions barrels and bottles of wine. The aging process takes place in these wonderful spaces in stable temperatures.
All the grapes are Chardonnay and Pinot Noir . Here, it's all about reading the label and choosing a vineyard ..
Simply the wines are classified into :
Village wines – made from a particular village 36 % of the wine produced.
Premier Cru- 10 % of the wine.
Grand Cru- 2% of the wine and very expensive
We need to understand the characteristics of the wine produced in each village, their reputation and a lot of knowledge.
Now you know why Richard is so important !!! He is a star and an expert.
/>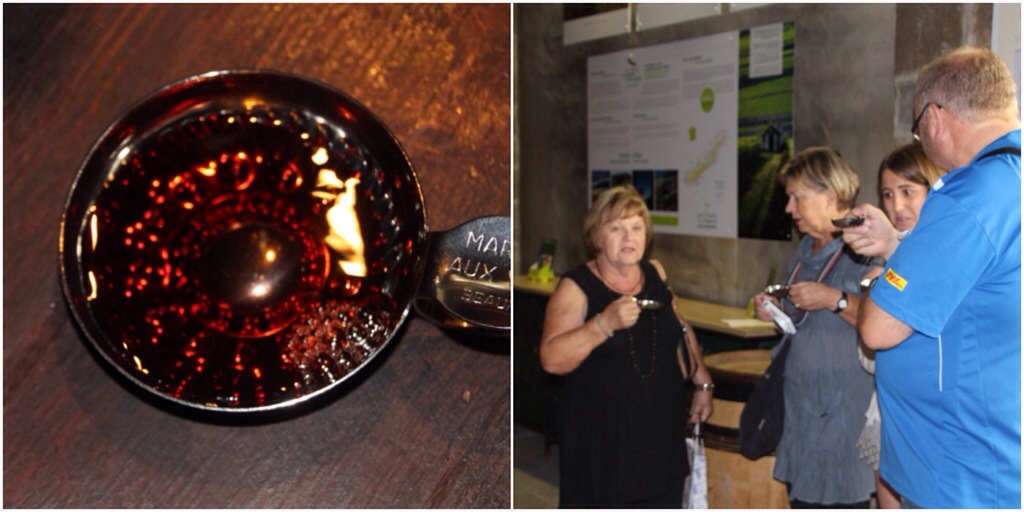 A little quiet lunch and a couple of local classics – snails and Foie Gras…

It was an afternoon off to explore and for some shopping time.
Lynley and Richard had a couple of extra places and invited Hannah and I to join a Truffle Cooking class.
We learnt about the varieties of truffles, how to clean, store and prepare these very very expensive little beasts that look like a lump of dirt but smell amazing.

It was a lot of fun . Claire and Laurent come for the Montpellier region and manage a forest with natural occurring truffles and an area planted with three oak species. Using a specially trained dog to smell out these little gems – they are enthusiastic about teaching people the intricacies of truffles.We were her first pupils, she had a lovely well set up table – perfect for 6 , great notes and a charming personality.
To complete our lovely day everyone came out looking stunning to enjoy dinner at the Michelin one restaurant De Levernois.
Top surroundings with beautiful table settings set the scene for a very special meal accompanied with wines chosen by Richard.
A different experience and definitely one to remember. I was also lucky to invite my old flat mate Rhonda and her husband John for dinner who by chance were all in Beaune at the same time.. – amazing -she lives in Melbourne and we don't see each other very often.