Ali, Alison and Hasan are in their element . This is their home turf and they want to show us everything, taste the great food and wine and have a good time. 'That' … is no trouble – being escorted by the experts has made our tour exceptional .
Today, we started with a visit to an underground city – capable once of housing over 7,000 people. – Scary as it was, we ducked and walked single file through the myriad of houses, olive presses, water shafts and tunnels . It was extraordinary and so clever. I feel so very humble to walk where these people lived in such confined conditions through extreme hard and dangerous times.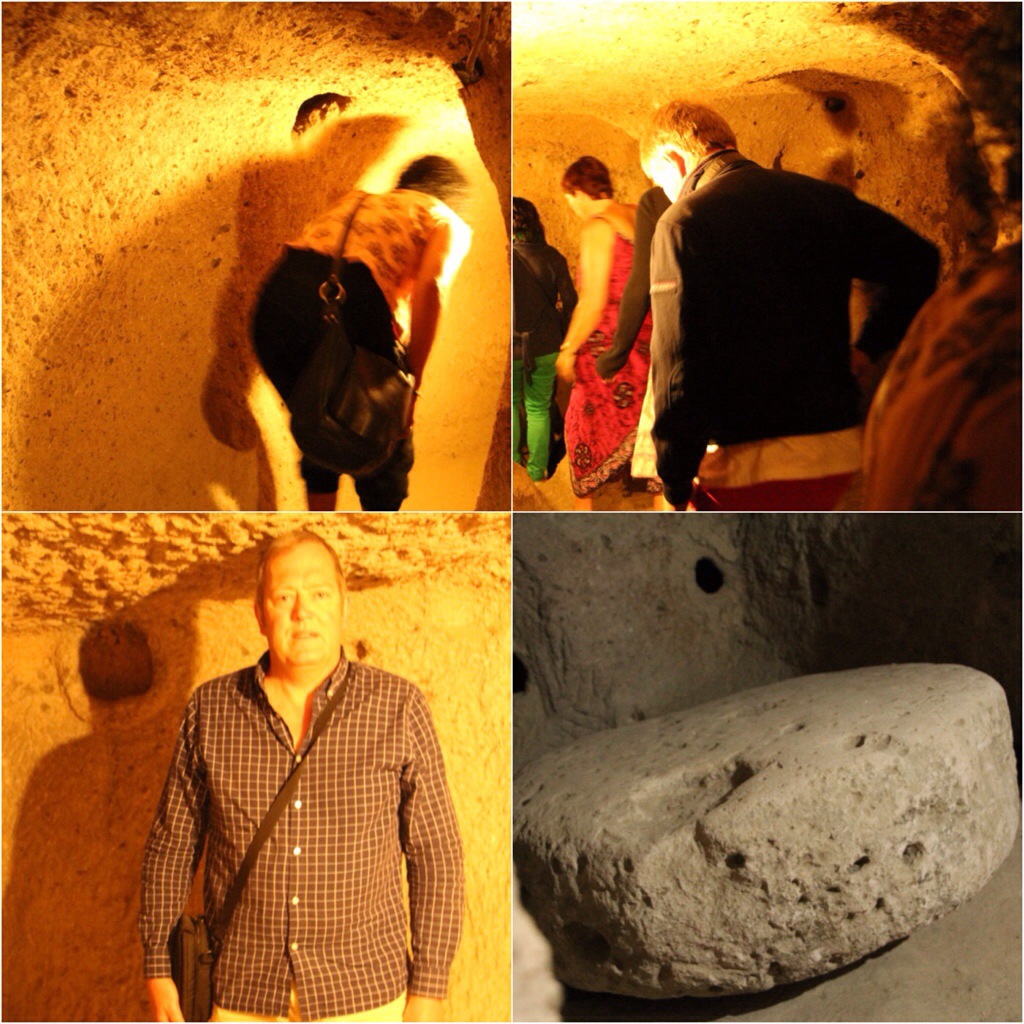 Cave dwellings are every where- many are still occupied and lived in but, thousands are derelict and unused .
In the past and when Ali was a child these valleys were full of pigeons. The pigeon houses were in the caves and the locals collected the excrement to sell as fertilizer .. ( before sprays.) consequently the pigeons have all gone, but the evidence is still very visible .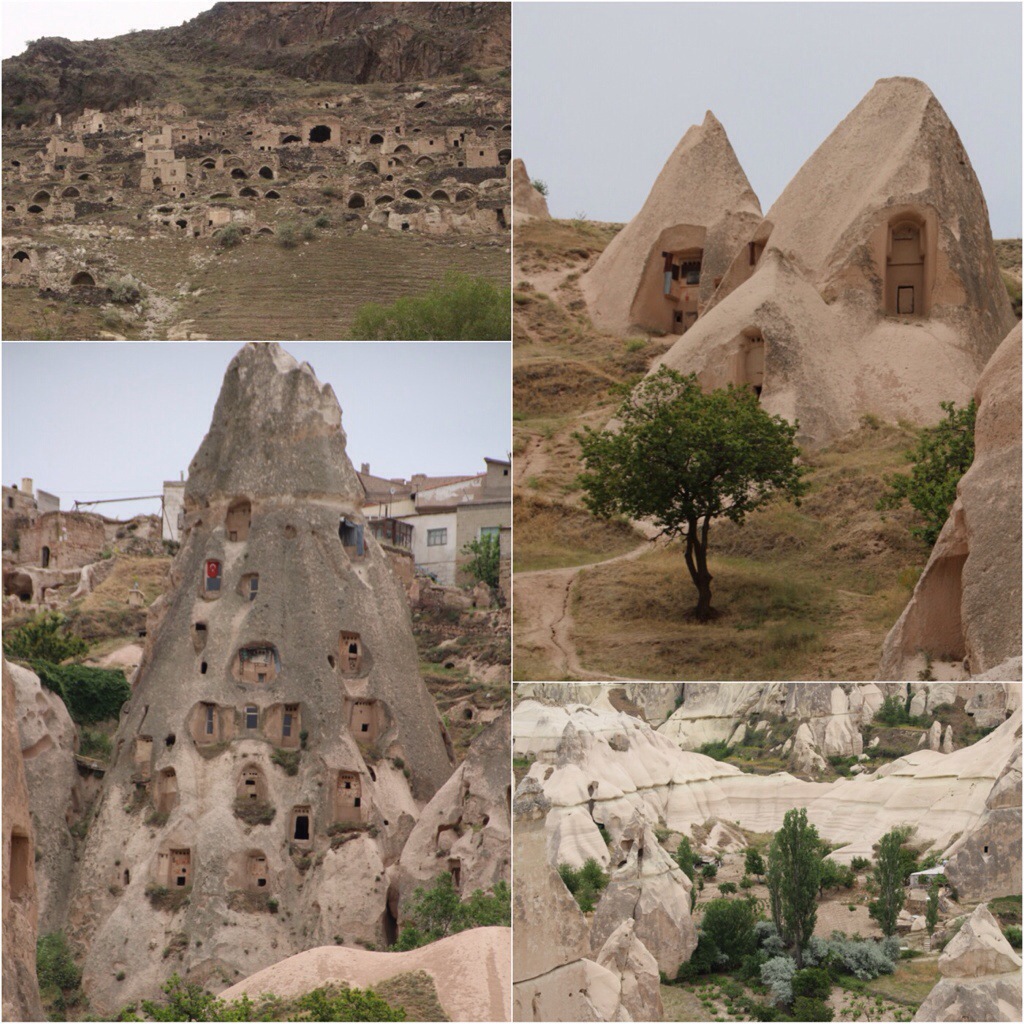 Local lunch – local food in Ali's village – he played the drum – (he is a professional musician )
Sundried tomatoes, olives and Gozleme- toasted filled light pastry – with egg and cheese. Sitting at low tables on the floor we thoroughly enjoyed our casual lunch. I loved watching this local lady in the photograph – come in with her bag of beans and sell them to the restaurant owner.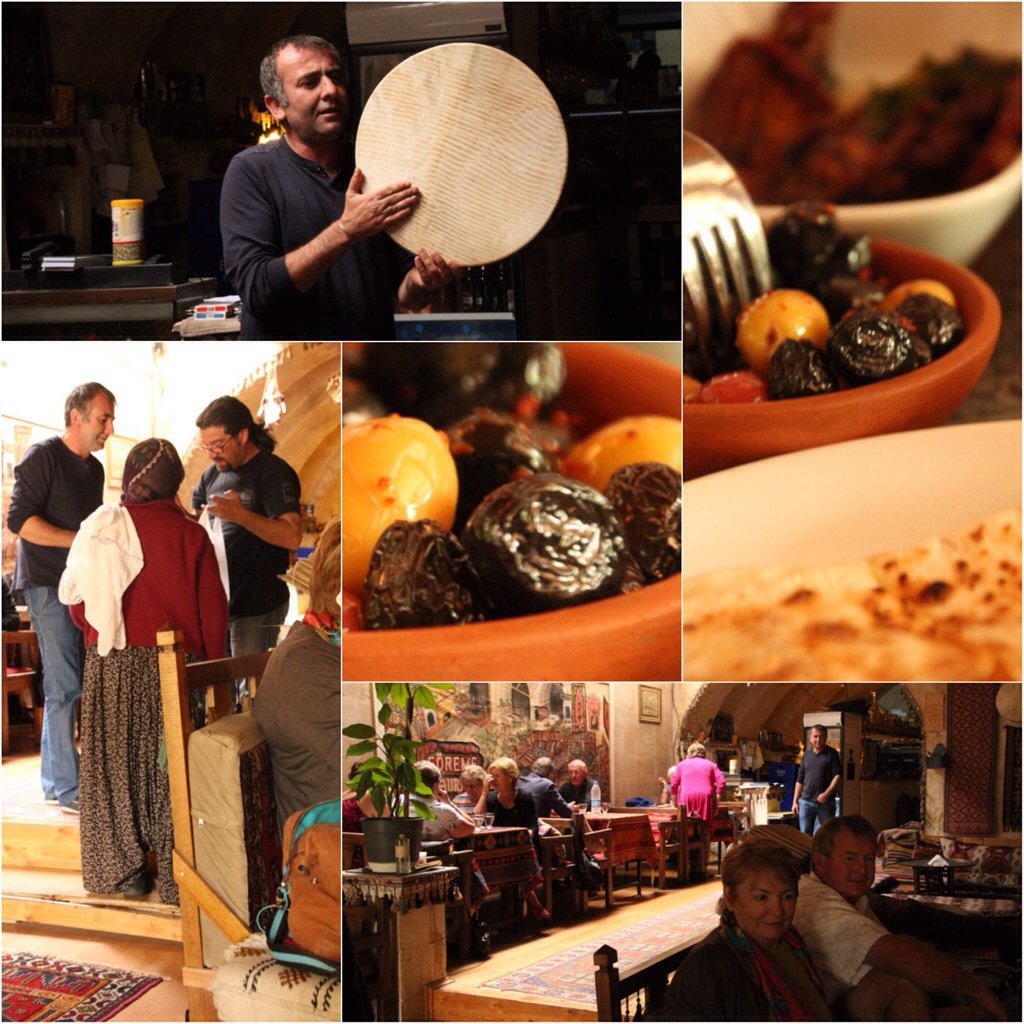 Hasan used to manage carpet shops and is an expert. His best friend had a wonderful shop and he gave us a tutorial on Turkish carpets. He was excellent and 3 hours later we came away with a whole lot more knowledge and ready to buy ….. My tour group are amazing shoppers and they did we'll. The carpet in the bottom right with the name on was made by a prisoner – a very rare carpet and bought by one of the group ….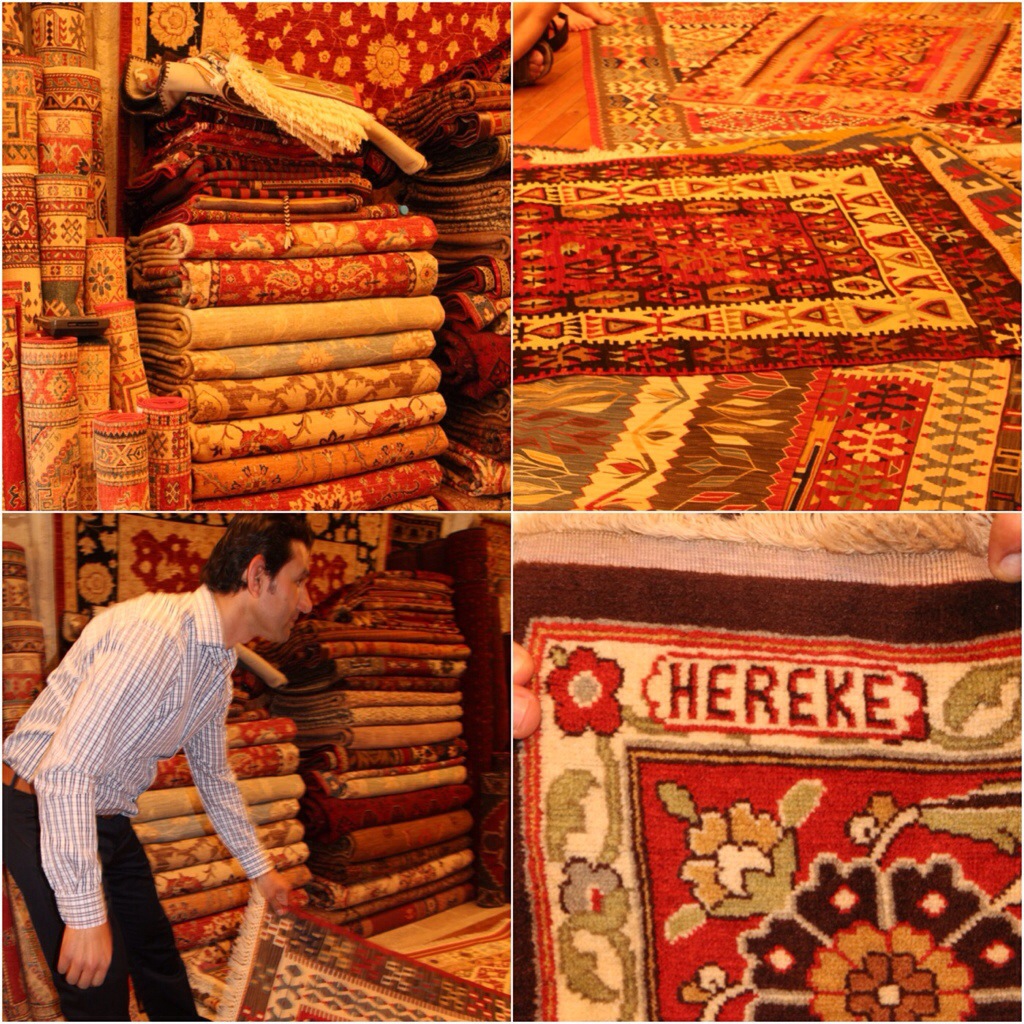 By now is 6pm – next… Whirling dervishes – a religious sect who follow Sumi and Mevlana – the spinning enables them attain a high union with god.
It was a spell binding performance and I couldn't help watching their feet as the spun round and round .

We finished our long exciting day at home ( hotel ) with dinner. We were to cook ourselves, but time ran out. Hasan with some help prepared a great meze dinner – relaxing with a few glasses of wine, it was the perfect ending to the perfect day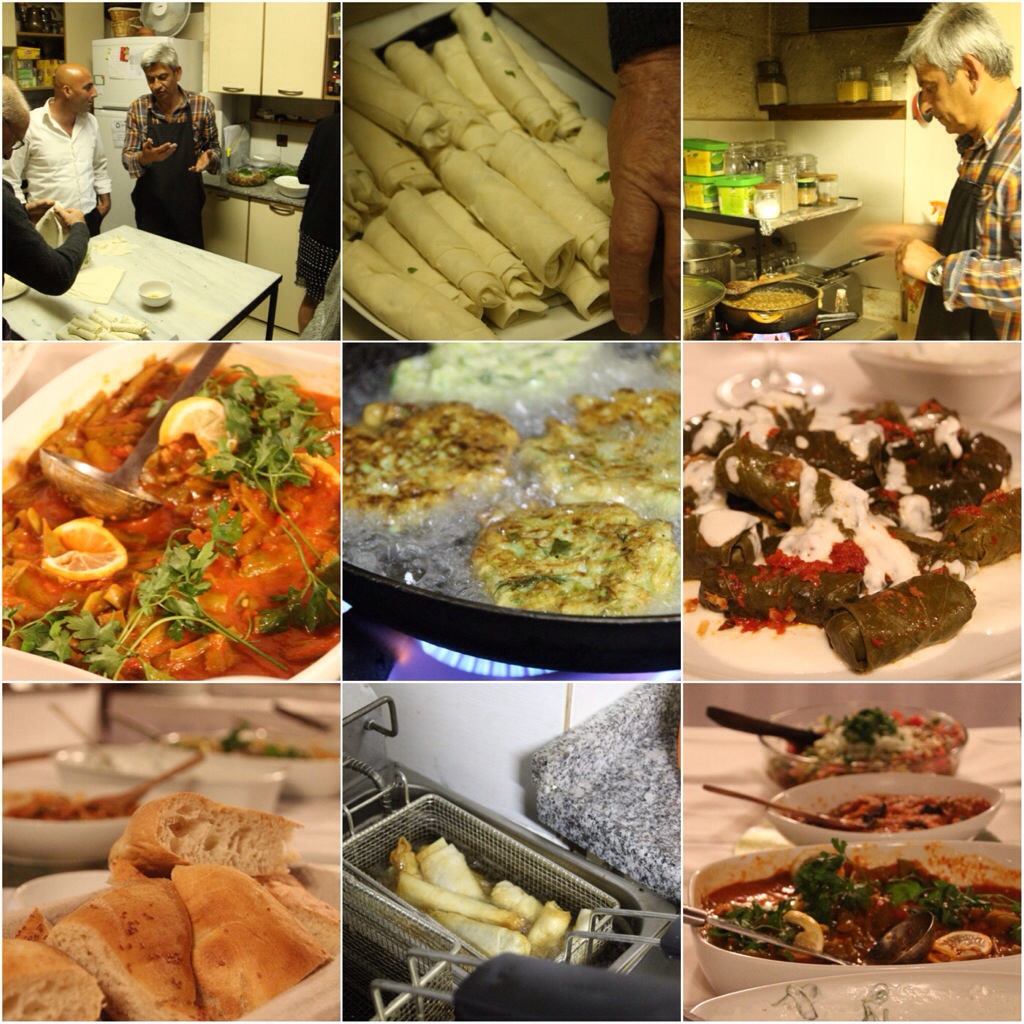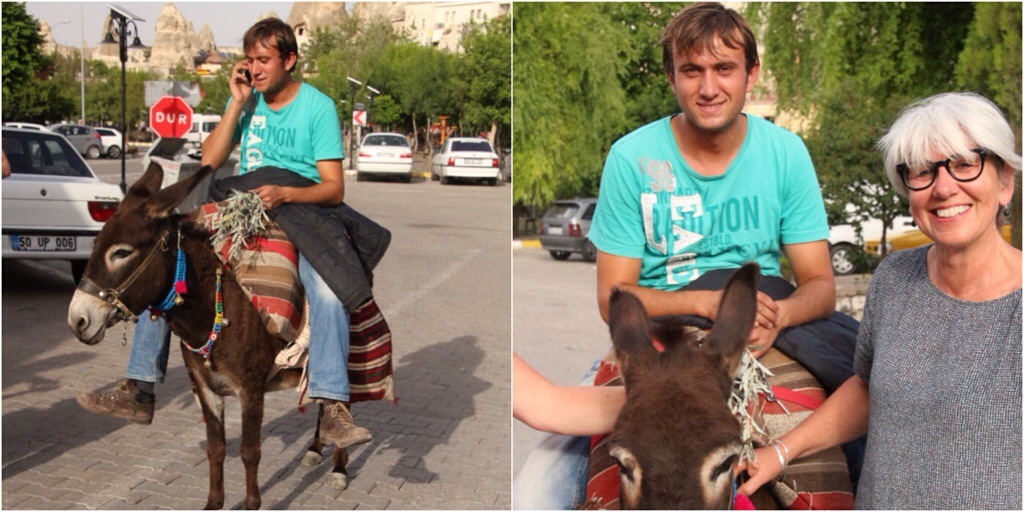 Don't you love this young man on a donkey – talking on his cell phone !!