It's hard to put a finger on what makes up a perfect tour group and what is more amazing it is almost without exception the collection of people coming together with similar aspirations and outcomes make a group with its own unique culture, everyone fits in , makes new  friends and has a wonderful time full of laughter and appreciation of the itinerary.
The first Fashion iD tour in 2013 was very successful.  The group came from throughout New Zealand and Australia and they enjoyed themselves without half trying. This year the group was a little smaller but was still made up of women from New Zealand and Australia.
I didn't make many changes to the tour for this year – 2014. Forced into an accommodation change in Dunedin meant the group stayed in my suburb of St Clair – we could walk to the many café's and restaurants we have to offer by the beach and they got to listen to the ocean at night.
The Fashion iD events delivered very slick professional shows and it's so nice to be proud of Dunedin and the organisers of what is now a very exciting week for the city. To see so many people dressed up, happy to be out with their friends and be part of this international event.  Fashion iD was the   incentive for creating this tour and provides wonderful entertainment for the tour days in Dunedin.
From our historical walking tour of the Central city with my friend and neighbour Charles Barkla to lunch at Fleurs in Moeraki where she loves to talk to everyone to our day on the Peninsula, Dunedin basked in fabulous sun and I felt very happy for those who had never been to Dunedin or who hadn't visited in 40 years as they had such a memorable time.
 My surprise lunch on the Friday was a bit of a clamber down a few steep steps to a private boat shed – where I barbecued lamb fillets and served a very simple lunch of salad, bread, eggplant terrine and accompanied of course with a lovely chilled Riesling. This unique idyllic setting was a treat- lent to me from some very kind friends and completely private.  Our day started  by driving through and above the fog to arrive at perfect breathless sunny morning in the garden at Larnach castle – Margaret Barker has produced a garden of national significance and it  is outstanding considering the weather conditions she has to deal with. By lunch time the fog had lifted and the Otago Harbour displayed its true beauty with the peninsula reflected in the water.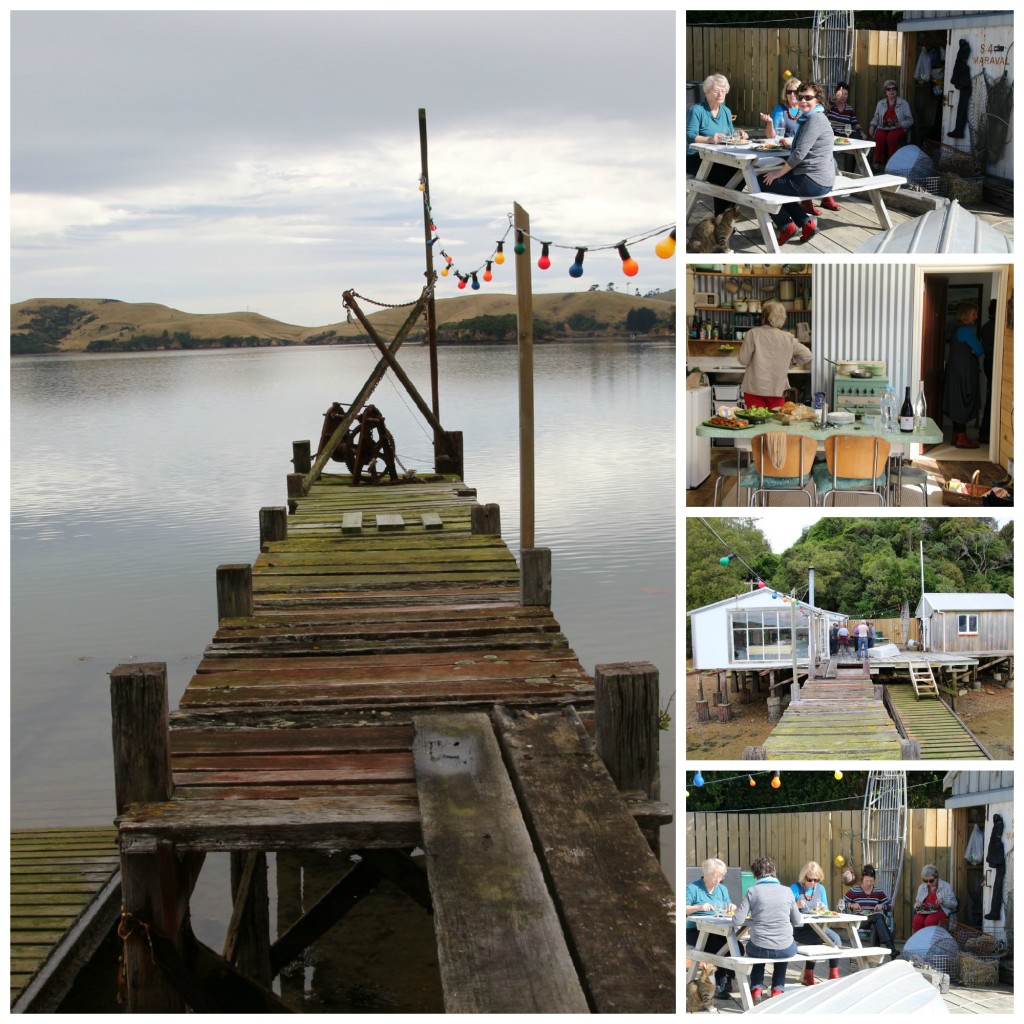 Saturday morning was very wet and my drive through Middlemarch and the Maniototo was not nearly as spectacular as it would have been with the sun out and the mountains showing.
I have very dear friends Suzie and William Cockerill. Each weekend they travel to Ophir to live the country life and work endlessly in the garden. In doing so, they have created a private gem. Their extensive garden planned by William's attention to  the surrounding landscape and climate plus his mathematic and logical mind means the garden has purpose and alignment, not only sympathetic to the historical nature of the property, but to the mountains and contours of the land. I am very privileged to bring groups here and also to enjoy a cup of coffee and date scone in the stunning 1858 stone cottage which is a home away from home.
Central Otago really was just beginning to adorn its Autumn cloak – a grey day doesn't express the colours quite the same – but by the time  we sat down to  lunch at Mt Difficulty the rain had stopped and we still relished the view across the vineyards towards Cromwell.
After an evening in Wanaka, we took a walk along the side of the lake, and yet another enjoyable meal at the landing. Sunday was busy …. starting with an impressive drive over the Crown Range we once again had the fog below us.. Arrowtown for coffee and a walk before meeting Janet Blair.
Janet's garden is between Arrowtown and Lake Hayes.  Over the past 40 years she has turned the extensive grounds around their lovely stone cottage into an immaculate garden signifying a true plantswoman. Her garden of National Significance is beautiful during any season of the year and of no exception during Autumn.
This was the third garden my group had visited. Each different and like the designers in the Emerging Designers show all expressed  their style and creativity as if it was an extension of themselves. Our few days had been full of energetic creative people whether it is clothes, food, gardens, houses or boat sheds plus the wonderful friendly hosts of the hotels and restaurants.
Although we missed the Duke and Duchess by a few days, Amisfield lived up to its name. My booking was made many months in advance and our trust the chef menu was reliable and fabulous. We arrived at 1 and left at 4 – so I suppose you can call that a long slow lunch …
For the last two nights the Hilton at the Kawarau River was our home. Yes, a bit of luxury.. nice pool and spa, delicious rooms, tempting breakfast and only a water taxi ride into Queenstown.
Our final day together was spent showing off the Queenstown environment in the morning and an exhilarating ride into Skippers Canyon in the afternoon by four wheel drive..
Rated as one of the world's 12 worst roads – Our driver for the second year in the row –  Adin knows this canyon very well. You are always in awe of the miners, women and families that lived in this isolated region through extreme weather conditions and hardship.
s Pikelets and tea are always well received when you reach the beautifully restored school and house at Skippers.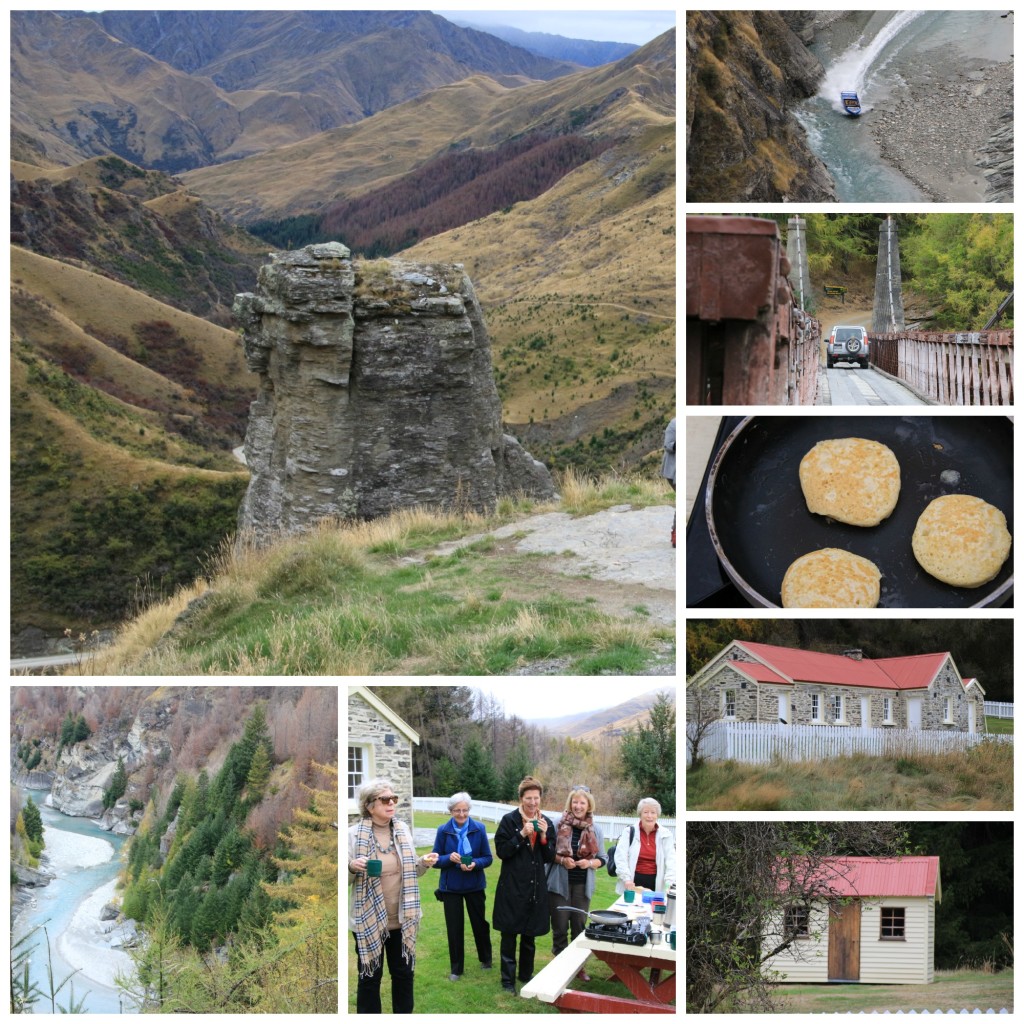 No last night in Queenstown would be complete without getting dressed up and having a cocktail. Even if it does mean putting on a huge coat and gloves and sipping out of an ice glass. This is so much fun and worth the look on everyone's faces when they realise they are going to a bar made of ice – even the fireplace …
I wish to say 'thank you' to my group of gorgeous women. It was a pleasure to show off my region of New Zealand. I hope you will have fond memories of the South and return again.